Bear Paw Cookies coming to downtown
Zephyr Van opens on Schreiber Way Unlimited Health Chiropractic opens in Post Falls Heart City Tattoo now Fourth Street Tattoo And now the Tidbits
A bright and happy place to enjoy "the best cookies you have ever experienced, great ice cream, special-recipe crapes and local-roaster coffee," Bear Paw Cookies will open at 312 Sherman Ave. on Wednesday.
In the former Shenanigan's location, the downtown Bear Paw Cookies will be the second location with owners Lois and Ed Phillips, who call it "a Mom and Pop shop." Hours begin at 10 a.m.
Phone 208-930-1291 downtown and 208-930-0500 in Riverstone, where it has been at 2073 N. Main St. for a year on July 4. Check www.bearpawcookies.com.
Converting vans to campers, Zephyr Van is a new business at 3896 N. Schreiber Way.
Robert Perry buys new 4x4 Mercedes-Benz sprinter vans and converts them into full built-out campers. This includes a custom roof rack, ladder, brush guard, air conditioning, solar panels, battery bank, heater, sink, fridge, outdoor shower, hot water heater and a bench-bed system.
Hours are 9 a.m. to 5 p.m. weekdays. A mechanical engineering and business major at EWU, Perry is helped by Katherine Nichols. Phone 406-851-9229.
Offering integrative medicine, chiropractic care and massage therapy for families and people of all ages, Unlimited Health Chiropractic has a new office in Suite 500 at 3145 E. Mullan Ave. (across from Walmart) in Post Falls.
Owners Dr. Brian Hull and Dr. Jana Hull also have offices near Costco and on Sherman Avenue in Coeur d'Alene. They are joined by FNP Max Holliday, Dr. Mike Jaramillo, Dr. Rich Hauser, Dr. Melissa Trost, Dr. Jerry Inghilterra and massage therapists.
Phone 208-981-0129. Check www.unlimited healthchiropractic.com.
Moving from its burned-out building down on Fourth Street, Heart City Tattoo is now Fourth Street Tattoo in Suite B at 2024 N. Fourth St.
Open by appointment from noon to 7 p.m. Tuesday through Sunday, the staff includes Jacob Redmond, Chris Jacobsen, Cody Butler and Katt Garrigan.
Phone 208-930-0176. Check www.fourthstreettattoo.com.
• Coeur Vitality Integrative Medicine is now at 110 E. Wallace Ave.
• Haberdashery's grand opening will be July 18 at 116 N. Fourth.
• Emerge is opening at 119 N. Second St.
• Monet Floors & Home Design is moving to 11363 Government Way in Hayden.
• New York Pizza Dept. (NYPD) will be in the Tedder Business Center at Riverbend Commerce Park west of Post Falls.
• Milk & Honey Coffee is "coming soon" to Mullan and Cecil in Post Falls.
• Ricardo's Baja Tacos will be at 801 W. Seltice in Post Falls.
• Wilder Coffee Roasters and Inland Candle Co. will be at 211 E. Lakeside downtown.
• Sweet Treats Frozen Yogurt will be at 3276 W. Prairie.
• Izzy's Comfort Kitchen will be where 10-6 Eatery was at 726 N. Fourth St.
• Atlas Building Group will have a new office in Riverstone.
• P1FCU, Auto Zone and a gas station-convenience store are all coming into Athol.
• A new UPS distribution center is under construction at 192 N. Beck Road in Post Falls.
• The Rokko's teriyaki eatery has left Riverstone and will be where San Francisco Sourdough was downtown.
• Solder & Stone Jewelry is moving in Hayden.
• A new commercial building is under construction at 6040 Government Way.
• Edward Jones Investments will have a new office in Hayden.
• 108 North is under construction connected to the Moose Lounge downtown.
• A "Coming Soon" sign is with an "India House" sign at 740 N. Cecil Road in Post Falls.
• Watch for Sherman Food Court coming at 1902 E. Sherman Ave.
• Something new is going into 413 Sherman beside the Art Spirit Gallery.
• A 32 Below Frozen Yogurt, Lunchbox Wax and Mangia Wood-Fired Pizza will be in The Northern complex northwest of the Ramsey Road-Hanley Avenue intersection.
• Trademark Mechanical is building a new place in Hayden.
• Aqua Gem Jewelry will open in CostCo Plaza.
• Sweet Pea Imagery and Baby Boutique will open soon in Riverbend Commerce Park (Post Falls).
• A new Carl's Jr. is under construction in the former Burger King location on Appleway.
• A new Rogers Ice Cream & Burgers is under construction on Government Way behind Wells Fargo Bank on Appleway.
• The new Hardwick Hardware is under construction at 3820 E. Mullan in Post Falls.
• CdA Acupuncture & Holistic Healing is opening at 810 Sherman Ave.
• The Wine House is coming into 1621 Sherman.
• A Chase Bank is being built in front of Tractor Supply on Neider Avenue.
• A Starbucks Coffee building is under construction kitty-corner from the Kroc at Ramsey and Maria.
• Giorgi's Restaurant will be where Rogers Burgers & Ice Cream was on Neider Avenue.
• Mark your calendars for July 5, Tubbs Hill Clean-Up Day (after July 4) from 8 a.m. to noon. Litter bags and coffee will be provided.
• Contact Nils Rosdahl at nrosdahl@cdapress.com.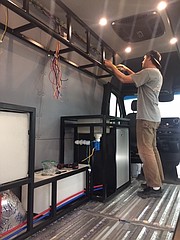 ---