Kathryn Ann (Twitchell) Anderson, 81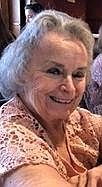 Kathryn passed on June 14, 2020, and was born on April 18, 1939, in Spokane, Wash.
Kathryn had two brothers, Jerry and Thomas Twitchell, who proceeded her in passing.
She married Adam M. Anderson in August of 1963 and they were happily married until his passing in 2003.
In 1964, Adam and Kathryn had a son, John A. Anderson. The couple resided most of their married life in Post Falls, Idaho, where they raised John, directly across the street from loving grandparents. Kathryn worked in the travel and automotive industry and as a bookkeeper for various local manufacturing companies.
She was proud of the fact that she volunteered for the Women's Center (now Safe Passage) during its formation, as a domestic violence prevention agency.
Kathryn loved antiquing and had a collection of vintage teacups and depression glass. She was a member of the LDS church and participated in the Post Falls Ward until three years ago when she moved to Bristol Heights Assisted Living and became part of the Coeur d'Alene ward. Kathryn made many friends among the staff and residents at Bristol Heights.
Kathryn was preceded in death by her parents, Frank Andrew Twitchell and Helen Louise (Bieberdorf) Twitchell.
Kathryn is survived by her son, John A. Anderson, and her grandson, Jeremy A. Anderson.
Due to Covid-19 restrictions, a service will be planned for her internment next to her beloved husband in the near future.
Funeral arrangements will be handled by Bell Tower Funeral Home and Crematory. Please visit Kathryn's online memorial and share your favorite memories of Kathryn at www.belltowerfuneralhome.com.
In lieu of flowers, the family suggests a donation to North Idaho Hospice, whether it be monetary, or a donation to the Hospice Thrift Store, one of her favorite places to shop …
---