Finally, summer is here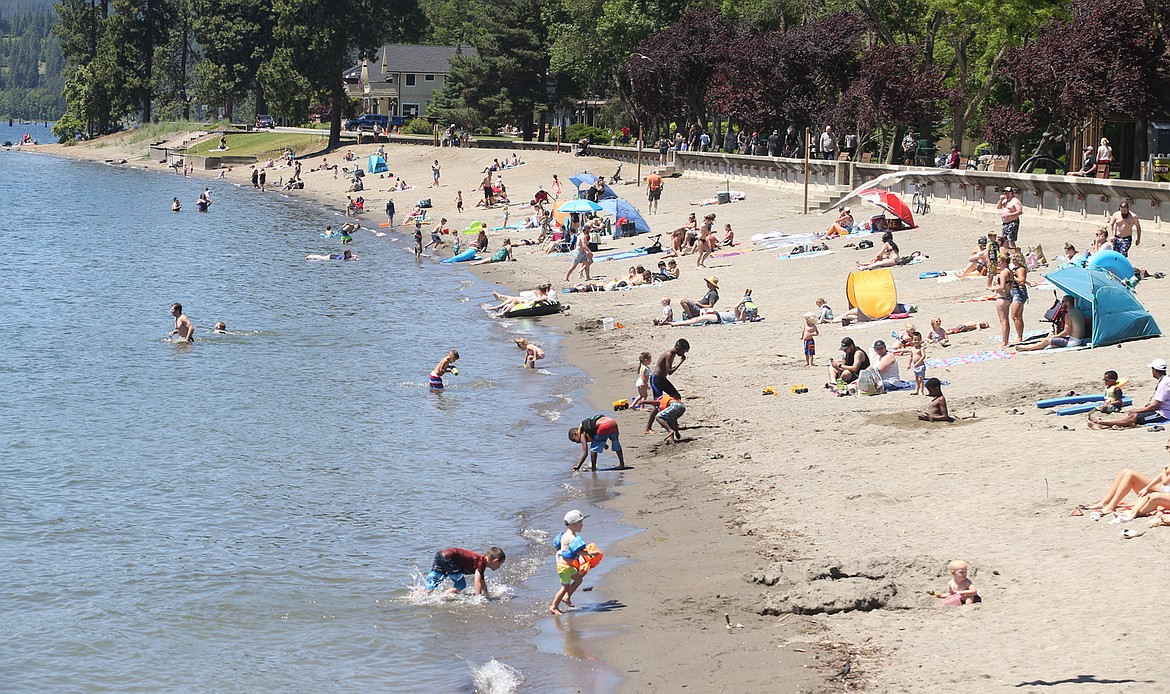 City Beach is crowded on a sunny Monday morning.
BILL BULEY/Press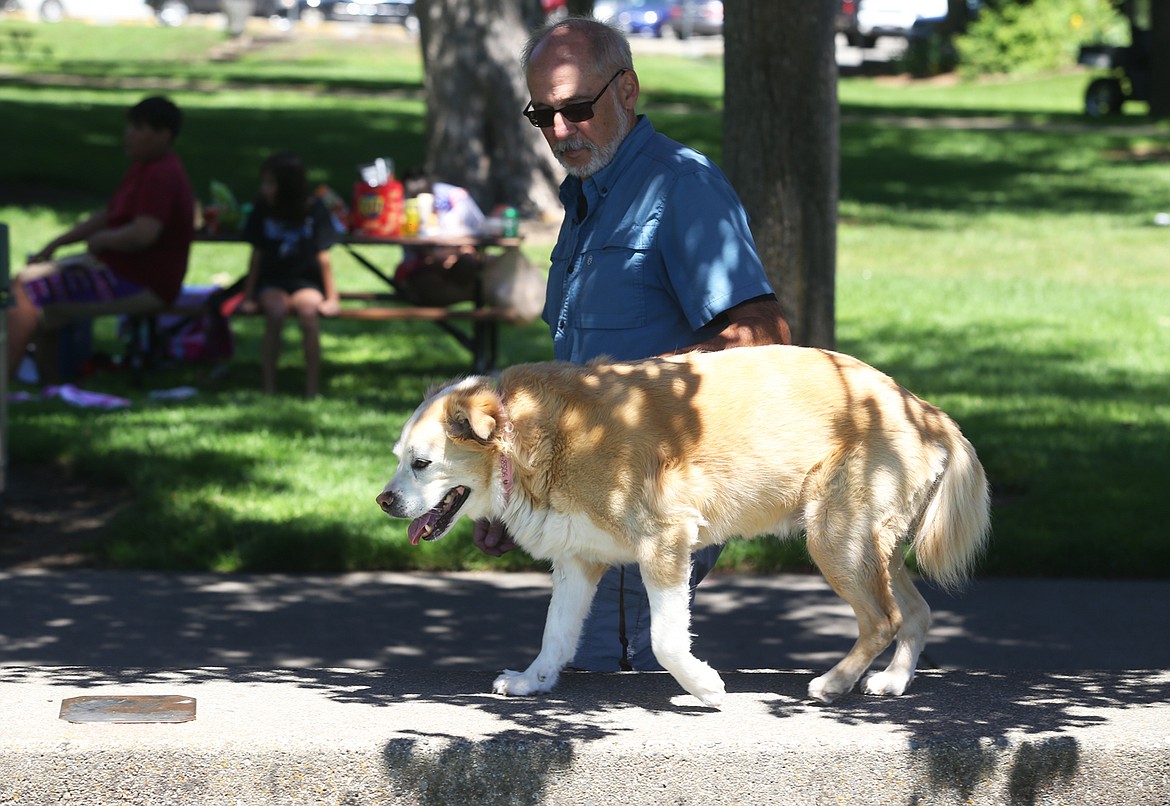 BILL BULEY/Press Bob Aha walks his dog Emma at City Park on Monday.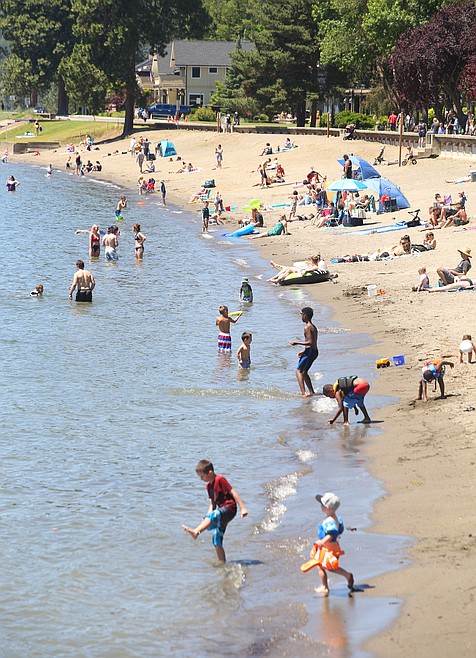 BILL BULEY/Press City Beach is crowded on a sunny Monday morning.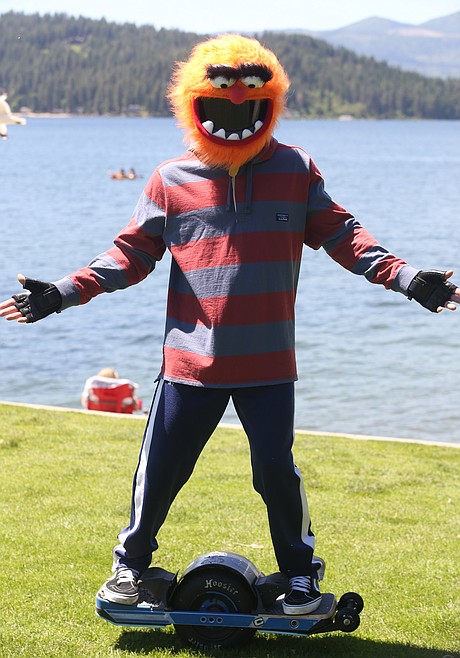 BILL BULEY/Press A masked person glides through City Park Monday.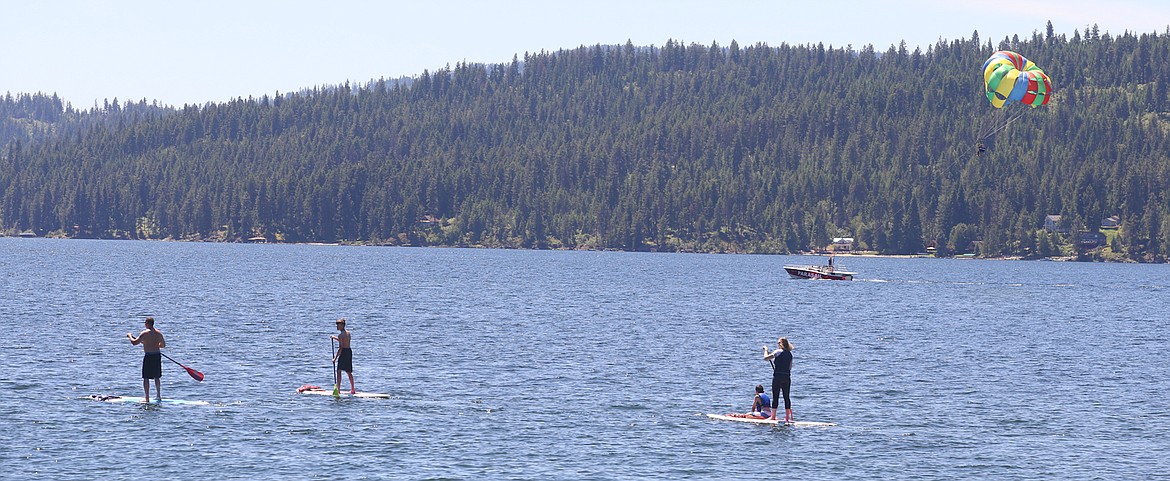 BILL BULEY/Press Paddleboards and a parasailer head out on Lake Coeur d'Alene on Monday.
Previous
Next
by
BILL BULEY
Staff Writer
|
June 23, 2020 1:15 AM
Weather going forward expected to be hot and dry in place of the wet and cold
COEUR d'ALENE — Summer officially arrived Saturday.
Unofficially, though, it started Monday.
There were sunny skies, temperatures in the high 70s, and City Beach was packed with adults and kids swimming, playing, and sunbathing. Others rode bikes, glided along on skateboards and headed out on Lake Coeur d'Alene on paddleboards. A parasailer even soared high above the water.
The weather was a welcome relief from the waves of clouds and rain that have hung over North Idaho lately.
"Fantastic," said Bob Aha as he walked his 12-year-old dog Emma along the wall at City Park. "Fantastic."
Coeur d'Alene Climatologist Cliff Harris said after a colder and wetter than usual May and pretty much the same for most of June, North Idaho is headed into a stretch of mostly hot and dry conditions.
It starts today with temperatures expected to climb into the upper 80s.
"It is going to warm up," said Harris, adding that he finally turned on his home's air conditioner on Friday, the latest that has happened in some 30 years of living here.
Harris said it should be a normal summer, with the thermostat breaking 90 and even hitting 100 at least a few days. The rest of this week look for highs in the 70s, with a few thunderstorms and showers likely next week and the first part of July.
"Nothing really hot is in sight yet," he said. "But things do look better."
It's been darn cold, with June lows in the 40s. On June 9, the high was just 52, Harris said, and on June 16 it reached only 55 degrees in Coeur d'Alene. Both were record-low maximums.
Temperatures for May and June were about 8 degrees cooler than normal.
"That's unprecedented," Harri said. "Those were more like April temperatures."
The cold spell put huckleberry season about three weeks behind schedule, he said.
May saw 4.4 inches of rain, nearly double the usual of 2.7. It's rained 2.04 inches in June alone.
For the year, Coeur d'Alene is at 17.05 inches of rain, well above the normal of 13 inches by this time.
"Most people may not like that but that's good because we have the moisture," Harris said.
But those recent days of waking up to a chill in the house and having to turn on the furnace should be gone.
"Yeah, it's summer," Harris said.
Kids at City Beach on Monday said it's about time.
"Finally, I get to jump in the lake," said 7-year-old Alex Larson.
---