Two Kootenai County CAP cadets ready to continue service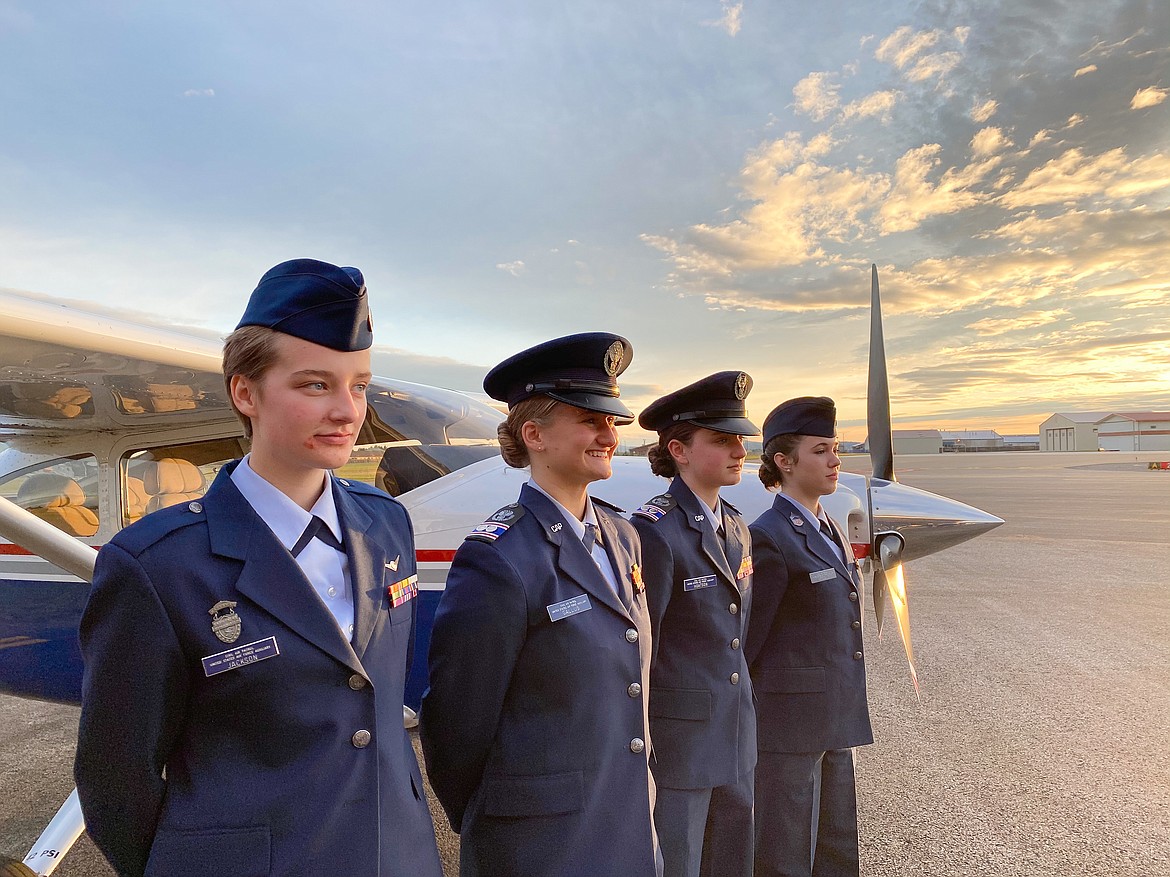 Civil Air Patrol Cadets, from left, Carolyn Jackson, Erika Gallus, Hannah Hoatson and Hunter Greene stand together after Tuesday's Change of Command ceremony.
MADISON HARDY/Press
by
MADISON HARDY
Staff Writer
|
June 22, 2020 1:20 AM
Kootenai County Civil Air Patrol cadets Erika Gallus and Carolyn Jackson are off on their next big adventure — serving the United States.
The Air Force Academy has been 1st Lt. Gallus' goal since the seventh grade. This year, she was accepted into the freshman class of 2020. She joined the Civil Air Patrol when she was 12 years old following her discovery that 10 percent of all academy students had participated in CAP prior to enrollment.
"Civil Air Patrol has helped me achieve that goal for the past five years," Gallus said. "I used to be very shy so it has helped me develop very critical leadership skills and communication skills. I'm very excited to be leaving now, it's like a dream come true."
Gallus hopes to graduate with her bachelor's degree in mechanical engineering and become an Air Force officer, and from there, earn her flight license and serve as an Air Force pilot.
Chief Master Sergeant Carolyn Jackson joined CAP for personal growth and to learn more about enlisted service.
"I just wanted to get out of my comfort zone," Jackson said. "I wanted something that would get me to interact with people, learn leadership, and explore military careers as well."
Jackson was recently accepted into the U.S. Merchant Marines Academy, one of the federal service institutions that train officers for any of the military branches. While she isn't sure what branch she intends to go into, Jackson knows she wants to be a pilot.
CAP is a youth-oriented program because of its direct line to military academies. By getting involved with CAP and progressing through the ranks, many cadets who enlist can jump almost three years ahead in their military career.
"If they go into the Air Force as an enlisted person after they graduate from basic military training they get a retroactive promotion twice because they did this in their teenage years," Capt. Donald F. Morgan Sr. said. "It's more than $500 a month in extra money."
Recent Headlines
---