Rathdrum on to better days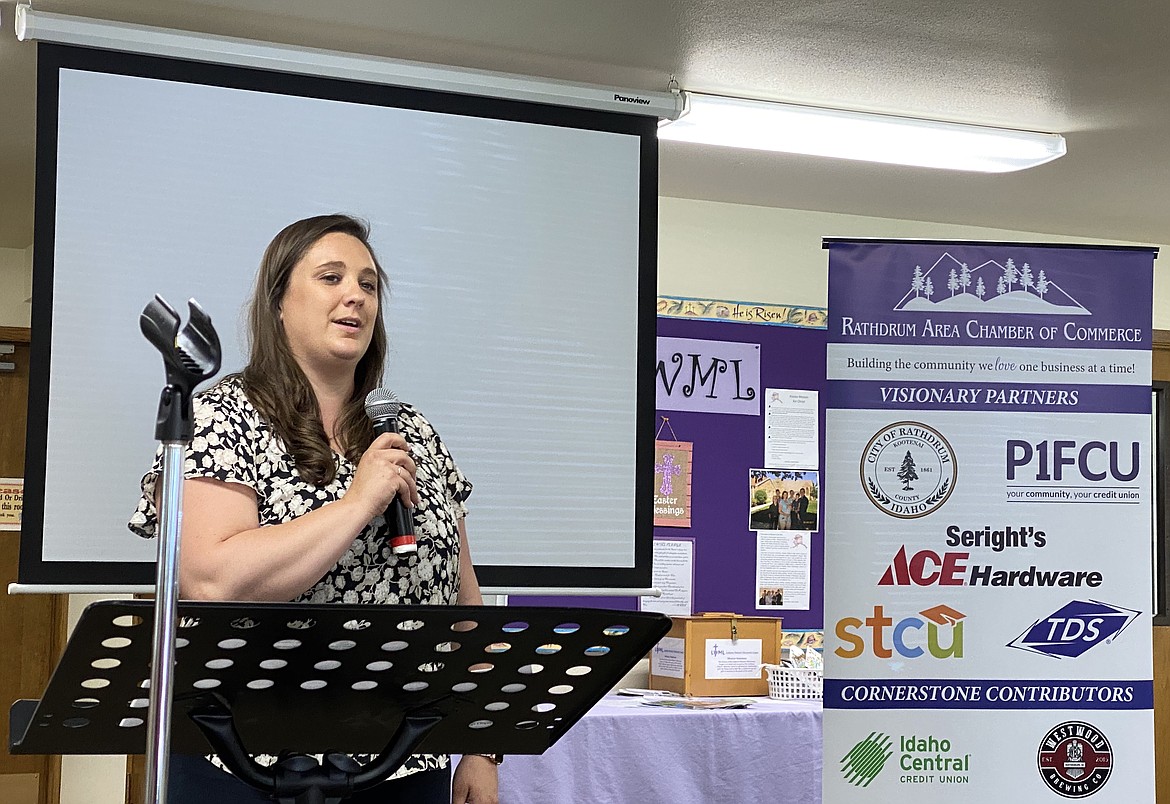 Rathdrum's Chamber of Commerce introduces new executive director Ashley Moore in the first luncheon since COVID shutdowns.
MADISON HARDY/Press
by
MADISON HARDY
Staff Writer
|
June 19, 2020 1:11 AM
Chamber of Commerce sees growth and good times ahead
RATHDRUM — With Rathdrum Days just around the corner, Idaho's reopening, and a brand-new executive director, Rathdrum Chamber of Commerce is seeing the light at the end of the COVID-19 tunnel.
"I'm on the Rathdrum Days planning committee as well and it's fun to see everybody coming together and making it happen because it's pretty much going to be the first event after all the shutdowns," said Chantel Koho, vice president of the Rathdrum Chamber's board of directors. "Our big focus right now is Rathdrum Days and making sure that it's successful."
About 60 people attended the Thursday luncheon at the Shepherd of the Hills Lutheran Church.
Koho said the chamber is positive about coming out of quarantine and is excited to reopen city businesses.
"We are very innovative and constantly looking for new ideas of how to help our businesses, how to support them, and just how to promote them to keep a positive attitude," Koho said. "There have been a few (businesses) of course that said they are not going to be able to reopen, but it has been a lot smaller of an impact than we expected. A lot of the eateries have been the busiest they've ever been, especially if they have a drive-through capacity or a carryout capacity they have been flooded."
At the first luncheon post-COVID shutdowns, the Chamber formally introduced Ashley Moore, its new executive director.
Moore, who lived in Rathdrum while attending Eastern Washington University, previously held the executive director position for the Wahkiakum Chamber of Commerce in Cathlamet, Wash.
In her role, Moore wants to bring new businesses to the community, and help increase jobs.
"I think we are in a special place right now where our community is about to skyrocket," Moore said. "I've been working a lot with Post Falls Chamber, Coeur d'Alene Chamber, and the Hayden Chamber and we are all in a collaborative mindset so I'm really excited about that. I think together it is going to be really cool to see what we accomplish in the next couple of years."
Recent Headlines
---