SrA Connor Ralls, USAF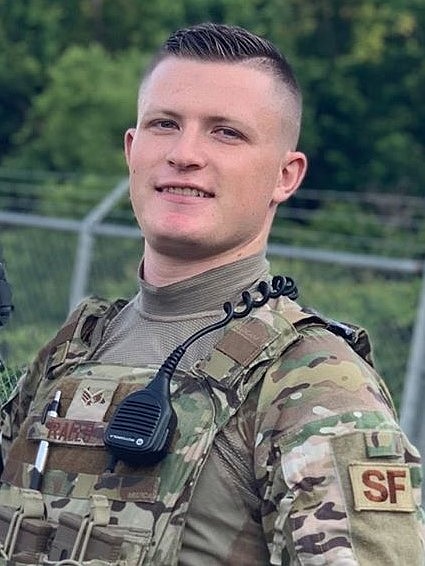 On Saturday, Dec. 28, 2019, Connor Alexander Ralls, 25, passed away at the age of 25. A celebration of life service will be held at 11 a.m. on Saturday, June 20, 2020, at Real Life Ministries, 610 N. Fourth St. in Coeur d'Alene, Idaho.
Connor positively impacted so many people in his short 25 years; he had so much potential ahead of him. The world is less without him here.
Connor was born and raised in Coeur d'Alene. After graduating from North Idaho Christian School in 2013, Connor enlisted in the U.S. Air Force, where he served his country with dedication and pride for six years. His tour of duty took him to various places, but he spent most of his time stationed at Robins Air Force Base in Warner Robins, Ga., working in security forces. Upon his honorable discharge from the U.S. Air Force, Connor immediately returned to serve his country by enlisting in the Air National Guard.
Connor loved debating politics, and was wonderfully unique in his ability to confidently discuss an important issue without disparaging his opponent. Connor also loved the outdoors in Georgia and in the Pacific Northwest; hiking and exploring as often as he could. He loved working with animals, particularly dogs, and volunteered with local animal shelters wherever he was stationed. From his Facebook page: "When you adopt, don't ask yourself 'which dog do I want'; ask 'which dog needs a home the most?' Humans aren't the only ones with scarred hearts."
Connor shied away from the easy path and would often take the one less traveled, more at personal risk or more challenging. In the military, in Jujitsu, while skydiving, or crawling under his old house (full of spider webs) to work on the plumbing, Connor was constantly pushing himself out of his comfort zone. Connor recently wrote on Facebook: "Jujitsu is a way of life. It's a school for body and mind. You will be humbled by its lessons, and hardened by its throws. Prepare each day for the coming fight, and each day the enemy will postpone its attack. Evil is weak and cowardly. So be strong. Sharpen your mind, and train your body. In doing this, the enemy will always fear and respect your warrior mentality." And about skydiving, Connor shared: "You can't beat the view from 10,000 feet in the air. Solid way to start my day. When life has you against the wall, push back. When fear has you immobilized, jump. Only regrets in life are the shots you never took and the opportunities missed."
Connor loved his family and his entire family loved him so much. For the love that he shared and the wonderfully thought-provoking conversations we had, and for the gigantic hole that remains at his passing, we will never be the same. We look forward to the time we will all be together again.
Left to treasure the memories they made with Connor are his parents, Dan and Donna Ralls, of Coeur d'Alene; his siblings, Stephanie Ralls of Kirkland, Wash., Andrew Ralls of Spokane Valley, Wash. and Alexis Ralls of Coeur d'Alene; grandparents; and many aunts, uncles, cousins, nieces and a nephew.
In lieu of flowers, memorial contributions may be made to Kootenai Humane Society, 11650 N. Ramsey Road, Hayden, ID 83835.
Condolences for the family may be left in the online guest book at www. yatesfuneralhomes.com.
Recent Headlines
---