Coming together for CASA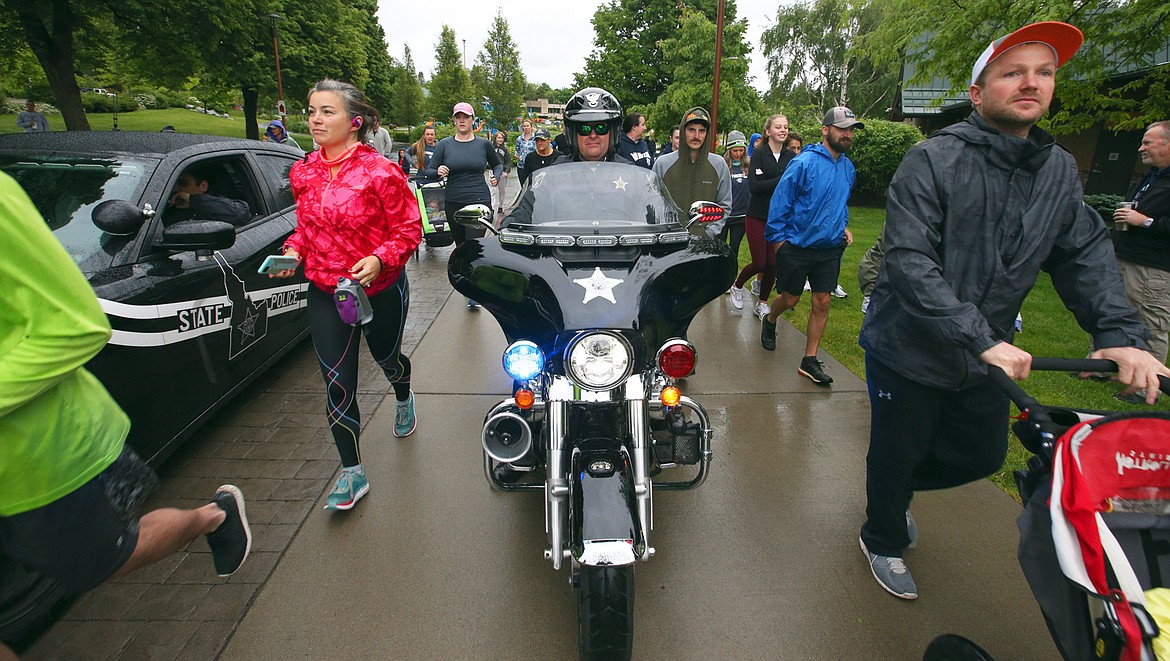 Runners in the ISP 5K Foot Pursuit make their way past Idaho State Police motorcycle patrolman Robert Davis stationed at the starting line on Saturday.
Photos: BILL BULEY/Press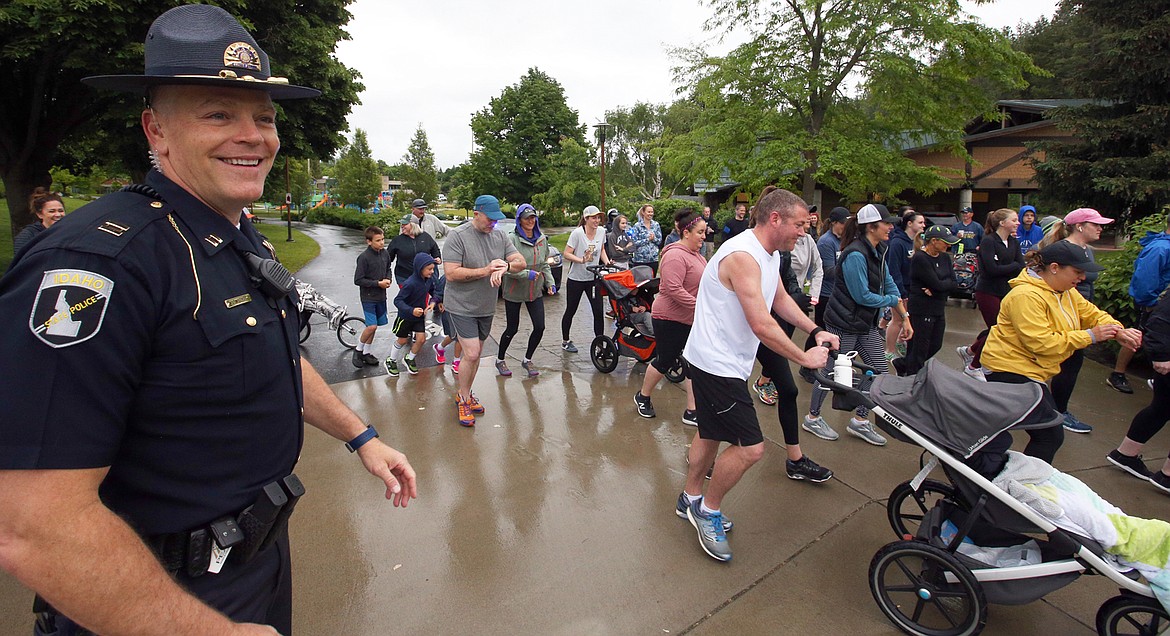 BILL BULEY/Press Idaho State Police Capt. John Kempf watches at participants in the ISP Foot Pursuit begin the 5K fun run on Saturday at McEuen Park.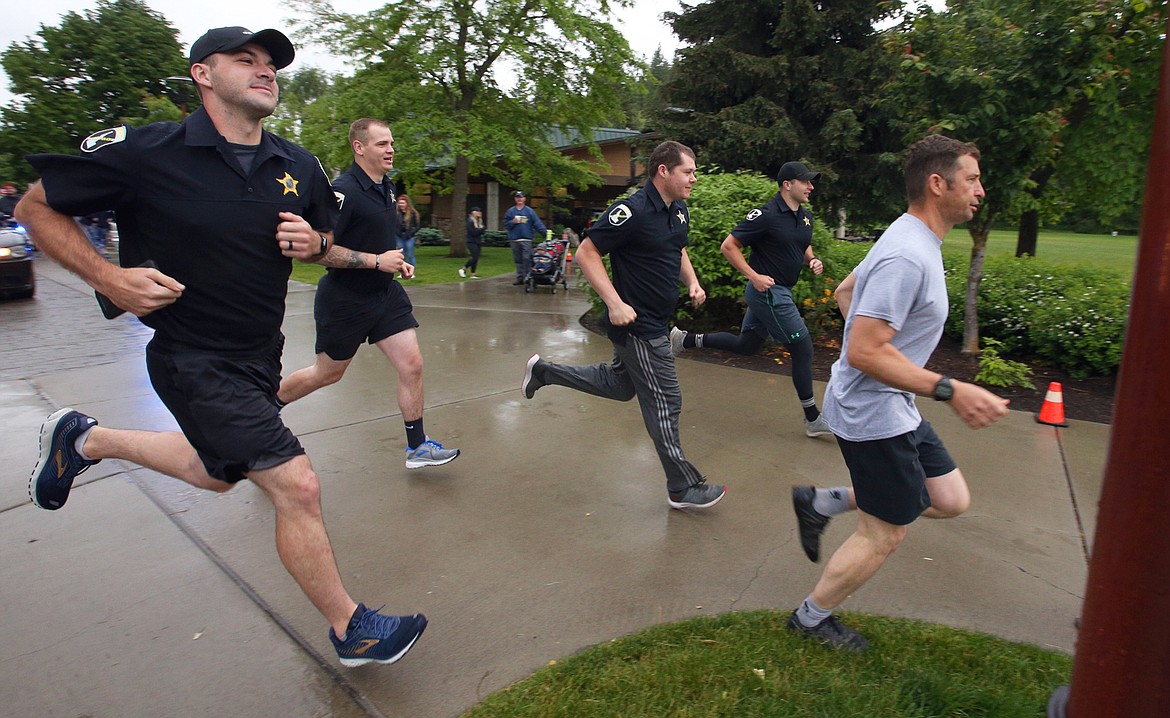 Members of the Idaho State Police start out in the ISP 5K Foot Pursuit at McEuen Park on Saturday morning.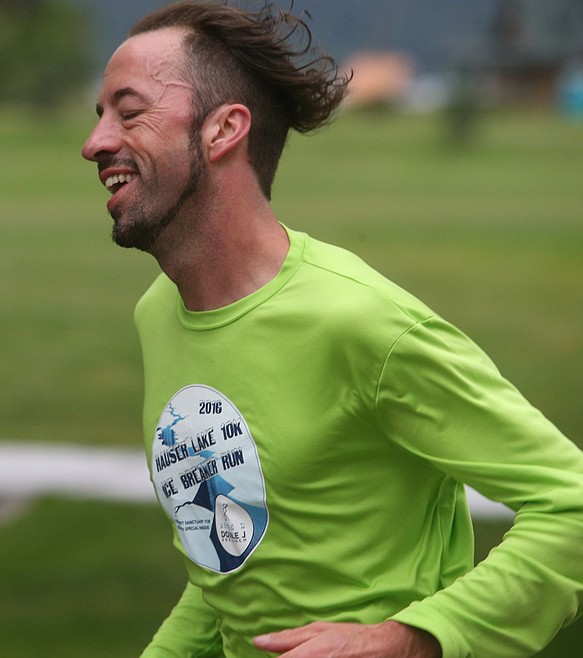 BILL BULEY/Press Jonathan Tevis of Coeur d'Alene strains as he heads toward the finish line of the ISP 5K Foot Pursuit at McEuen Park on Saturday morning.
Previous
Next
by
BILL BULEY
Staff Writer
|
June 14, 2020 1:20 AM
Fun run gives people a chance to outrun law officers for a good cause
COEUR d'ALENE — When Idaho State Police Capt. John Kempf shouted "Stop. Police," at the group of about 50 at McEuen Park on Saturday, they ignored that command.
Instead, they ran.
Sirens began screaming.
Lights started flashing.
Adults and kids kept running.
And Kempf watched and smiled.
Some ISP troopers on hand even applauded.
"This is exciting, especially in light of the COVID stuff and everything else that's going on, so it's great to see the community coming together for a cause," he said.
That cause was the "ISP 5K Foot Pursuit," an event to highlight the partnership between CASA (Court Appointed Special Advocates) and law enforcement.
The goal, on a cool, rainy morning, was to raise funds to support CASA's work to advocate for children of abuse and neglect.
It also is designed to provide education on state police efforts to fight drugs in North Idaho.
"Events like this engage the community and help us educate participants on the importance of CASA and the essential work our advocates do for child victims," said Kristin Ludwig, CASA director of development.
Before the race, Kempf led a moment of silence, "for things like justice, peace, love. I'd really appreciate it."
The Foot Pursuit did something that might normally get someone in trouble: It encouraged people to outrun a cop — and offered them a medal for doing so.
Scott Giltner was all in. The Hayden man finished first in 18 minutes and 50 seconds, his fastest 5K ever. His motivation: Leave a law officer in his dust.
"That was my goal, I wanted to beat them, see if I could outrun some police," he said, smiling. "Proved it true."
So, how did it feel to run away from the police?
"Maybe I shouldn't say," Giltner said, laughing
But on a serious note, he said the guys in the ISP academy who ran Saturday are in good shape, "so it was great to know I compare well with guys who are in professional training."
A family walk started at 9:20 with a loop around McEuen Park. When people finished, they enjoyed games, prizes and coffee.
Ludwig was pleased that they doubled the field from last year's inaugural Foot Pursuit.
It was also the first officially allowed organized fun run of the season, since coronavirus restrictions were enacted in March and only recently lifted. That brought out many runners eager to shake out their legs.
"It's fantastic because we had so many elements against us," Ludwig said. "The whole time we didn't think we'd be able to run."
The chance to run side by side with police, or ahead of them, brought out men, women and children.
"Where else can you be chased by ISP troopers?" Ludwig said.
She laughed as she said, "We're hoping a trooper comes in at least fourth because we only have three medals."
Several runners did reach the finish line before ISP troopers arrived.
"We got smoked," Kempf said, laughing.
Rowan Henry, 10, came over from Spokane and was among the top finishers as he held off the ISP members over the 3.1-mile course that went on the Centennial Trail and through City Park.
"I beat them all," he said.
Asked if he ever thought police would be chasing him, Rowan said, "no."
Was he worried they might catch him?
"Not really."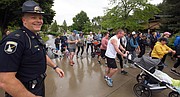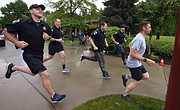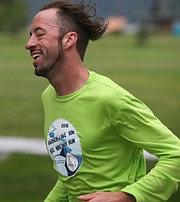 ---