Taking it to the Streets…INO on-the-GO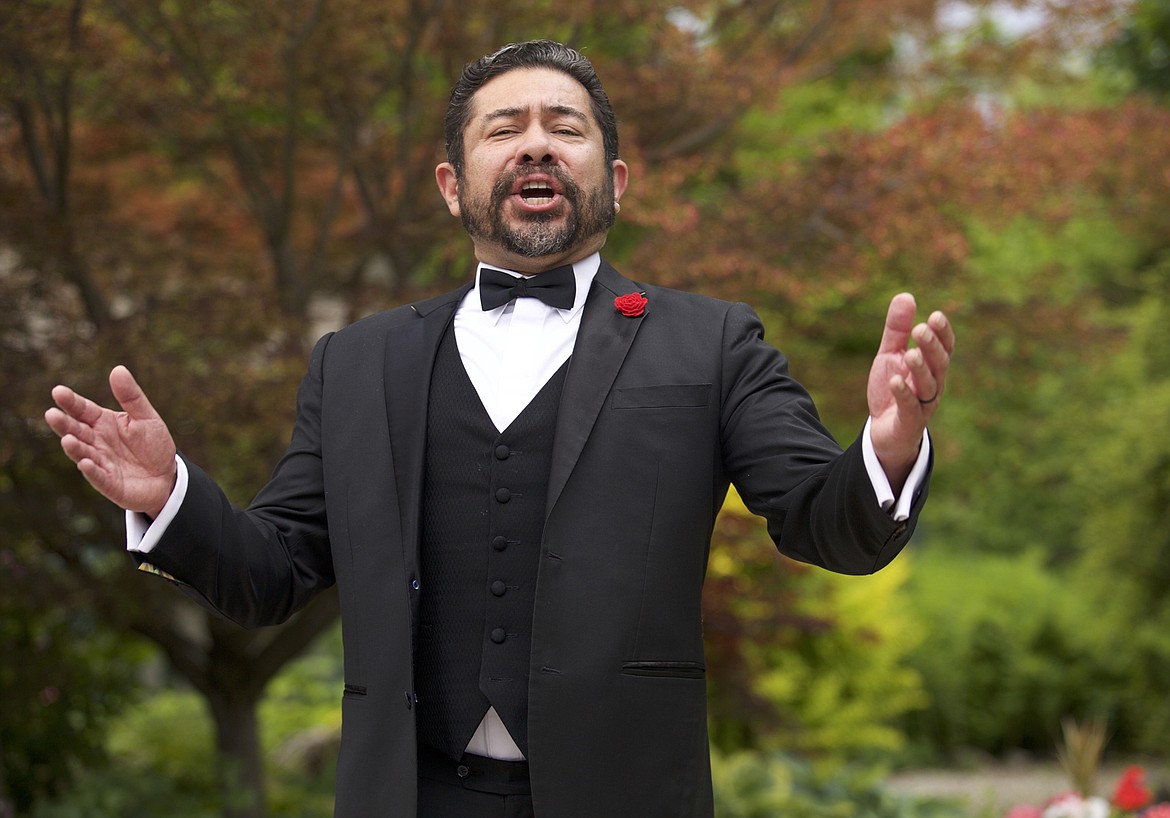 Hayden resident Max Mendez, who will be one of the performers for Inland Northwest Opera's "Opera Gram" this summer.
Photoby JimSwobodaILFMedia
Opera Gram, Opera Truck to Embark This Summer
COEUR d'ALENE — Inland Northwest Opera will adapt its offerings this summer to address the health and well-being of patrons with "INO on-the-Go."
Two programs will bring hope and inspiration to neighborhoods, whether just outside homes or in outdoor community spaces. Opera Gram will personally deliver arias to those safe at home, serving those within a 35-mile radius of Spokane and Coeur d'Alene.
"With so much uncertainty and unrest, we are forging a path to bring the healing of the arts directly into the community this summer," said Dawn Wolski, general and artistic director for Inland Northwest Opera. "Opera Grams, sent to friends and loved ones, invite people to enjoy a 'crowd pleaser' without the crowd. The Opera Truck is our way of reaching out to neighborhoods with beautiful music from local performers that will touch the soul during these difficult times."
Reservations are required two weeks in advance and will start being accepted Saturday.
INO's Opera Truck will offer socially distanced performers aboard a flatbed truck stage that pops-up for 15 minutes starting in August with drive-ups at senior communities and to include underserved neighborhood lots with social distancing. Traditional summer programs such as "Opera on the Lake" and public outreach for families, "Opera-tunities," will be postponed in 2020, as well as the Annual Gala that was scheduled for August.
INO surveyed its patrons in May to measure their feelings about attending opera in a variety of settings during the summer, winter and fall. While many were open to a summer outdoor theater, the summer cruise was dead-on-arrival for the majority of 150 respondents, a press release said.
The traditional theater setting was rated slightly above average for winter. Digital programs, whether streamed from a concert hall or an artist's home, were highly favored. While only directional from this small sample, it helped the organization to factor the level of audience uncertainty into their plans to move forward given COVID-19 concerns.
Constructing outdoor mobile opera programs was one way to navigate the desire for opera and limit the fear of gathering in one place for too long, the release said.
Alternate fall programs that re-imagine the season will be announced in early August. Single tickets will replace the usual subscriber models when events go on sale. La Traviata, slated for September 25 and 27th at Martin Woldson Theater at The Fox, will not occur in 2020. "Interlude" featuring tenor Ta'u Pupu'a will be considered for future seasons. Subscribers to the 2020 season will be offered a full refund or the ability to donate their ticket value to INO.
Opera Grams are $100 and reservations for can be made at inlandnwopera.com. To receive notices for the Opera Truck, follow INO on facebook or sign up for the e-newsletter on the website.
Originally begun by a group of opera lovers, INO began as a grassroots effort called "Opera Plus!" in 2000, with one Mainstage production at the Schuler Auditorium of North Idaho College, along with a yearly sunset cruise on Lake Coeur d'Alene.
In 2009, the organization expanded its season and became Opera Coeur d'Alene and offered its first Spokane production in 2015, La Boheme, in collaboration with the Spokane Symphony. In 2018, with a larger scope of serving the entire region, the company became Inland Northwest Opera under the direction of General and Artistic Director, Dawn Wolski.
---