'This is a gift'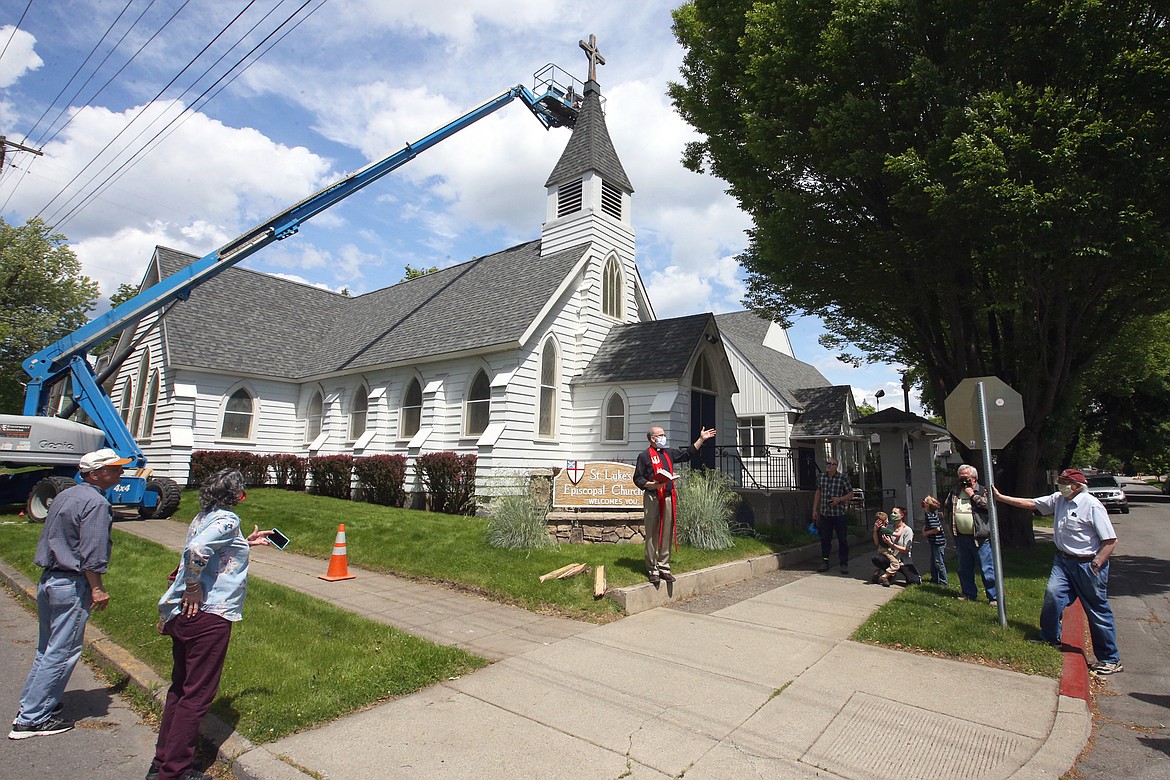 BILL BULEY/Press Rev. Dr. David T. Gortner says a prayer with church members and others as the new cross is secured in place on the steeple at St. Luke's Episcopal Church on Thursday.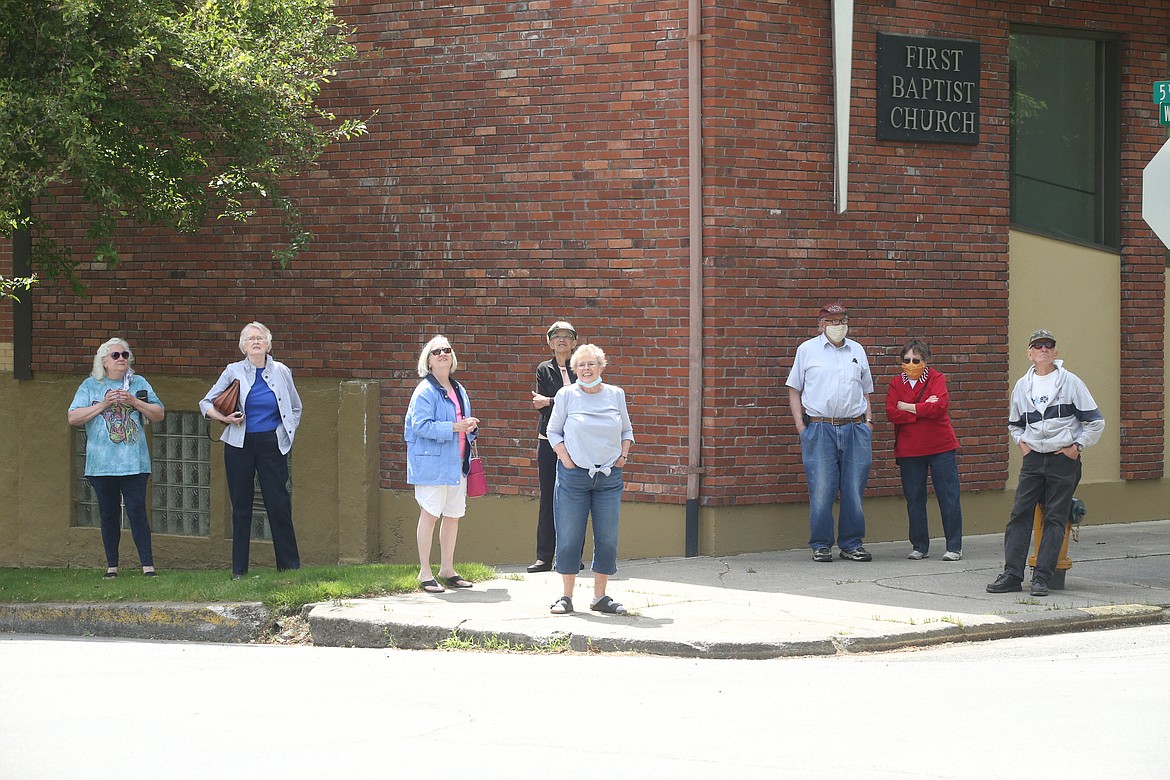 People watch the new cross being put on the steeple at St. Luke's Episcopal Church on Thursday.
BILL BULEY/Press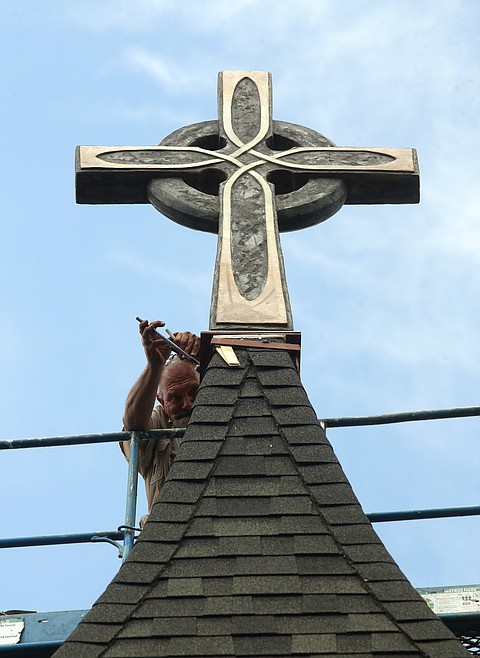 BILL BULEY/Press David Brooks secures the new cross on the steeple at St. Luke's Episcopal Church on Thursday.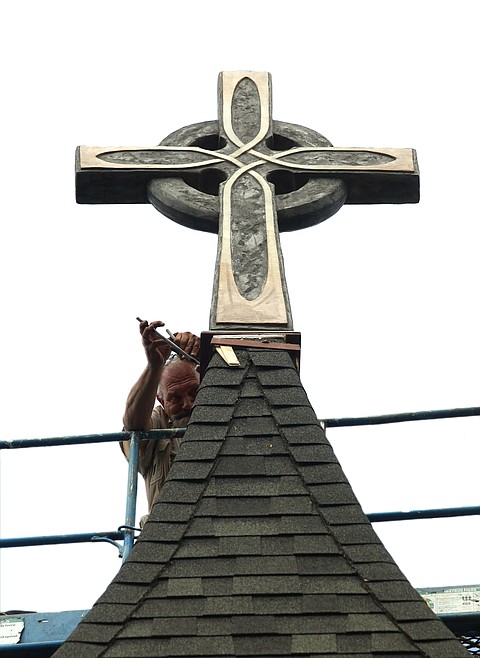 Previous
Next
by
BILL BULEY
Staff Writer
|
June 5, 2020 1:15 AM
New cross finds home atop steeple at St. Luke's Episcopal Church
COEUR d'ALENE — Kristin Keyes was delighted as she looked at the new cross being secured on the steeple at St. Luke's Episcopal Church on Thursday.
"It makes my heart just so warm and happy," said Keyes, who attends the church on Fifth and Wallace. "That cross is such a beautiful Celtic cross and we're so excited to have that reflecting what our Christian love is here. I love this cross and I love this church."
A small crowd watched and took pictures as the cross was hoisted up the steeple on a sunny afternoon, and then attached by David Brooks, a church member.
When he pulled off the cloth cover, revealing the cross in the sunlight, they cheered.
The Rev. David Gortner later called the group to form a loose circle and led a short prayer.
He said the cross shows "the promise of God at this time to a world that's in distress from disease and racial tension and mistrust. This is a gift and it's also our sign to the community and the world around us we are here following Jesus. Come join us."
Around $12,000 was raised for the new large cross — about 6 feet high, 3 1/2 feet wide, and weighing about 350 pounds — and a smaller one on the gate leading into the columbarium.
"It's a shame the old cross didn't last, but this community came together beautifully to put together funds for a new cross," Gortner said.
It replaces the old, wooden cross, about 25 years old, that had holes and was removed in September.
"Woodpeckers ate the old one," said Ernest Warner, who was handling the tag line to stabilize the cross as it was lowered by crane into place on the 61-year-old steeple.
Warner, a church member, said seeing the cross in its new home gave him "a great sense of joy and elation.
"The church is kind of unique, and this in a way reflects the nature of the church," he said.
Gortner said the cross "picks up the Celtic and British Isles-feel of our church tradition.
"The cross of Christ and the resurrection are the core of our faith," he said. "Following Jesus is what we do, so it's good to have a sign of Jesus."
Artist Sarah Thompson Moore worked closely with church leaders on the project.
It was finished in October, but they were waiting for the right weather and time to install it.
That day arrived Thursday.
"I think it's wonderful to see it in the place it was designed for. That's always exciting," Thompson Moore said. "I just feel really happy to have been part of the process and that I was honored with the task to make this happen for them."
The Celtic-inspired cross is built to withstand North Idaho's weather.
The core is a welded tube frame. It was primed for protection from rust and foam was used to develop its shape and reduce weight. Several coats of concrete materials were applied to the outside shell.
"It should last forever," Thompson Moore said. "There will not be any woodpecker holes in it."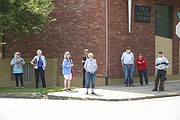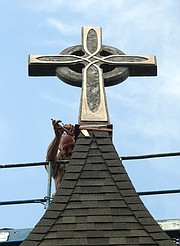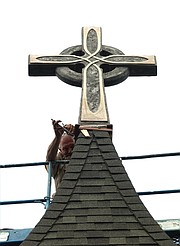 Recent Headlines
---