Putting pieces together post-COVID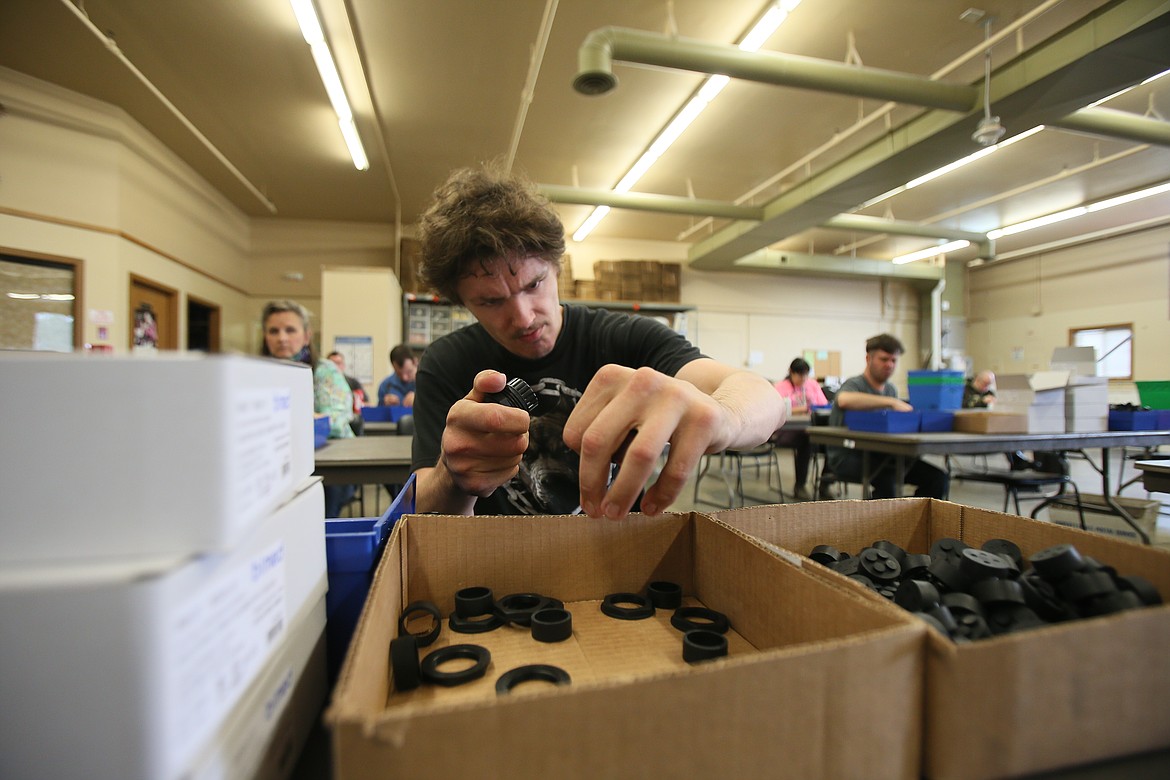 Robert McRae of Post Falls focuses on assembling a piece for a cellphone tower surge protector Monday morning at Tesh, Inc., which is now back to regular hours and staff.
DEVIN WEEKS/Press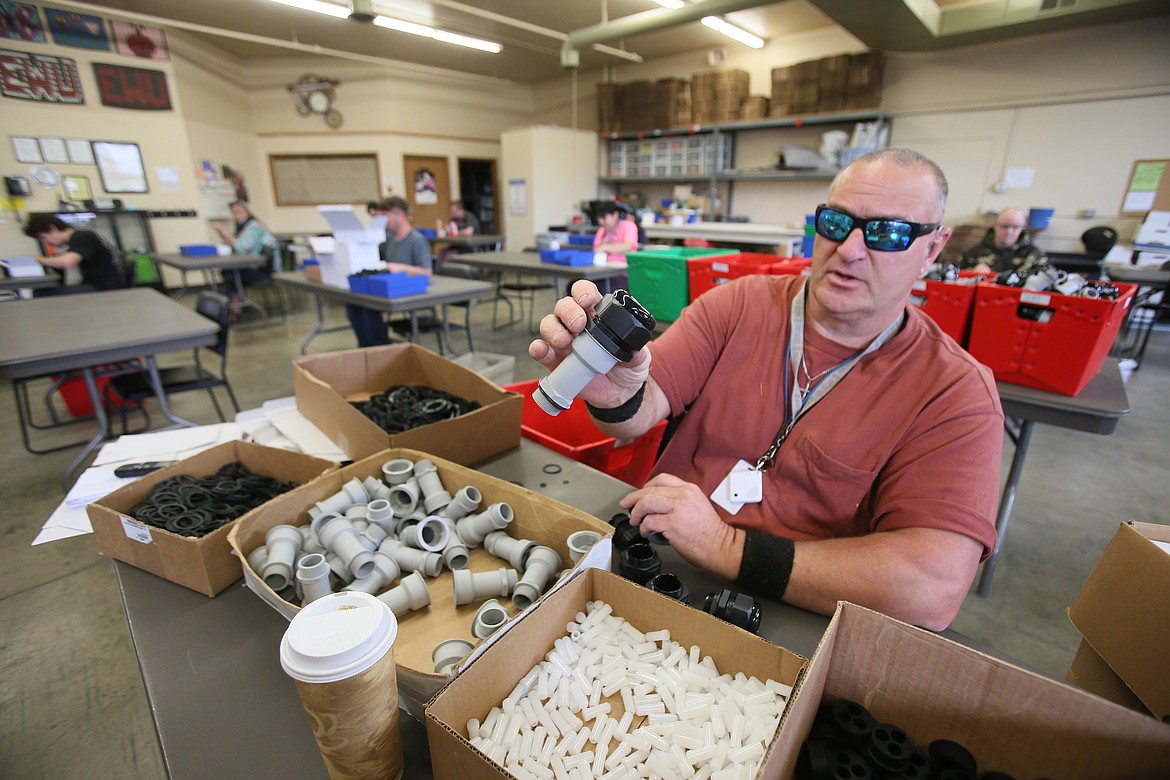 Tesh employee Jeff Shields assists with assembling pieces for cellphone tower surge protectors Monday in the vocational center. Tesh has returned to its normal business hours after six weeks of closure and a few weeks of limited staff. (DEVIN WEEKS/Press)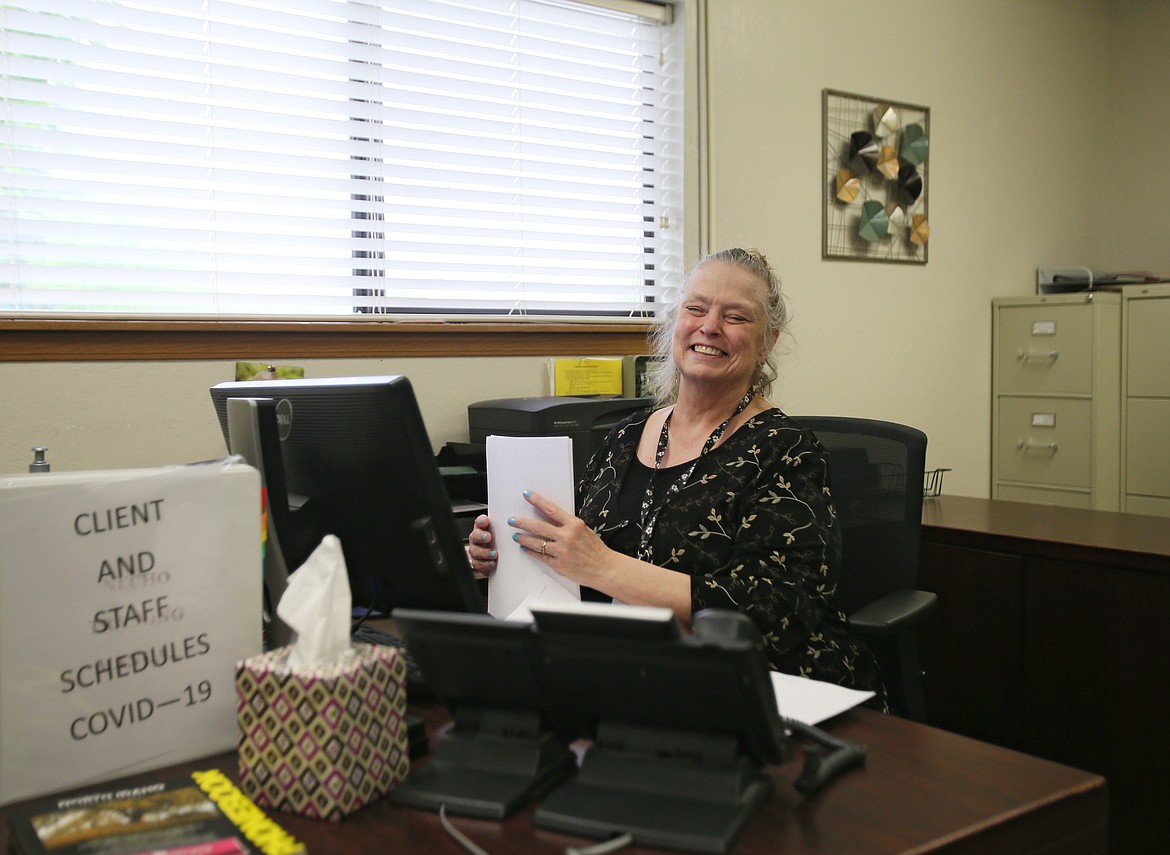 Linda Johnson, who works in billing at Tesh in Coeur d'Alene, is cheery and happy to return to the office Monday morning after COVID-19 closures.
DEVIN WEEKS/Press
Previous
Next
by
DEVIN WEEKS
Staff Writer
|
June 2, 2020 1:12 AM
Tesh resumes regular hours, slowly brings back clients
It was a pretty quiet six weeks at Tesh, Inc. during the pandemic lockdown.
"I had many, many families call me, because that six weeks is a very long time, and our clients are so schedule-oriented, that this was huge," said Tesh Vice President Terri Johnson. "Some of them believed it was their fault that they weren't coming. They didn't understand viruses."
Johnson went into the office at 3327 W. Industrial Loop once a week as the roughly 100 adult and 15 child clients Tesh serves — along with the rest of the world — were required to isolate at home.
"I came in and called as many families as I possibly could just to say, 'We're missing you,'" Johnson said. "I left a lot of messages just to let them know we were still thinking of them."
As of Monday, Tesh was pleased to once again resume a full staff and normal business hours. Clients are now back from 8:45 a.m. to 3:45 p.m. to allow a time cushion for cleaning and the office is open from 7:30 a.m. to 4:30 p.m. Monday through Friday.
"When we closed, we did it very quickly on March 16," Johnson said. "Only a few people came in that day to wrap up things. We did close the business down at that point and time.
"They are all back," she said. "That has been really lovely to see them."
Tesh is a private, not-for-profit organization that serves people with disabilities of all ages who would like greater opportunities, self-sufficiency and participation in their community. Because this is a fragile population, Johnson and Tesh CEO Frances Huffman explained that they will be keeping to a maximum of 42 clients during this phase of reopening to provide plenty of space for physical distancing.
All workers in the building are participating in daily deep cleanings and all clients are also being trained on hand-washing, safe sneezing and social distancing. An employee will also be in the lobby to check the temperature of clients, staff members and visitors every day.
Johnson said everything Tesh has done in preparation of reopening has been designed to make sure the clients could socially distance, which can be a tough concept for some.
"They are so vulnerable, and they do not socially distance well," Johnson said. "The clients that first spoke up that they wanted to come back blessed us because they were able to do that. Our more fragile are coming probably in the middle of June, is what we've heard."
Tesh was a recipient of a Paycheck Protection Program loan, Huffman said, so no staff members were let go during the shutdown. The 60 staff members retained their wages, and those eligible retained their insurance.
"Saving our staff was utmost," she said. "We retained their benefits, we retained their accrued leave, we retained their regular hours of pay and prayed a lot to make it work."
Tesh's summer camp for kids, Camp Independence, will return with a fraction of its normal number of campers. The summer work program for ages 16 to 21 will also happen, Johnson and Huffman said.
"We weren't sure the businesses would take them," Johnson said. "Our tried and true businesses, bless their hearts, are wide open. They've already called and said, 'Terri, we're ready.'"
In the vocational center, a handful of employees and clients — spaced at separate work stations at least 6 feet apart — worked assembling surge protectors for cellphone towers, one of many services Tesh provides for businesses and community partners.
Tesh client Robert McRae of Post Falls chuckled when he was asked if he was happy to be back.
"Oh absolutely," he said, engrossed in snapping pieces together. "Especially a working man like me."
Tesh employee Jeff Shields helped out on the other side of the room.
"I'm feeling good. I'm happy to be back. Are you kidding me?" Shields said. "As far as coming back here, it's great. Let's get the economy going here, get people back to work. Let's rock and roll."
Tesh has positions open for a full-time rehabilitation technician, a seasonal janitorial supervisor at Farragut State Park and for a developmental specialist, beginning part time.
Info: www.teshinc.com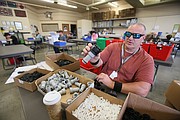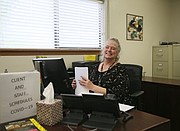 ---