Get down to LakeTown Sound on Sunday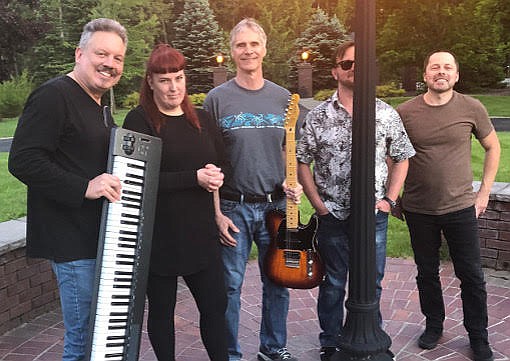 LakeTown Sound will play in Coeur d'Alene City Park from 1 to 4 p.m. on Sunday. The band plays classic rock music from the 1980s to present day, along with some original songs.
Courtesy photo
Free Summer Concert Series performance will be from 1 to 4 p.m.
COEUR d'ALENE — A high-energy hometown band will rock Coeur d'Alene City Park on Sunday.
From 1 to 4 p.m., Laketown Sound will play classic rock music from the 1980s to present day, along with some original tunes. The band consists of Paul Ertel, lead guitar, vocals; Tanya Pray, lead vocals; Kris Kelly, bass guitar, vocals; Rex Johnson, drums; and Andrew Pray, keyboards, vocals, rhythm guitar.
Each member has a long love story with music.
Ertel picked up a guitar at age 7, switched to lead guitar and developed an instant love of classic rock. Pray has been a singer since birth and was trained in classical music with experience in jazz and rock and roll. Kelly began playing guitar at age 10 and picked up the bass at 16, with experience in Christian rock, ska, punk, classic rock, blues and country. Johnson joined his first band at 14 and has since continued his journey in live performance, recording and studio work.
"This is a band that has never played for one of my concert series, ever," said Chris Guggemos, owner of Handshake Productions, which annually presents the free Summer Concert Series in Coeur d'Alene City Park, Sherman Square Park and McIntire Family Park in Hayden.
Bring a chair, bring a blanket and bring your dancing feet.
— Devin Weeks
---