AUTO RACING: Full speed ahead at Stateline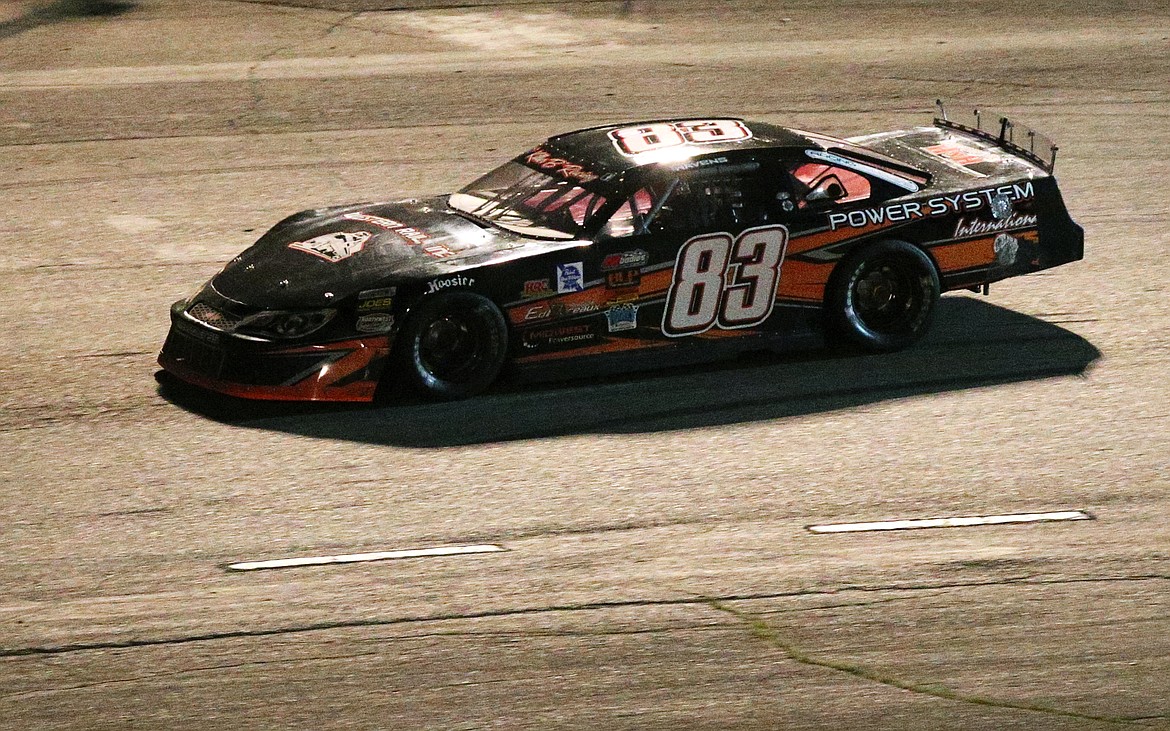 Braeden Havens (83) drives along the back stretch during the 2016 NAPA Auto Parts Idaho 200 at the Stateline Speedway. Havens won the event, which holds its 21st annual race on Saturday night.
LOREN BENOIT/Press
Post Falls track to host 21st annual Idaho 200 starting tonight
While the rest of the world sorts out its safety protocols when it comes to COVID-19 and fans in attendance for auto racing, there's only one saying on the minds of those at Stateline Speedway.
"Start your engines."
The track located on Beck Road in Post Falls will host the 21st annual Idaho 200 starting with qualifying throughout the night. The top 16 qualifiers advance to Saturday's 200.
"Those guys will sit back, have fun and wait until the 200," Stateline Speedway General Manager Matt Alexander said. "The remaining guys, we'll split up between an A and B Heat and they'll go 30 laps each where we'll take the top four finishers from those heats and they'll advance to the 200 as well. On Saturday, we'll do a final chance race of 50 laps and take the top two finishers to make our 26-car field for the main event."
The 200 will feature Late Model Cars similar to those driven in NASCAR.
On Saturday, competitors will drive 100 laps, then have a 10 minute intermission to swap out tires, then conclude the race with the final 100 laps. Saturday's main event is tentatively scheduled between 8 and 9 p.m.
"It's a very busy weekend," Alexander said. "But when you're getting the best of the best from around the northwest, California, Nevada, Oregon, Montana — and a few from Idaho as well — it's good to watch them use their skills, tire management and not being too aggressive early on. Because it's 200 laps, you're not going to win it on the first lap."
Races also on tap tonight are the Park Model Mini Stocks (77 laps) and Hobby Stocks. Racing continues Saturday with the Flat Top Roofing Legends and Pro Ford Trucks Race, before the 200.
With races usually beginning in April at the track, Stateline didn't open for racing until mid-June due to the coronavirus pandemic.
But since they've opened the doors, it's been full speed ahead.
"The first two months of races we canceled," Alexander said. "April, May and part of June we had to cancel. Our first opener was Father's Day weekend, and since then, it's been a packed house. The public just needs something to do."
And while a few drivers had some fears about competing this year due to COVID, once the ball got rolling, so did they.
"When all this first happened, a few drivers thought the season was over just by how things were going," Alexander said. "Once they found out we were opening, and other tracks in Wenatchee and Hermiston were opening, they decided to give it a go. They pulled their cars out of the garage and got busy.
"It's an important weekend to us and the local crowd. It's important for about 20 drivers that have their name on the back of a shirt, and keep coming back each year to make sure they get their name on the back of that shirt."
Weather shouldn't be a factor for spectators at all this weekend.
"There's no real crowd restrictions," Alexander said. "We've got hand sanitizing stations throughout the facility. We highly recommend masks, as well as using common sense like everyone has been preaching. Wash your hands, wear a mask. But if you can't wear a mask, we're not going to ask why."
Among the drivers in the field for Saturday's 200 are previous champions Braeden Havens, Garrett Huffines and defending champion Glenn Knutson of Wenatchee.
"Right now, we've got a young gun named Haeden Plybon, who could contend," Alexander said. "He's maybe 15 or 16-years old and a hot shoe (slang for a reckless or unnecessarily fast driver). Glenn Knutson won here last year and has been winning a lot of the different northwest shows."
Tickets are available at www.raceidaho.com.
---