Ronald 'Ron' G. Kaeslin, 87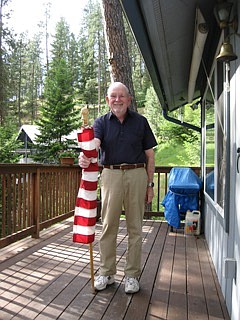 Ronald "Ron" G. Kaeslin, 87, had resided in Fargo, N.D. and slipped the surly bonds of earth on June 28, 2020, at Riverview Place in Fargo. Ron had moved to Fargo to be near his daughter after living in Elk Grove, Calif., for approximately 35 years. He was in hospice care and was surrounded by his daughters and Riverview staff at the time of his passing.
Ron was born in McKeesport, Pa., to Herman and Helen (Alexander) Kaeslin. He graduated from high school in Greensburg, Pa. After high school, Ron worked in drafting and highway construction, where he was a highway foreman.
He turned down an opportunity to attend West Point and joined the Air Force in 1952. Ron went to basic training, followed by officer candidate school, and he became a navigator in 1954. He flew in the B-36 and the B-52. Ron had over 8,400 hours as a navigator during his career, which included over 1,000 hours in the B-36 and 7,300 in the B-52, with the remaining hours in various aircraft. He served during the Korean War, Vietnam and the Cold War — a career spanning nearly 30 years which included many deployments to Guam, Thailand and Japan. Ron served as a navigator, radar navigator, instructor navigator/flight examiner and a commander.
Early in his career Ron met and married the love of his life, Patricia (Sullivan) Kaeslin, of Coeur d'Alene, Idaho. The Air Force took them to many different places to call home throughout the United States, as well as an assignment to Germany. During their retirement years, Ron built the beloved family cabin on Coeur d'Alene lake. His attention to detail was unmatched, the cabin was perfectly square in all aspects, and with the help of lifelong friends, Ron and Pat's dream came to fruition. They continued to enjoy their dream, even when Pat became seriously ill and Ron became her primary caregiver for 10 years. He felt strongly about his marriage commitment and wanted to uphold the "for better or worse" part of that commitment.
Ron's hobbies included time at the lake, fishing and golfing. He was a true family man and throughout his life family always came first, whether it was choice in Air Force assignments or traveling, camping, riding horses and enjoying outdoor activities together.
He is survived by his daughters, Lori Kaeslin and Tracy Kaeslin (Denise), both of Moorhead, Minn.; his nephews Cliff Morris (Nell) of Ellijay, Ga., and Ronnie Morris (Debbie) of Pittsboro, N.C.; along with great niece and nephews, several cousins and many friends. He was preceded in death by his wife, Pat; his mother and father; his sister, Doris, and his mother-in-law and father-in-law.
A memorial service will be held at 11 a.m. Monday, Aug. 3, 2020, in Coeur d'Alene at English Funeral Chapel, followed by burial in Forest Cemetery. The family requests that attendees follow social distancing guidelines and wear masks at both services.
In lieu of flowers, the family respectfully requests donations be sent to Riverview Place, 5300 12th St. S, Fargo, ND 58104. Please annotate the donations to read "in memory of Ron Kaeslin."
The family would like to thank Riverview Place for all they have done for Ron while he lived in independent and assisted living, with a special thank you for their care and compassion during his last few weeks. The family also thanks CHI Hospice for the care and compassion they provided Ron and the family.
---