Set up to be a Spartan
by
JASON ELLIOTT
Sports Writer
|
July 28, 2020 1:00 AM
Rewers, rising senior at Lake City High, verbals to play at Michigan State
Rising Lake City High senior Brooklyn Rewers had her mind set on two places to continue playing basketball at the next level following graduation.
One was Duke in the Atlantic Coast Conference, where she'd verbally committed to play in early May.
A coaching change in Durham, N.C., and Rewers decommited from the Blue Devils on July 21.
On Monday, Rewers verballed again, joining Michigan State of the Big Ten Conference.
"I did a virtual home visit and got to look at their campus," Rewers said. "I feel comfortable with them. From what I've seen, it's a good environment to be in."
And if she has any questions about that, Brooklyn can ask her big sister, Lauren, who transferred from Hawaii to East Lansing to play her senior year in 2020-21.
"Schools in the Midwest don't look as far west," Brooklyn Rewers said. "They saw I was being recruited, and were involved early on. After all the COVID stuff, both Duke and Michigan State were my top two schools. Since Duke didn't work out, she (Lauren) kind of helped me out with finding another good fit for me."
Brooklyn Rewers, a 6-foot-4 post, had virtual discussions with the new Duke coaching staff before opting to re-open her recruitment.
Duke coach Joanne P. McCallie resigned in early July, and Kara Lawson, the former Tennessee and WNBA standout, was recently named coach.
Rewers, who was named to the 2019-20 All-Idaho 5A girls basketball second team, averaged 18.7 points, 10.1 rebounds and 3.7 blocks per game for the Timberwolves as a junior. Rewers was also named co-Player of the Year in the 5A Inland Empire League as a sophomore and junior.
Lauren Rewers will arrive on campus at Michigan State in mid-August. She'll be immediately eligible for the 2020-21 season and will do her Masters' studies at MSU, according to her sister.
"If everything goes as normal, I won't get a chance to play with her," Brooklyn said. "But if things take a turn for the worse, maybe. But she's planning to play this year."
Brooklyn has continued her AAU season this past week, playing games with the Northwest Blazers in Iowa.
"There's a lot less stress now," she said. "I didn't have to worry about impressing a bunch of coaches, so that's better. I'm just really excited to get going."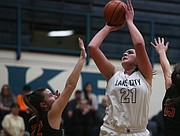 ---