Auto Zone, P1FCU among businesses coming to Athol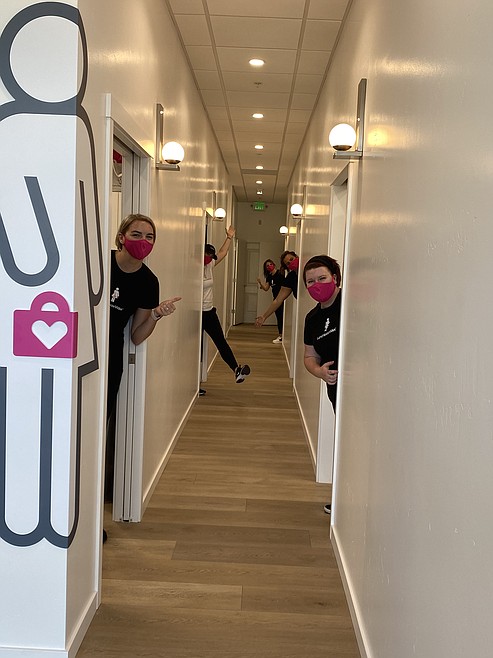 Courtesy photo From left, waxologists Jessica Harris, Sadie Selby, Emily Moss, Ashley Moody and Hayden Goodwin peek out from doors at LunchboxWax, which opens Monday at The Northern on Ramsey Road near Hanley Avenue.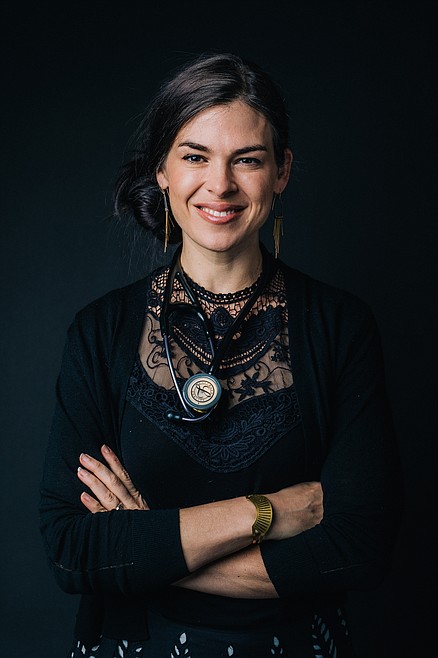 Courtesy photo Dr. Brittany Burns is among the staff at Coeur Vitality, a medicine clinic at 110 E. Wallace Ave.
Previous
Next
LunchboxWax opens Monday at The Northern Coeur Vitality opens Aug. 3. downtown And now the Tidbits
At least three businesses are under construction in The Crossroads development in the northeast corner of the U.S. 95 and Highway 54 intersection in Athol. With the anchoring Super 1 Foods built there in 2018, the parcel shows promise as the main route to Bayview and Silverwood.
• A new Auto Zone store should be completed later this year. It will be about 7,300 square feet and have a 32-space parking area.
The 37-year-old company has more than 6,000 stores in all 50 states and four countries. Check www.autozone.com.
• P1FCU (Potlatch No. 1 Financial Credit Union) is being built at The Crossroads entry and will also open this year.
With an 82-year tradition of service, it offers consumer, mortgage and business lending, deposit and account services and strong community support. With its headquarters in Lewiston, P1FCU has 21 locations in Idaho, Washington and Oregon.
The Athol branch will have an interactive teller machine and a drive-through. Check www.p1fcu.org.
• A combination gas station-convenience store also is under construction at the entry of the development.
Several smaller pads are available along the west side of The Crossings in view of U.S. 95. NAIBlack real estate (www.naiblack.com) is in charge with brokers Steve Ridenour (208-660-5010) and KC Reese (208-755-7629).

see BITS, M8
BITS
from M1
A full-body waxing salon, LunchboxWax opens Monday in Suite 103 of the south building of The Northern development located northwest of the Ramsey Road and Hanley Avenue intersection.
Services include hair work (removal) on eyebrows, sideburns, nostrils, ears, neck, chin, full-face, cheeks and anywhere on the body. It's called "lunchbox" because it can be done during a person's lunch hour.
With owners Brandie and Mike Chapman, hours are 9 a.m. to 6 p.m. Monday, 8 a.m. to 8 p.m. Tuesday through Friday, and 10 a.m. to 4 p.m. Saturday.
Waxologists are Jessica Harris, Sadie Selby, Emily Moss, Ashley Moody and Hayden Goodwin. Phone 833-CDA-LBWX (232-5200). Check www.lunchboxwax.com/coeurdalene.
A new integrative medicine clinic, Coeur Vitality plans to open Aug. 3 at 110 E. Wallace Ave., just north of downtown. The personalized health care includes pediatric, men, women and geriatric.
Patients will have access to a health care team to help each person achieve peak wellness with services of a family practice doctor and nurse, a chiropractor, a dietitian and a physical trainer-coach.
Personnel include Dr. Brittany Burns, Kelli Grambeau, Brent Hirchi, Sharon Anderson and Jonathan Burns. Phone 208-853-0707. Check www.coeurvitality.com.
• Northwest Taps will be a permanent structure in the food court off Prairie Avenue.
• Cookie Crumble will be in the Costco Plaza area at 3524 Government Way.
• Emerge is opening at 119 N. Second St.
• Milk & Honey Coffee is "coming soon" to Mullan and Cecil in Post Falls.
• Ricardo's Baja Tacos will be at 801 W. Seltice in Post Falls.
• Sweet Treats Frozen Yogurt will be at 3276 W. Prairie.
• Izzy's Comfort Kitchen will be where 10-6 Eatery was at 726 N. Fourth St.
• Atlas Building Group will have a new office in Riverstone.
• Bear Paw Quilts near Fred Meyer is open Tuesday through Saturday from 10 a.m. - 5 p.m. The store is having an inventory reduction sale with items marked at 30 percent off.
• A new UPS distribution center is under construction at 192 N. Beck Road in Post Falls.
• The Rokko's teriyaki eatery has left Riverstone and will be where San Francisco Sourdough was downtown.
• Solder & Stone Jewelry is moving in Hayden.
• A new commercial building is under construction at 6040 Government Way.
• Edward Jones Investments will have a new office in Hayden.
• 108 North is under construction connected to the Moose Lounge downtown.
• A "Coming Soon" sign is with an "India House" sign at 740 N. Cecil Road in Post Falls.
• Watch for Sherman Food Court coming at 1902 E. Sherman Ave.
• Something new is going into 413 Sherman beside the Art Spirit Gallery.
• A 32 Below Frozen Yogurt and Mangia Wood-Fired Pizza will be in The Northern complex northwest of the Ramsey Road-Hanley Avenue intersection.
• Trademark Mechanical is building a new place in Hayden.
• Sweet Pea Imagery and Baby Boutique will open soon in Riverbend Commerce Park (Post Falls).
• A new Roger's Ice Cream & Burgers is under construction on Government Way behind Wells Fargo Bank on Appleway.
• The new Hardwick Hardware is under construction at 3820 E. Mullan in Post Falls.
• Slick Rock Tanning & Spa is expanding into the former Grabba Green space at 405 W. Neider.
• A Chase Bank is being built in front of Tractor Supply on Neider Avenue.
• A Starbucks Coffee building is under construction kitty-corner from the Kroc at Ramsey and Maria.
• The Rosdahls just had a great vacation at a relative's lake house on Flathead Lake. While there, I left my wallet in a grocery cart at the Safeway in Polson. Some great young fella returned it intact to the store.
• Contact Nils Rosdahl at nrosdahl@cdapress.com.
This story has been updated.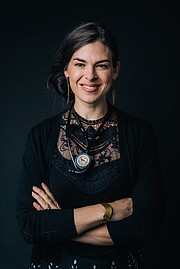 ---