Mask up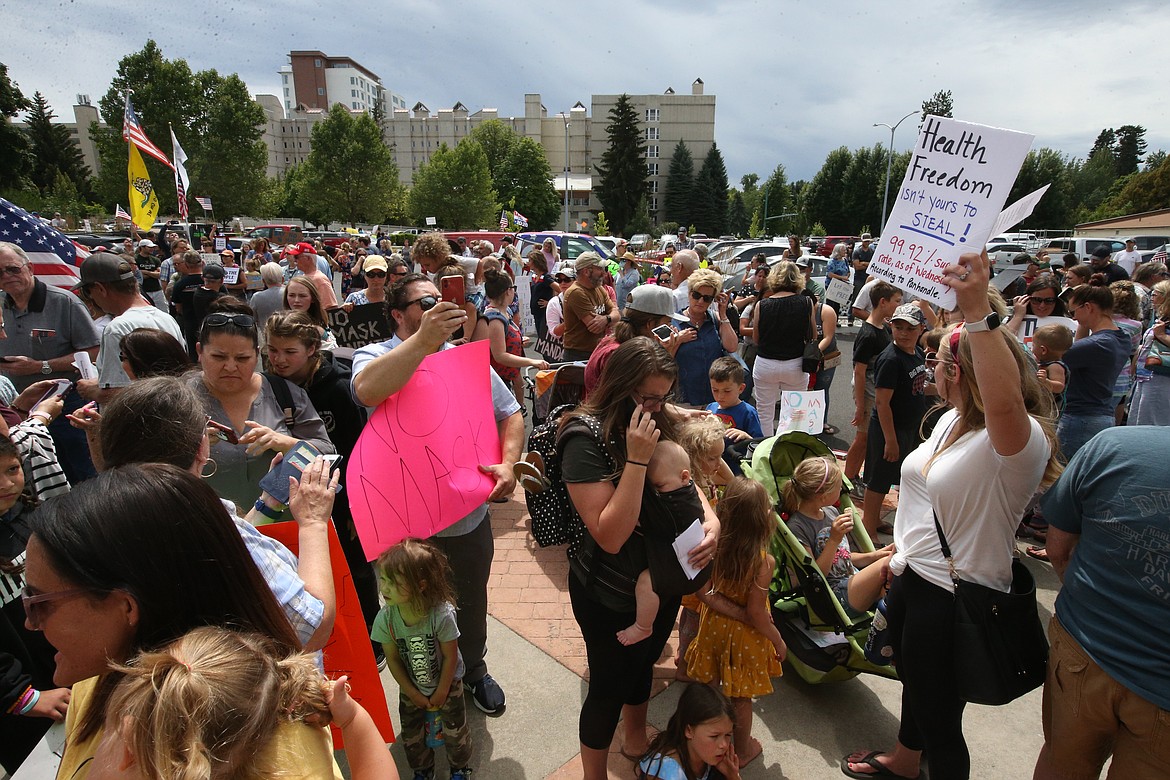 Protestors rallied outside before and during the meeting. Bill Buley/PRESS.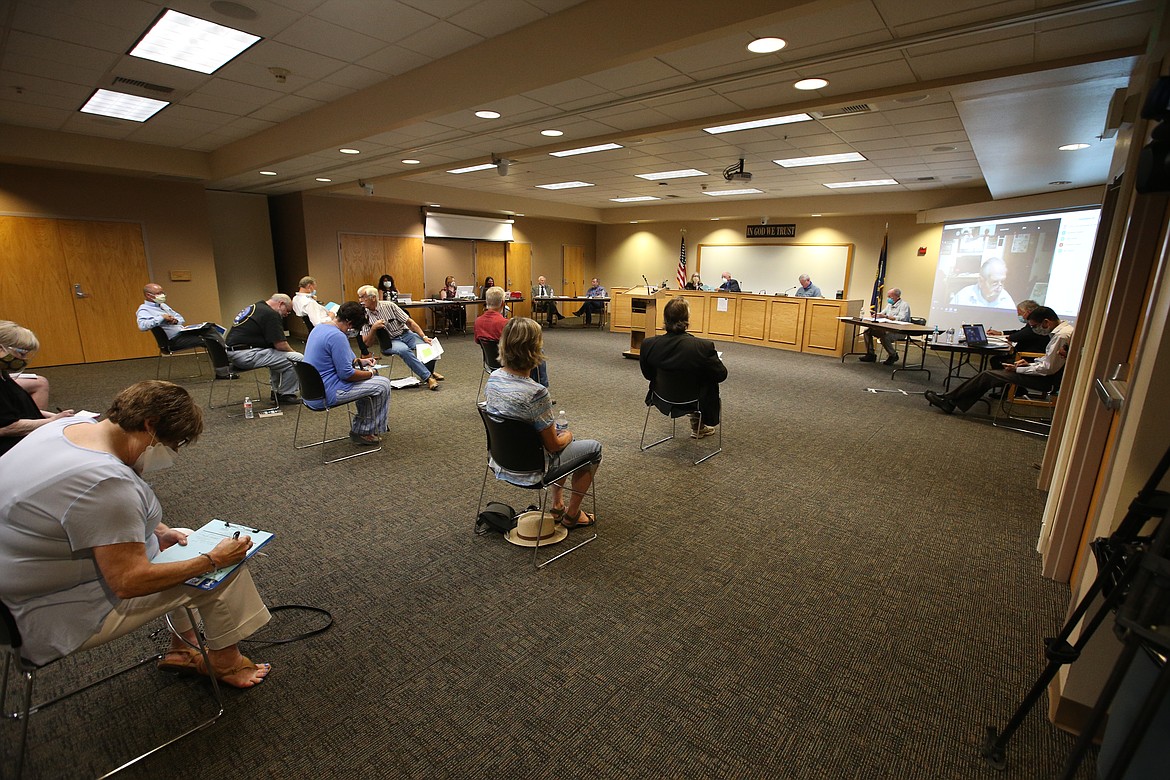 The event was marred by interruptions ranging from technical to emotional.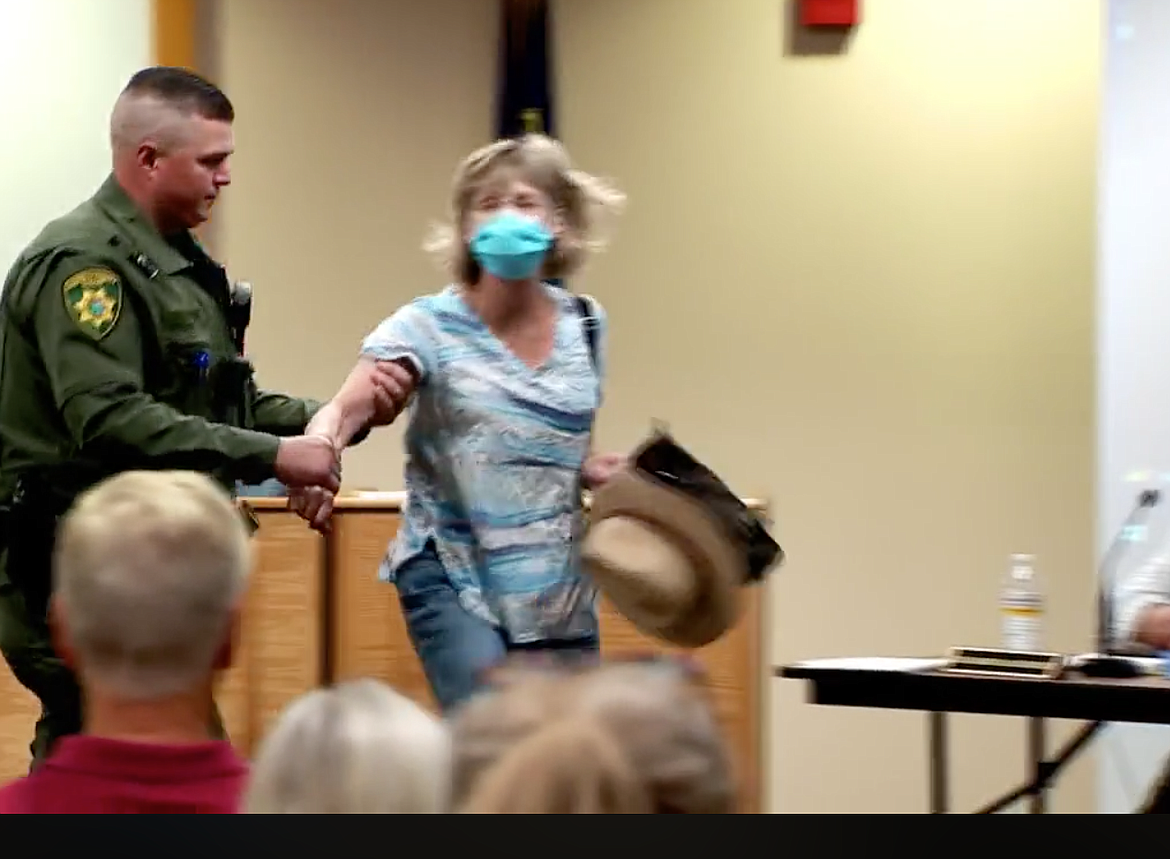 Tensions ran high throughout the more-than-three-hour Panhandle Health board meeting Thursday. A woman who was not able to speak during the public comment portion of the agenda was escorted out by the Kootenai County Sheriff's Office after trying to be heard by the board. (Image courtesy of KHQ)
Previous
Next
by
CRAIG NORTHRUP
Staff Writer
|
July 24, 2020 1:09 AM
Panhandle Health District approves mandate for Kootenai County by 4-2 vote
COEUR d'ALENE — The Panhandle Health District board of health placed an immediate mask mandate on Kootenai County on Thursday.
"If any board is going to take any action, shouldn't it be now?" board member and nurse Jai Nelson asked before urging each board member by name to support the measure. "It's time to do the right thing, and in the face of this pandemic, the right thing is to (mandate masks)."
The mandate will make it a misdemeanor to be in public spaces where social distancing isn't possible without wearing a mask, punishable by up to a $1,000 fine or up to a year in jail.
In its July 16 meeting, Nelson made a motion to mandate masks, but no one on the board seconded the motion, killing the move before it could come to a vote.
This time, the issue made it through a motion, a second, a debate and a vote supporting the mandate, 4-2.
PHD reported 1,427 cases of COVID-19 on Thursday, with 614 no longer being monitored. There are 25 COVID-19 patients currently hospitalized at Kootenai Health.
Kootenai County's total of coronavirus cases rose 54 to 1,204 Thursday. Bonner County has 114 cases, Shoshone has 36, Benewah has 30 and Boundary has 27. The mandate does not apply to those counties.
The event was marred by interruptions ranging from technical to emotional. Panhandle Health was livestreaming the meeting until midway through the public comment portion of the agenda, when the feed went down. After the interruption, the meeting was stretched to accommodate additional speakers. The meeting was later postponed after a connection with a board member participating remotely was dropped.
But the meeting was also interrupted by a resident who demanded to speak after the time for collective public comment ended. One woman was removed by a Kootenai County Sheriff's Office deputy. The meeting was occasionally interrupted by applause and boos from the audience.
Former Bonner County commissioner and board member Glen Bailey, one of the two no votes, said masks would not be effective, comparing wearing the masks in preventing the spread of COVID-19 to "trying to stop a mosquito with a chain-link fence."
"It's a threat to us as a community," Bailey said. "I have observed the rise in case numbers. But at the same time, I have not seen a commensurate rise in the death rate."
Allen Banks, the at-large member of the board and also a Bonner County resident, voted no.
"Masks do not work," Banks said. "The latest CDC publication in emerging and infectious disease … (shows) no benefit to the rate of influenza infection from wearing masks."
Nelson, Boundary County's Walt Kirby, Shoshone County Commissioner Mike Fitzgerald and Dr. Richard McLandress all voted to approve the mandate.
In a statement, the city of Coeur d'Alene — which had scheduled a Friday meeting to debate the issue — said that meeting is now canceled.
"It is with much appreciation that we accept Panhandle Health District's action to require face coverings within Kootenai County," the statement read.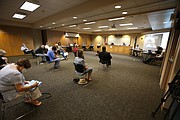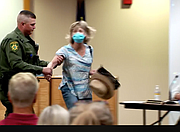 Recent Headlines
---