'Remember My Name:' Toy Matinee on cassette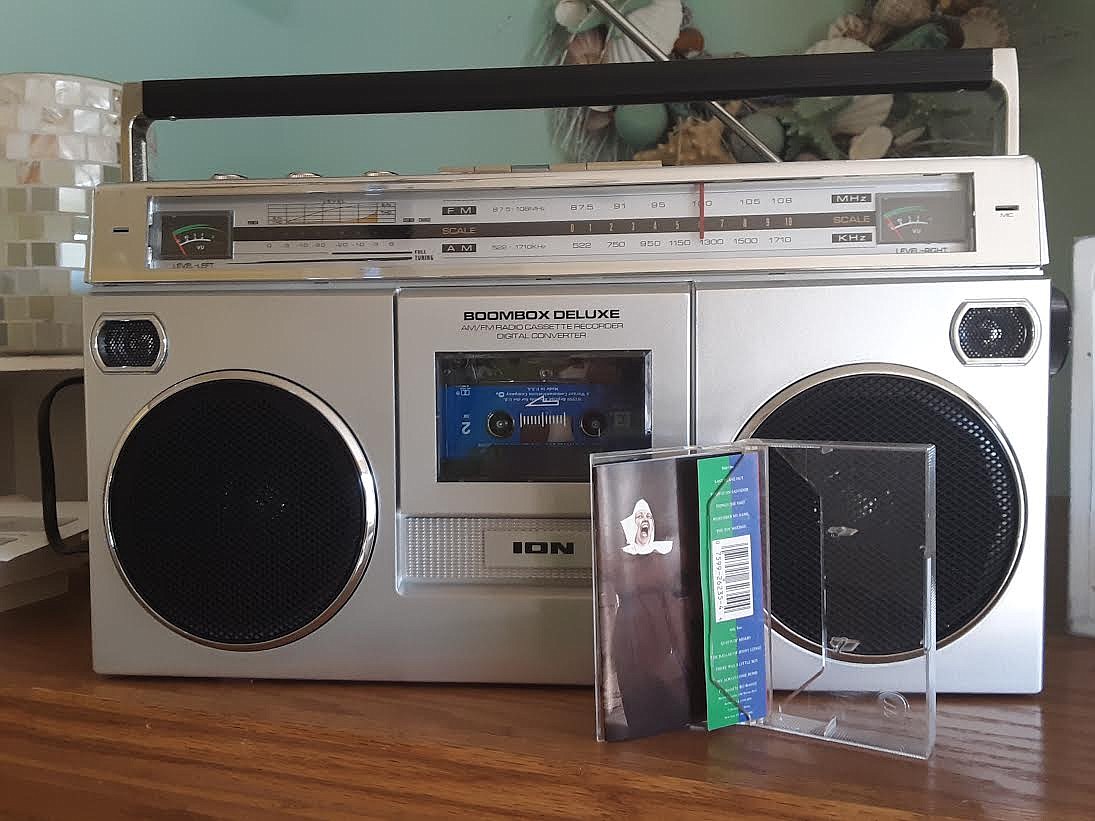 The cassette case from Toy Matinee's self-titled 1990 album sits in front of a retro-styled boom box.
JOEL DONOFRIO/Press
The best Father's Day gifts are ones the whole family can enjoy. And by "enjoy," I mean poke fun at Dad for being such an old-fashioned analog man.
I received such a gift a few weeks ago: A 1980s-style "boom box" with a working cassette player. This prompted me (and, full disclosure, my wife) to pull out dust-covered boxes and carrying cases containing our cassette collections, filled with music from the 1980s and early 1990s.
My children — actually, two young adults, ages 21 and 19 — know their Dad is a full-stop Luddite who loves old technology and things from the past. Someday they will have to reckon with the boxes full of newspapers, crates full of LP records and half-dozen music playing devices I will leave behind.
But for now, as I lovingly sorted through tapes by the likes of the Cranberries, Helmet and Scatterbrain, my daughter had a question: "How much did you pay for those?"
I couldn't remember exact prices, but if memory serves, most albums used to cost $10 or less back in my teenage and college years. Not bad for something that provided hours of listening enjoyment, and tons of memories 30 years later.
When she pointed out that you could get, say, a monthly Spotify Premium subscription for $10 today — with whatever music you wanted to hear, downloaded onto whatever device — I scoffed and said it's not the same.
Thirty years later, will my kids remember the moment their Spotify payment was automatically processed online? No. But I could pick up, say, Sting's single "All This Time" from my box of 45s and remember the moment I bought it: January 1991, in a record store adjacent to Purdue University in West Lafayette, Ind., while visiting a young woman who was a student there. (Full disclosure: That same not-quite-as-young woman will roll her eyes when she reads this column in Coeur d'Alene, Idaho.)
And for the record, "All This Time" is a really good song, much better than the syrupy "Fields of Gold" from the same era, which basically ended Sting's career.
Which brings me to one of the cassettes in my collection: A self-titled album by Toy Matinee, released in 1990.
It's doubtful any of you reading this column have heard of Toy Matinee, the duo of keyboard player/studio wizard Patrick Leonard and guitarist/vocalist Kevin Gilbert (with a few studio musicians helping out). The album's "hit" was a progressive rock song titled "Last Plane Out" which you could track down on YouTube if you're interested.
Basically, Toy Matinee was an obscure group/album when it came out in 1990, and after Gilbert died in 1996, any slim chances of widespread popularity or even a second album died with him.
But thanks to the wonders of analog technology, Gilbert's guitar playing and strong voice live on, at least in my home.
The thing about rock albums, at least the way we used to listen to them, is when one song ends, you remember the next one that's coming before it starts — even if it's otherwise forgotten album tracks like "Turn It On Salvador," a tribute to Salvador Dali, or "Remember My Name," dedicated to Vaclav Havel.
And I certainly had a big smile on my face as, all these years later, I could still sing along to the chorus of "The Ballad of Jenny Ledge," a fun, up-tempo song about a guy who loses the love of his life to an Elvis impersonator:
"Tempted by half-Elvis, half-man about town,
And a life of ease,
She runs off with the Vegas king,
And I've nowhere to stand, I can't understand,
Why Jenny won't wait for me."
I'm not sure I can convey how it felt to hear something I played over and over in my young adulthood, wafting through the air in the summer of 2020. Joy, happiness and a big smile are the best I can muster.
An 18-year-old me thought this was music worth owning, enjoying in my room, on my stereo, whenever I wanted. That included the present and the future.
Who knew back then that in 30 years it would cheer me up as we wonder if society will ever return to normal, as our country soaks up virus germs like a paper towel absorbs spilled coffee.
Good music, even the songs that very few people know about, is a treasure that can last a lifetime. As Toy Matinee wrote in 1990, no one can take that away from me.
• • •
Joel Donofrio is a copy editor at The Press. He knows more trivia about 1990s rock than he does about AP style, however. Email him at jdonofrio@ cdapress.com.
---