It takes two, baby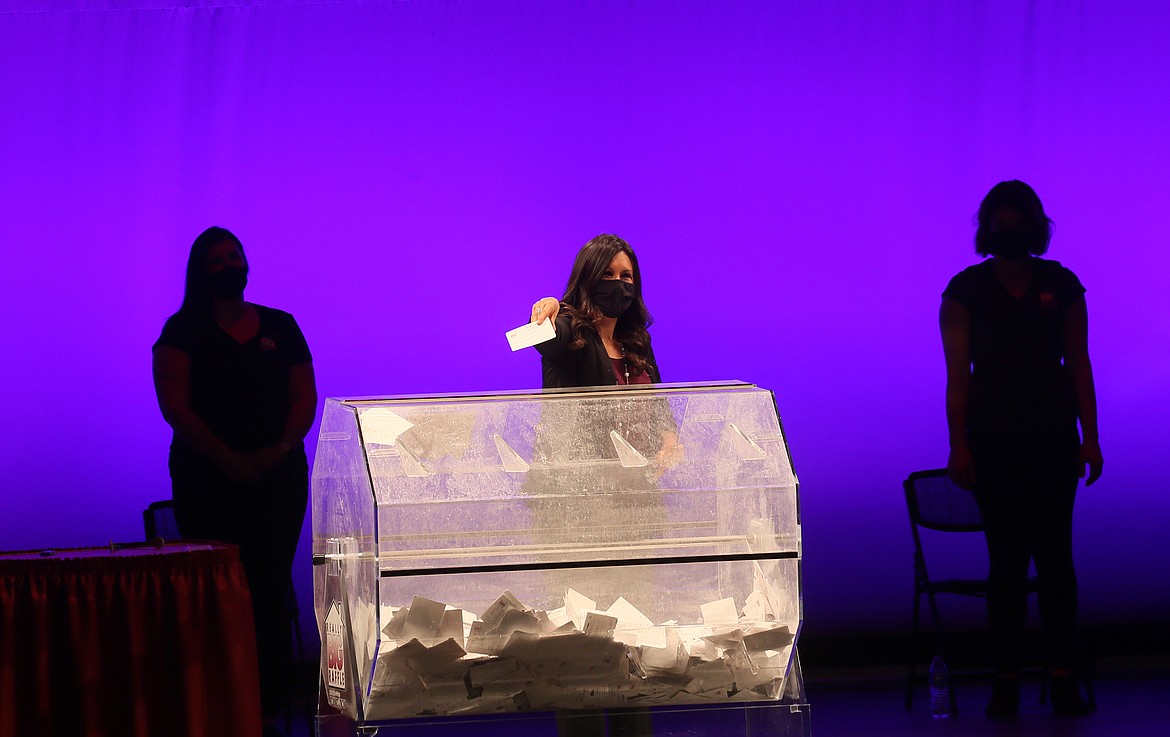 Certified accountant and North Idaho College alumna Ashlee Lent smiles behind her mask as she draws the grand prize winning ticket Wednesday night during the NIC Foundation's Really BIG Raffle. The nearly $400,000 grand prize home went to Michael Lenz of Hayden.
DEVIN WEEKS/Press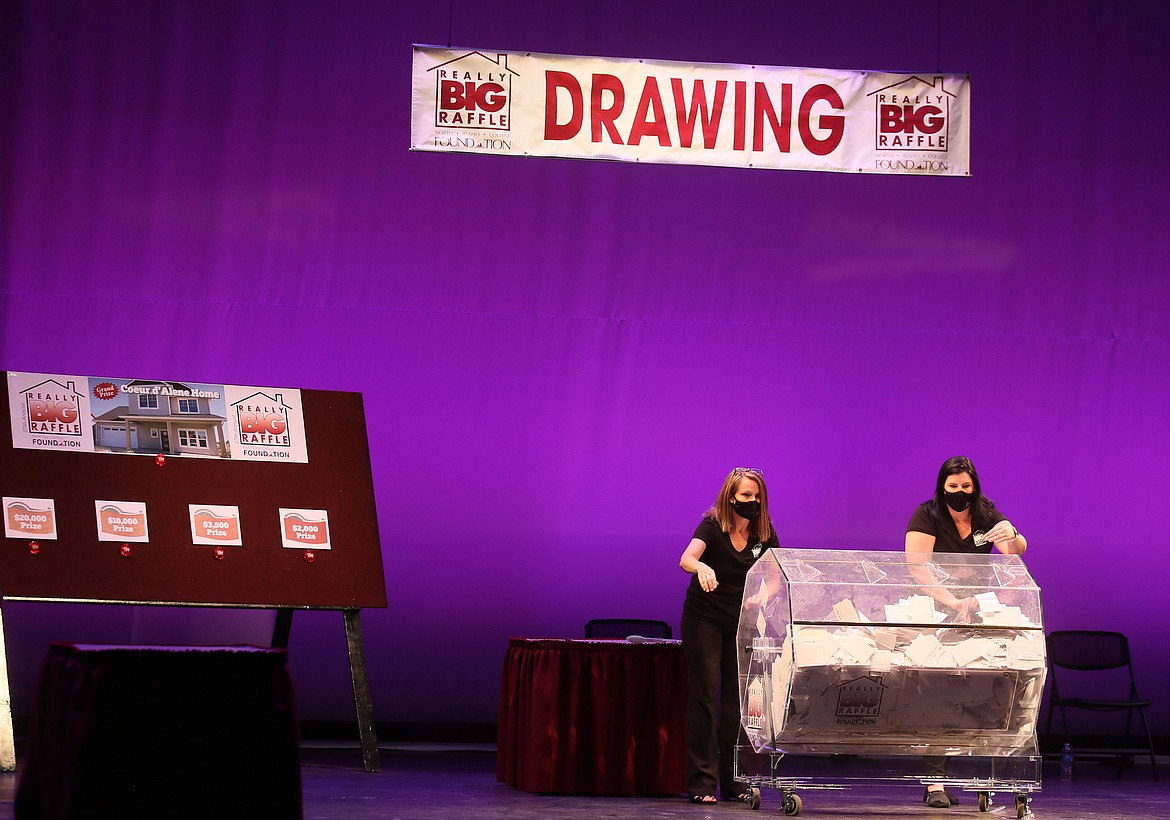 Darcy Ward, left, and Hannah Slusser of the North Idaho College Foundation spin the barrel of 5,500 raffle tickets Wednesday evening during the 27th annual Really BIG Raffle. It was held in the Schuler Performing Arts Center on the NIC campus as a closed event for safety amid the pandemic. (DEVIN WEEKS/Press)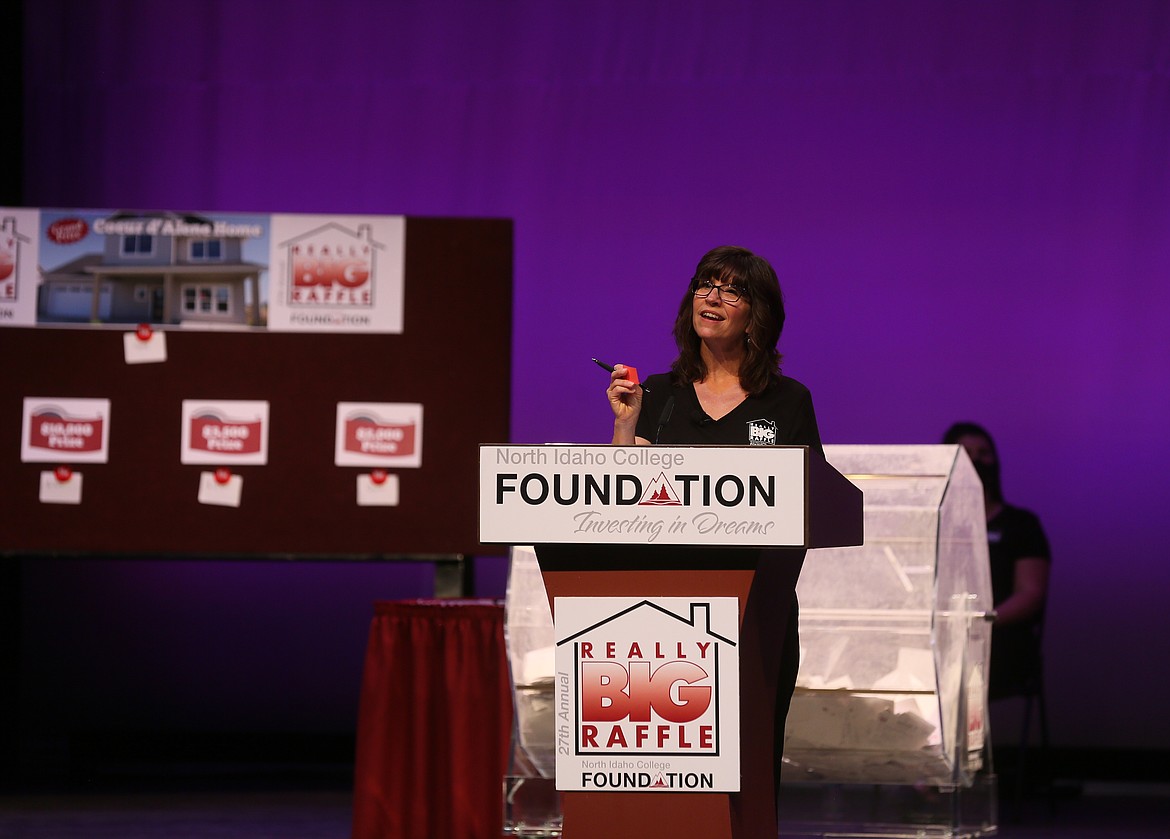 North Idaho College Foundation executive director Rayelle Anderson holds up a winning raffle ticket while she addresses the camera during the 27th annual Really BIG Raffle on campus Wednesday night. The event was closed to the public because of COVID concerns, but streamed live online. (DEVIN WEEKS/Press)
Previous
Next
by
DEVIN WEEKS
Staff Writer
|
July 16, 2020 1:08 AM
Post Falls Highway District director buys two tickets, wins house in NIC's Really BIG Raffle
Post Falls Highway District director Michael Lenz couldn't figure out why his phone wouldn't stop ringing when he ended up in a long board meeting Wednesday night.
Then he got some really BIG news — he just won a house.
"Oh, it's unbelievable," Lenz said with a laugh of disbelief during a phone call with The Press. "I haven't had time to sit down. My phone's ringing off the hook. I'm just ecstatic, I can't believe it."
The 37-year-old Hayden resident is the grand prize winner of the North Idaho College Foundation's 27th annual Really BIG Raffle. He is now the owner of a spacious four-bedroom, 2,626-square-foot dwelling in Greenstone Homes' Coeur d'Alene Place neighborhood at 2107 Joubier Drive. This new home, appraised at $394,000, features skylights, a gas fireplace, a full landscaping package and eco-friendly design components.
"I haven't even had time to think about it," Lenz said. "It's incredible. When I was a kid, my parents used to buy tickets all the time, and I think this is only my third year buying tickets."
His lucky ticket No. 2306 was drawn during a closed event at Schuler Performing Arts Center on the NIC campus. It was streamed live online, catching the attention of 4,600 viewers who heard the winners' names before Lenz was out of his meeting.
Lenz said he usually buys one ticket for the raffle, but this year he changed it up and his was picked out of 5,500 tickets.
"I thought I better double my odds and buy two," he said.
The Really BIG Raffle grand prize homes are built by students in NIC's carpentry and construction technology program. Assistant professor of the program Matt Piekarski said construction usually begins in fall semester and is completed by May each year.
Tickets for the drawing are $100 each and sell out every year. All proceeds support the NIC Foundation, which provides strategic resources to fund educational excellence and scholarships for students.
"It's kind of a win-win," Piekarski said. "It's a great community all-together effort."
The fun doesn't stop at the house. Gift cards and other goodies went out as early bird and bonus prizes, as well as four major prizes aside from the house. More than $431,000 in prizes were awarded this year. Winners of the first-, second-, third- and fourth- place prizes can apply the cash value to the prize of their choice.
The 2020 Really BIG Raffle winners are:
• Grand prize $394,000 house — Michael Lenz
• First place $20,000 Prize of Choice — Sean St. Marie
• Second place $10,000 Prize of Choice — Rick Thrasher
• Third place $3,500 Prize of Choice — Tera Villalba
• Fourth place $2,000 Prize of Choice — Marian Breckenridge
"A great big thank you to you, the raffle ticket-buyers, for your commitment to changing lives one student at a time through your ticket purchases," said Rayelle Anderson, executive director of the NIC Foundation. "Regardless of whether or not you win a prize tonight, you are all winners because you have invested in the dreams of NIC students."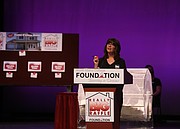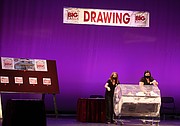 ---