Born to wander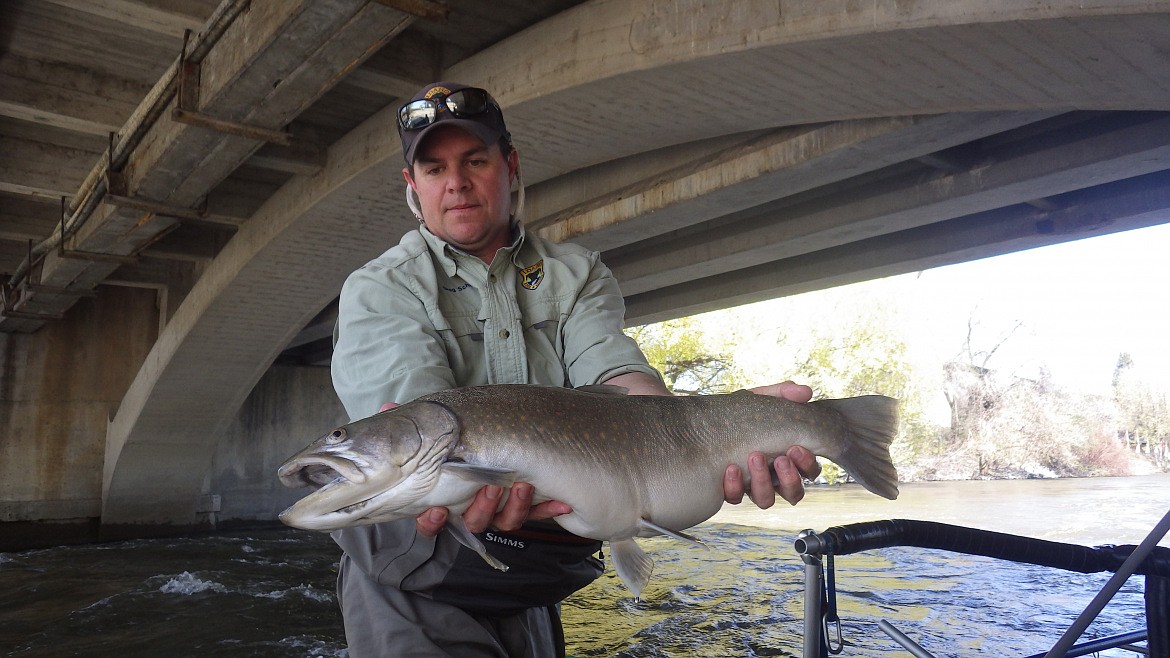 Idaho Fish and Game biologist Greg Schoby holds a large bull trout caught during a fish survey. Bull trout, a subspecies of char, were recently documented to travel over 200 miles to spawn.
Photo courtesy IDFG
by
Ralph Bartholdt
Staff Writer
|
July 2, 2020 1:00 AM
Idaho bull trout travels 200 miles to spawn
Idaho biologists have been tracking a bull trout that is documented to have traveled almost 200 miles between Idaho and Oregon to spawn.
In 2018, biologists in Idaho tagged a 12-inch bull trout in the Hells Canyon section of the Snake River. The canyon separates Idaho from Oregon and is fed by the Little Salmon River that flows west from Idaho and the Imnaha in Oregon which flows from Wallowa Mountains east into the Snake River.
"Salmon and steelhead are famous for their amazing migrations, but trout and char can pull off some pretty impressive migrations as well," fisheries biologists Jordan Messner said.
A year after catching, tagging and releasing the 12-inch bull trout, biologists again caught it in the same section of Hells Canyon. This time the fish measured 16½ inches, according to Idaho Fish and Game.
A few months later, Messner said, the same bull trout was found in northeast Oregon's Imnaha River.
Biologists use small electronic markers they call "tags," that are injected into fish so they can be identified when they are either recaptured, or when they swim up streams that have sensors to detect a tag swimming nearby.
Biologists said the tagged bull trout left the Imnaha River and traveled more than 186 miles in a month to spawn in a small mountain stream in the Salmon River country in Central Idaho.
Last winter, two years after it was initially tagged, the same bull trout was again captured by biologists in the same section of the Snake River in Hells Canyon where it was found years earlier. And the same fish was again detected in the Imnaha River in May, according to Idaho Fish and Game.
Bull trout are a species of char that are considered fluvial, because they spend their lives between large rivers and smaller tributaries during their life cycles.
The migrations are usually tied to spawning activities.
---