A crippling situation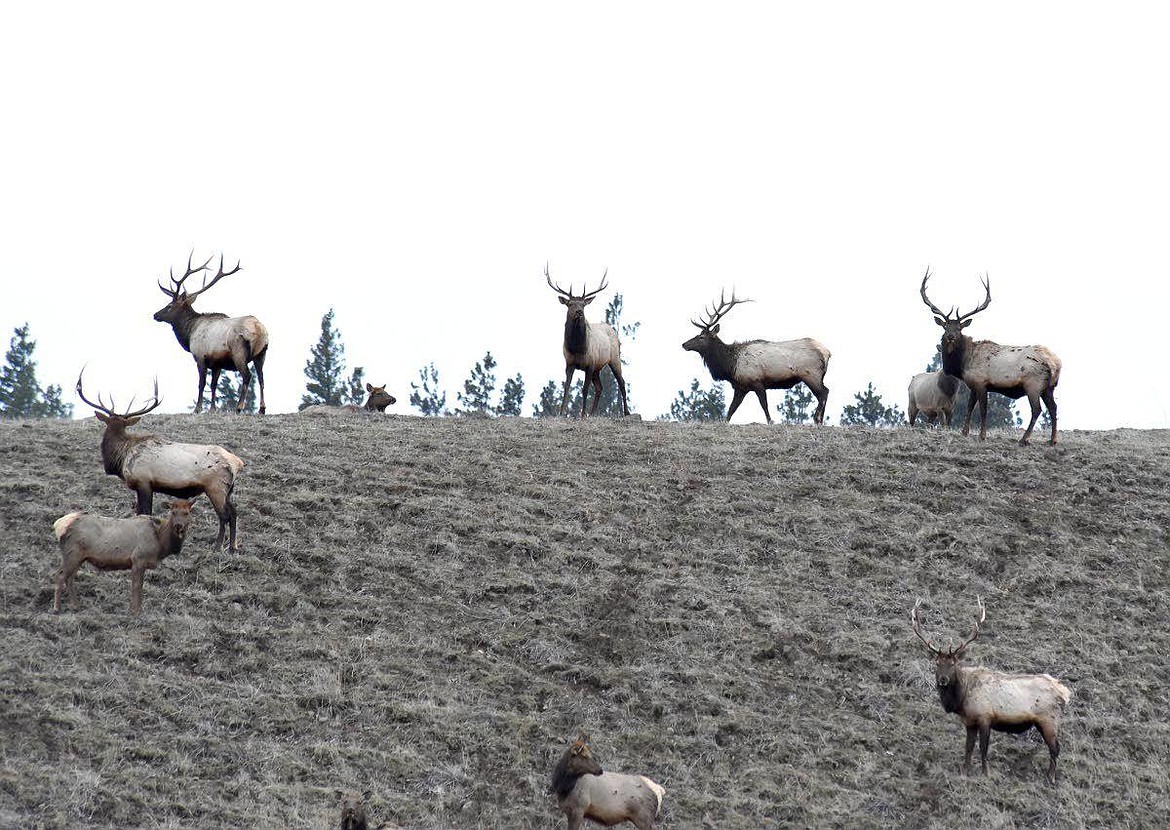 A herd of bull elk on its central Washington wintering grounds near Ellensburg. Researchers at Washington State University are trying to find a cure, or remedy, for the elk hoof disease that is infecting herds in California, Oregon, Washington and Idaho.
Photo courtesy WDFW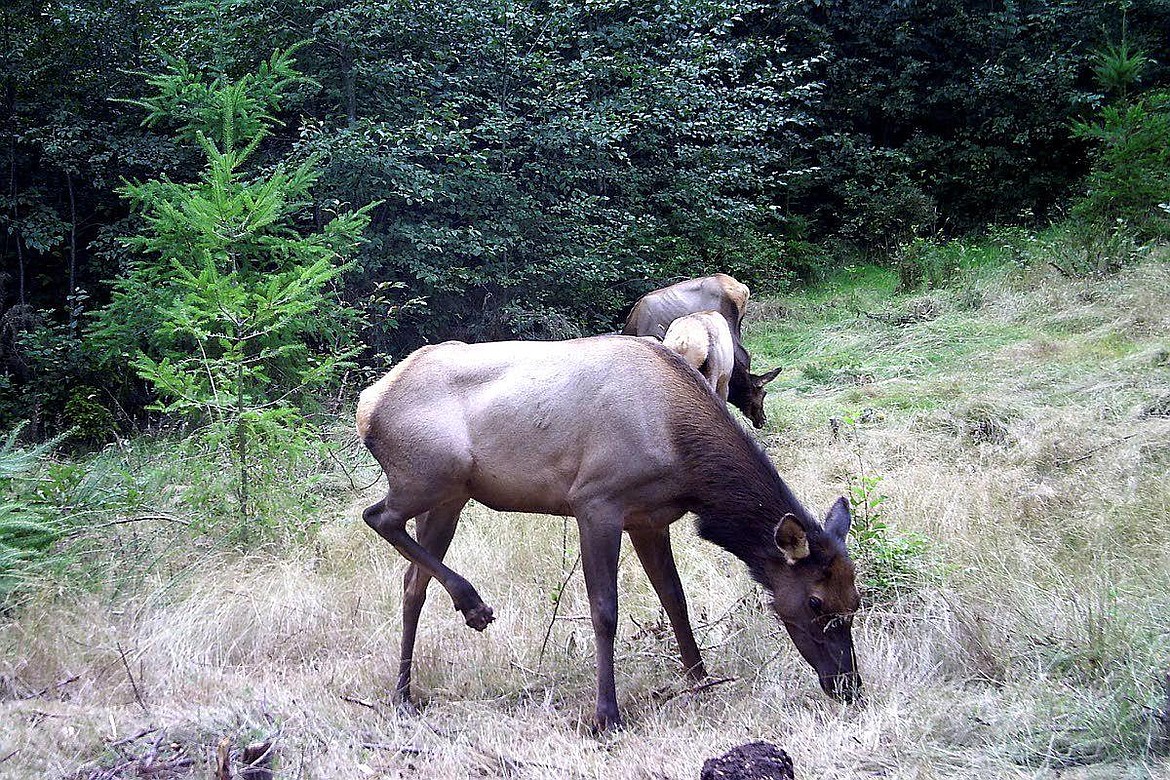 A cow elk in Washington lifts its leg while it feeds. The mushroom-like growth is a result of elk hoof disease. (Photo courtesy WDFW)
Previous
Next
by
Eric Barker
|
July 2, 2020 1:00 AM
Elk hoof disease moves farther into Idaho; hunters asked to report abnormalities
The mysterious disease that crippled scores of elk in western Washington before moving into northeastern Oregon is getting a foothold in Idaho.
The Gem State registered its first known case of elk hoof disease in February of last year. Since that time, seven new cases of the ailment known officially as treponeme-associated hoof disease have been identified. The disease causes lesions on elks' hooves that can progress to abnormal growths. It is not always fatal, but impairs afflicted elk, making it harder for them to move, find food and escape predators.
In addition to the confirmed cases in Idaho, test results on 11 samples are pending, and six more submitted samples tested negative.
Toby Boudreau, chief of the Idaho Department of Fish and Game's wildlife bureau at Boise, said the illness may have been present in the state for some time.
"Based on the fact that once we asked hunters to submit samples and we suddenly started getting positives, I would say it's been here for a while and gone unnoticed for the most part," Boudreau said.
The disease cannot be transmitted to humans, and the meat from infected animals is safe to eat, he said.
Last year, the agency asked elk hunters to report and submit for testing any elk with abnormal hoofs or hoof injuries. All of the positive tests came from hoofs submitted by hunters. Most were from game management units in proximity to the state's border with Oregon, which also has several cases. Positive samples were submitted from units 8, 13, 14, 18, 22 and 31 along western Idaho's Snake River corridor. One positive case came from Unit 39 near Boise, and test results are pending from unit 12 along the Lochsa River, unit 23 near Council and units 45 and 49 in central and southern Idaho.
The disease also has been identified in eastern Washington's Walla Walla County and in northern California. It is most heavily concentrated near Mount St. Helens in southwestern Washington, where it has had more of an impact on the elk population.
Boudreau said the agency will again ask hunters to be on the lookout for the disease this fall.
"We want to make sure we know the extent of it throughout Idaho to the best of our ability and to be able to make sure we monitor those populations to identify if it is causing population level issues," he said.
Margaret Wild of Washington State University said the detection of elk hoof disease in Idaho and California has added to the many questions surrounding the disease that first emerged in the late 1990s and intensified near Mount St. Helens in 2008.
"One of the biggest questions is whether these detections are just sporadic cases that have been occurring for a number of years without advancing to outbreaks, or even being noticed," Wild wrote in a recent newsletter. "Or, on the other hand, are these new introductions of the disease that might lead to outbreaks in the future, similar to what happened in southwest Washington?"
She also said it is unclear if the disease is spreading outward from infected herds or emerging on its own.
"Management response could differ if the disease was spread by natural movement of elk and human movement of elk carcasses (or other infectious material) versus if, for example, disease spillover from domestic species was repeatedly occurring."
Wild, who works at the WSU Department of Veterinary Microbiology and Pathology at the College of Veterinary Medicine in Pullman, is establishing a captive elk herd as part of the research effort. A research center was constructed there, but the COVID-19 pandemic delayed some of the planned investigative work, said Charlie Powell, spokesman for the College of Veterinary Medicine. The research will resume when COVID-19 containment restrictions are lifted.
Kyle Garrison, elk hoof disease coordinator for the Washington Department of Fish and Wildlife, said even though it is being found in new places, he doesn't think it will be as severe as it was at Mount St. Helens. Garrison said the elk herd there was probably overpopulated and prone to disease spread.
"We just haven't seen the disease manifest, in terms of prevalence, the way we did at Mount St. Helens," he said. "I don't anticipate that happening anywhere else, unless that population is already kind of predisposed to that."
• • •
Eric Barker may be contacted at ebarker@lmtribune.com or at 208-848-2273.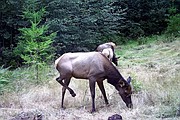 ---