Idaho is top dog
by
Craig Northrup Staff Writer
|
January 13, 2020 8:45 AM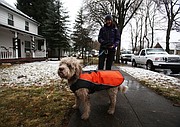 Dogs have always been man's best friend, but a new study suggests Idaho is actually a dog's best friend.
In a nationwide pet ownership survey released by seniorliving.org — a website devoted to providing information to seniors — Idaho ranks No. 1 in families with at least one dog in the household.
The numbers, based on five years of data collected by the American Veterinary Medical Association, show 58.3 percent of Idaho households have a dog, with Montana trailing at a distant second with 51.9 percent.
Incorporating all pets and excluding livestock, Idaho ranks sixth overall in pet-owning households with just a hair below 70 percent of all homes. These can include fish, rodents, birds, horses, reptiles and most dogs' archnemeses: cats.
Noteworthy in the study is how Idaho's dog ownership has ballooned in the five years since the study began. Since 2013, dog ownership has climbed 21.2 percent to reach that 58.3 percent overall, well above the national average of 38.4 percent.
Tanya Hicks of Coeur d'Alene took in her two Australian Shepherds — Kona and Kai — four years ago, falling into that five-year growth spurt. She was walking Kona and Kai near Lake City High School when she heard the news. Hicks said she wasn't sure why Idaho would rank highest in the country in dog ownership, dismissing the notion of a more adventurous outdoor state drawing more attention from dog lovers.
"It's pretty cold," she admitted, bundled up for her brisk walk. "Dogs need to be walked. I love my dogs, but not because I like the outdoors. I'd rather be inside. I just love dogs."
Debbie Jeffrey, executive director of the Kootenai Humane Society, said she can attest to the statistics revealing who really is top dog.
"We get dogs in, and they don't stay very long," Jeffrey said. "This area is full of people able and willing to provide good homes to dogs. [The study was] no surprise to me."
The news wasn't all great for Idaho pooches. While Idaho ranked No. 1 in households, those dog-loving homes average 1.8 dogs per household, just below the national average. In other words, we might have more dog homes, but those homes are less likely to have more than one dog than what you'd find throughout most of the country.
Gem State cat owners, don't despair. Idaho still ranks eighth nationwide, with cats presuming 33 percent of all Idaho homes as their own, and those households rank in the top 10 nationwide in the number of cats per capita, at an even two per household.
That said, cat-owning households have plummetted over the last five years, dropping 25.3 percent in that same span. Not everyone thinks our feline friends are the cat's meow.
But Jeffrey said she thinks people are overlooking a key benefit to cat ownership.
"In comparison, dogs are more work," she said. "You have to walk them. You can't leave them alone for as long. A cat can be very loving and very cuddly, but they can also be very independent. You can feed them and water them and put their box down, and then you can leave for the day, and they won't care. When you get back, they'll come rub against your leg and play with you and let you pet them like nothing ever happened."
Whether you're a dog person, a cat person or a pet lover in general, Jeffrey added Kootenai County always has pets in need of loving homes. Call the Kootenai Humane Society at 208-772-4019 or visit kootenaihumanesociety.com if you'd like to adopt a pet.
Recent Headlines
---