Volunteers from 25 churches unite for collection of nonperishable items at Silver Lake Mall parking lot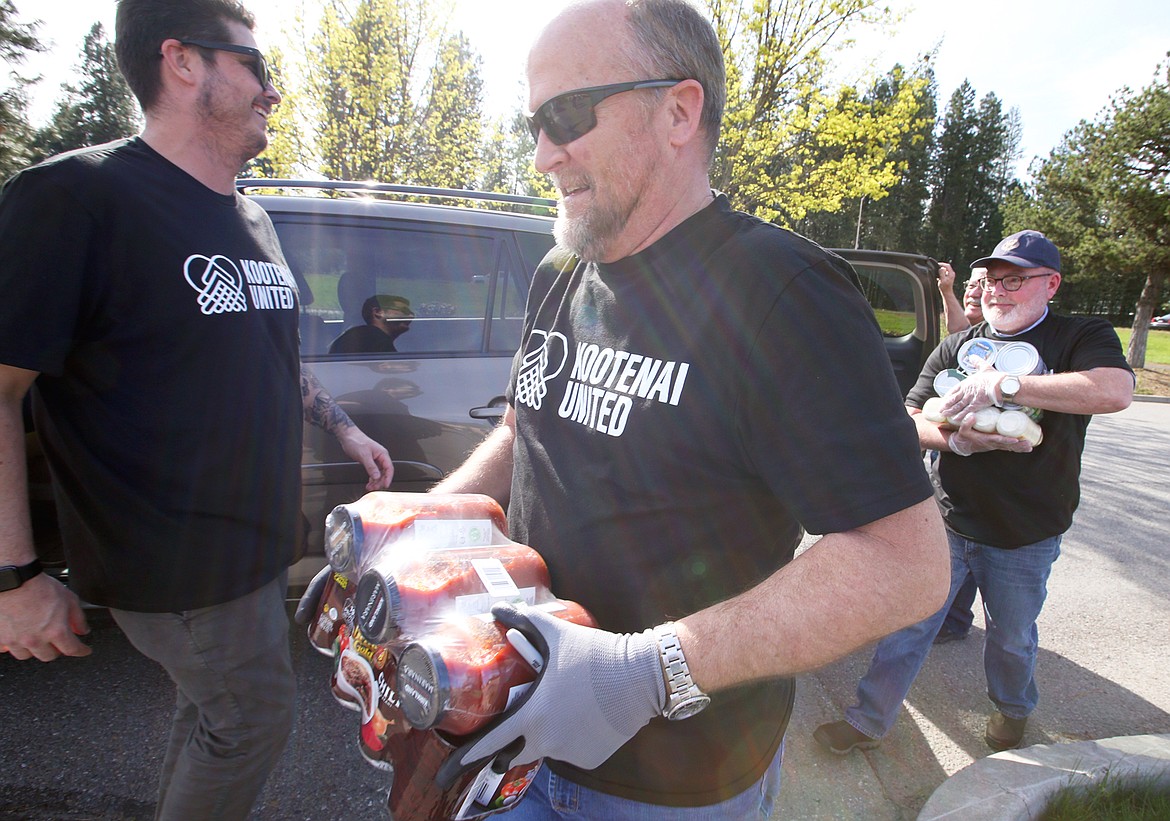 Volunteers Jon Anderson, center, and Steve Massey, right, carry donations bound for food banks on Tuesday at the Silver Lake Mall parking lot, while Pastor Chris Lauri goes to help.
BILL BULEY/Press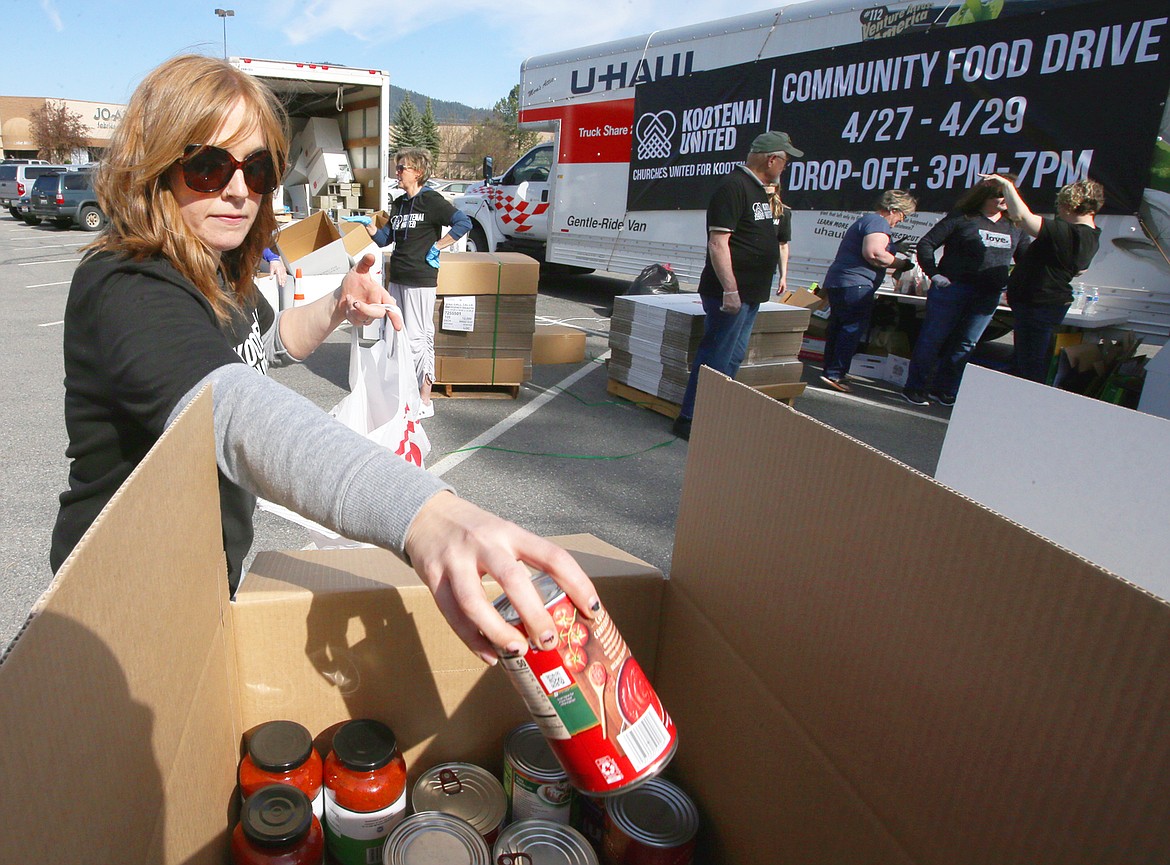 BILL BULEY/Press Becca Pack places donations into boxes at the church food drive on Tuesday at the Silver Lake Mall parking lot.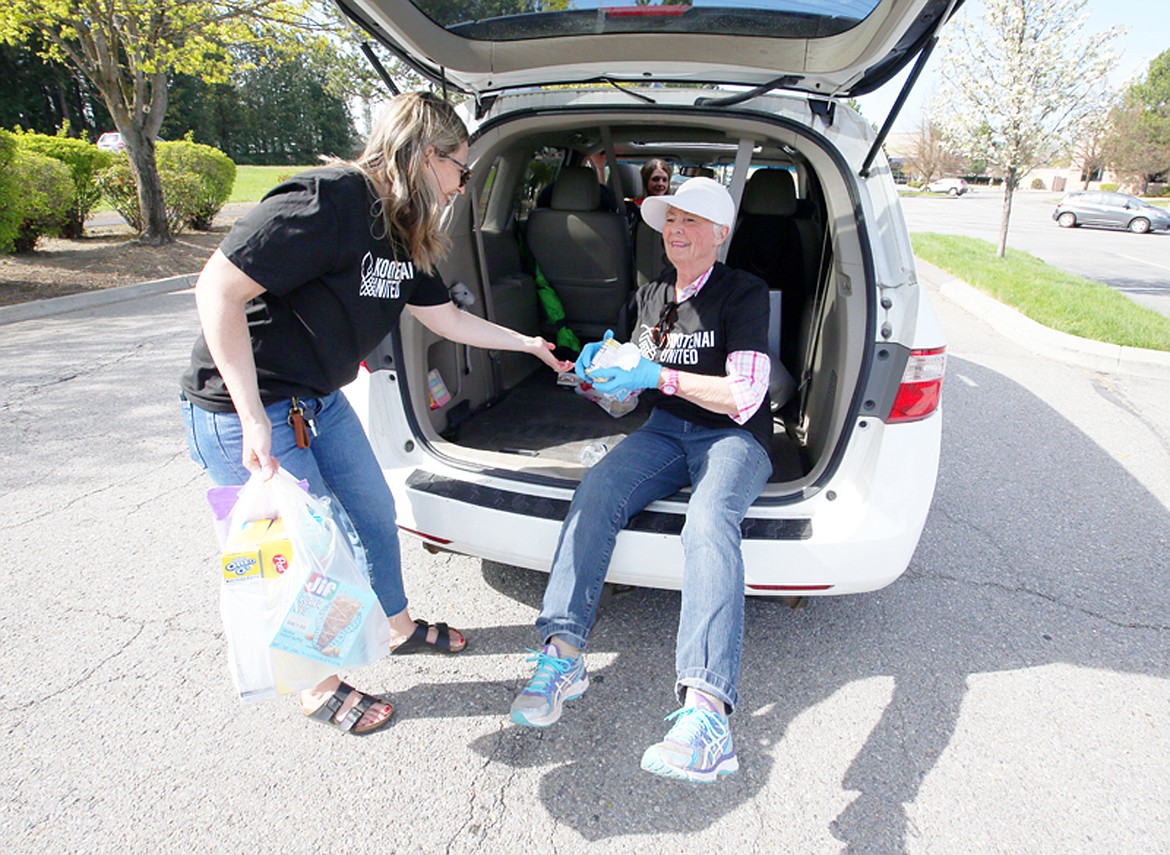 BILL BULEY/Press Volunteers Renae Halland, left, and Bernita Carlson collect donations from a vehicle during Tuesday's food drive at the Silver Lake Mall led by about 25 churches.
Previous
Next
by
BILL BULEY
Staff Writer
|
April 29, 2020 1:15 AM
Volunteers from 25 churches unite for collection of nonperishable items at Silver Lake Mall parking lot
COEUR d'ALENE — Forty minutes, 40 boxes of food.
That's how fast and how many donations were coming in to a church food drive on Tuesday.
"It's been overwhelming," said Chris Lauri, pastor of Anthem CDA. "The community support has been amazing."
About 25 churches united for the three-day project that wraps up today, 3 to 7 p.m., at the Silver Lake Mall parking lot.
The goal is to fill the shelves of food banks and help them meet demand as so many people are out of work due to the government-ordered shutdown because of the coronavirus.
The operation went smoothly as volunteers directed traffic, carried groceries from cars and packed boxes.
Monday, they filled 225 boxes with nonperishable foods. Some people even donated cash and gift certificates. Spirits were high as donors smiled and offered thanks to the volunteers.
"It's been cool to work together, to see how the community binds together," said Renae Halland, who attends Anthem CDA, adding she was there so she could help "be a blessing to our community."
Bernita Carlson of Peace Lutheran Church said credit should go to the many people who contributed.
"A lot of them are the elderly just driving through here," she said.
Sandy Wild handed a bag of food out her car window, then pulled over to pitch in.
"It's a tangible way we can help people," she said
Becca Pack of Anthem CDA knew she wanted to be part of the outreach when she heard about it.
A recent Second Harvest food giveaway was met with overwhelming response, so she was aware the need was great.
"I love that we all banded together, across the city," she said. "This is a huge thing for all the churches to come together and do this."
Hayden Mayor Steve Griffitts said other churches and many families got involved after hearing about it.
"This is such a wonderful opportunity to serve and take care of those in need," he said. "What a tremendous outpouring of service, love, kindness and generosity."
The food drive continues today. A large truck will be labeled with the "Kootenai United" logo for drop-off. Volunteers will greet donors, who don't need to leave their car. They can simply hand the donation over and drive safely away.
Some of the most-wanted items are: applesauce, canned beans, canned meat, canned fruit and vegetables, instant mashed potatoes, pasta and pasta sauce, peanut butter, rice, healthy breakfast cereals, baking mixes, and crackers.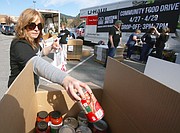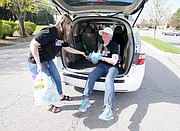 Recent Headlines
---