Unconscious driver threads needle before crashing into fitness club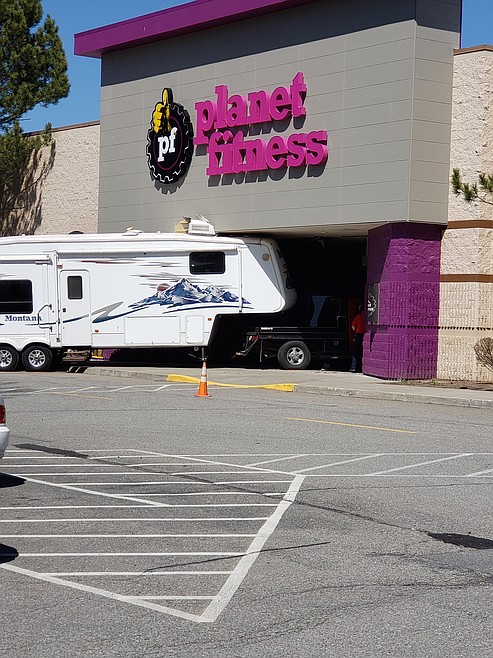 No one was injured around noon Thursday in Coeur d'Alene when the driver of a Dodge Ram pickup truck, towing a fifth-wheel RV trailer, crashed through the entrance of Planet Fitness in the Silver Lake Mall.
STEVE HANSON/Press
by
RALPH BARTHOLDT
Staff Writer
|
April 10, 2020 1:14 AM
Idaho State Police didn't release the name of the driver who drove through the front entrance of Planet Fitness in Coeur d'Alene around noon Thursday, but Trooper Cody Ercanbrack said the 57-year-old was transported to Kootenai Health for evaluation.
Police said the Dodge pickup and its fifth-wheel RV drove over the U.S. 95 embankment after crossing the Canfield Avenue intersection. The pickup and trailer cut through the mostly empty parking lot at Silver Lake Mall before striking the doors of Planet Fitness.
When police arrived, the Spokane driver, who was alone in the pickup truck, said he did not remember the incident.
Witnesses told Ercanbrack that the Dodge Ram and its brand new RV were stopped in the southbound lane of U.S. 95 and Canfield. When the light changed, the pickup didn't move and witnesses thought it had stalled.
Eventually it moved forward, veered left, crossing the northbound lane divider of U.S. 95 before crossing the northbound lane. The pickup and trailer bounced over the embankment, wheeling through trees and into the Silver Lake Mall parking lot. The truck and trailer combo needled past parked cars and eventually came to a stop after crashing into the front doors of the fitness center, which was closed because of the coronavirus.
The driver told police he had a couple swigs of vodka earlier in the day, but "he felt fine now," Ercanbrack said.
The driver didn't remember what happened.
"He remembers stopping at the intersection, and then he woke up in the ambulance," Ercanbrack said.
Troopers said charges would depend on whether the driver was intoxicated — which had not been determined because the driver had not yet submitted to a blood test.
"He is under observation," Ercanbrack said.
The driver told police he had purchased the RV that day and was heading back to Washington when the incident occurred.
Ercanbrack said that because the pickup's oil pan was ripped off when the truck bounced over the highway's center aisle, it left a trail of oil marking its circuitous path before crashing into the building.
No one else was injured in the crash.
---