Post Falls High basketball star Gennett commits to Central Washington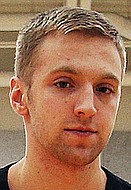 by
MARK NELKE
Staff Writer
|
April 3, 2020 1:10 AM
After a stellar career as a four-year starter for Post Falls High School, you wouldn't think Colby Gennett had much more to prove on the basketball court.
But the chance to be a part of a team on the rise — as well as perhaps show some bigger schools what they missed — were factors when Gennett verbally committed to play at NCAA Division II Central Washington University in Ellensburg.
"They're on the rise right now, and I want to be part of going from maybe being the middle right now to the top by the end of my four years," said Gennett, who committed Wednesday night.
Gennett, a 6-foot-4 guard/wing, averaged 15.6 points, 6.9 rebounds and 2.7 steals this season for Post Falls, which finished runner-up at state to Borah of Boise. The Trojans went to state in each of Gennett's four seasons, placing third last year, and losing in the third-place game each of the first two years.
"I believe Central Washington is getting a player who has the athletic potential and basketball skill set to be an all-conference type player and a possible All-American type player by the end of his career there," Post Falls coach Mike McLean said. "Colby played at an incredibly high level consistently throughout his four-year career and I don't see any reason why Colby would not continue to play at the highest level."
Gennett chose CWU over a pair of NAIA schools, Lewis-Clark State College in Lewiston and Eastern Oregon University in La Grande. He also had an offer from NAIA Corban University in Salem, Ore.
He said Central expressed interest last summer, and he met with Wildcats assistant coach Drew Church following Post Falls' "home" game with Lewiston in late January — a game moved to Lake City High due to a power outage at Post Falls High.
Gennett did not take an official recruiting visit to Central, but with his father, Jeremy, and mother, Kerri, took an unofficial visit to the Ellensburg campus the week after the state tournament. That was around the time the coronavirus pandemic was ramping up, so he was not allowed to have face-to-face contact with the Central coaches. However, they sent him a map of the campus, and he was able to call Church during the visit when he had questions.
CWU finished 17-11 last year, 10-10 in the Great Northwest Athletic Conference, which also includes Western Washington, Simon Fraser, Northwest Nazarene, Montana State-Billings, Alaska Anchorage, Alaska Fairbanks, Saint Martin's, Seattle Pacific, Concordia and Western Oregon.
The Wildcats beat Idaho in an exhibition in Moscow to open last season.
"Academically they have what I wanted, and the travel schedule was really cool," Gennett said. "It's a nice opportunity to go all around the area."
Gennett is interested in studying either exercise science or business, and Central offers classes in both, he said.
The Wildcats were 11-17 in 2018-19.
Brandon Rinta, who has coached Central the past two seasons, came to Ellensburg after seven seasons as head coach at L-C State. He was previously an assistant coach at Eastern Washington from 2001-06. He also played two years at Central before taking the job at Eastern.
Gennett said CWU is interested him him playing at either the "2" (shooting guard) or "3" (wing). All three seniors on the 2019-20 Wildcat roster were guards.
"I've talked to a few of those schools in some of those other conferences," Gennett said of his recruitment. "It's a good opportunity to prove to everyone that I haven't talked to that maybe they were missing out on me."
"In my experience as a head coach, the biggest transition high school players have to make at the collegiate level is the athleticism in which the college game is played at," McLean said. "At the D-II level, Colby will not struggle with the athletes. Colby would not have struggled at the Division I level athletically."
In the meantime, Gennett is like most of the rest of us these days — under "house arrest". He has some basic weights and other training equipment so he can get in some semblance of a workout. Online homework, video games and Netflix also help fill the day.
But just as important, now that he's made his college decision ...
"I can go to the grandparents now (who live in Spokane Valley) and I can give them an answer now, which is great," he said with a laugh.
"I can be a fan of Colby Gennett now," McLean added.
---