Altar Church won't hold live service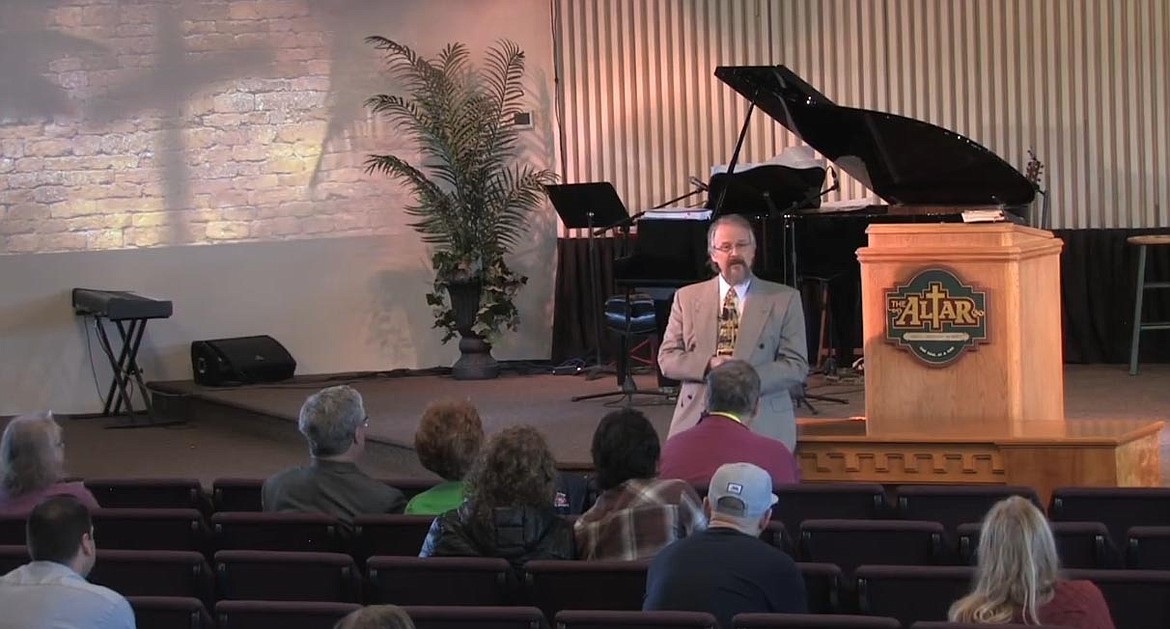 Screen grab from YouTube Pastor Tim Remington speaks to a sparse crowd last Sunday at The Altar Church in Coeur d'Alene, defying the governor's stay-home order.
by
BILL BULEY
Staff Writer
|
April 2, 2020 2:17 PM
COEUR d'ALENE — The Altar Church will not hold in-person services on Sunday.
The Coeur d'Alene church led by Pastor Tim Remington was under fire for holding in-person services last weekend, despite Gov. Brad Little's stay-home order.
The church's board of directors was expected to issue a statement today regarding its decision to close the church doors. It will show the service online.
Remington said he was disappointed but would follow the board's direction.
He indicated earlier this week he planned to hold services again.
About 40 people attended Sunday's service at The Altar on Best Avenue. Most sat apart in the main church hall as they listened to Remington's hourlong sermon.
But many people said they believed the church was endangering the community by possibly spreading the coronavirus in a large crowd.
Remington said today that one person who attends the church was diagnosed with COVID-19 about four weeks ago after traveling overseas. That person, he said, is OK and self-isolating at home.
Another pastor, who asked that his name not be used, said the church has received numerous emails expressing hostility toward the church for keeping its doors open.
---
Update, 5:20 p.m.: The Altar Church released the following statement on April 2:
Dear Coeur d' Alene and surrounding communities,
We, as the leadership of the Altar Church, felt it necessary to respond to recent reports regarding our services on Sundays and Mondays, as much of what is being reported and propagated on social media is inaccurate. First of all, we would like to make it abundantly clear that we have loved and served our community for almost three decades now and we hope to continue our ministry for decades to come. In fact, we have grown to be experienced in fighting a different pandemic because our church and sister ministry, Good Samaritan Rehab, have been battling the pandemic of addiction, despair and hopelessness since our inceptions. The fear and panic that is gripping our nation right now is nothing new for us at The Altar, as we deal with these same emotions each time someone reaches out to us in desperation, seeking freedom from the bondage of addiction, which incidentally kills almost 68,000 per year (CDC website for 2018 overdoses), primarily young people.
With that said, here is how we have addressed this pandemic.
-On March 18th our deacon board gathered to discuss how we should handle the spreading coronavirus with a desire to honor the public health guidelines while still being available to those who need us. Our board acknowledged this virus is a very real threat to the health and safety of our community, state and nation. After much prayer and discussion, we decided to encourage all those who are able, to watch our services on-line from their homes and remain open for those few who required more personal ministry. However, we felt very strongly that we should not lock the doors to the public during this crisis as many people are seeking help and comfort from God and His Church.
-We have been encouraging all of the recommended personal hygiene precautions including social distancing.
-We have a cleaning team that is diligently sanitizing the entire church multiple times throughout the week.
-On March 25th our deacon board met again and decided, based on information we were receiving from legislators and those at the state executive level, to continue our policy of remaining open, but encouraging everyone to watch on-line if possible. The services on Sunday, March 29th were reduced to even lower numbers; 58 in the first service, 63 in the second service. The small congregation practiced social distancing between households.
-On March 30, the board met and we were informed that Governor Little had retained the classification of churches as non-essential services, but acknowledged the importance of the church to the overall health and wellbeing of the community. He did authorize churches to assemble in small groups to facilitate live streaming only with minimal staff.
-On April 1, the board met again to obtain clarity on the Governor's stance on public church gatherings. In that meeting, although we continue to have grave concerns regarding the suspension of our First Amendment Rights to peaceably assemble without a legislative debate or vote, we decided to ensure all use of our church building would be in compliance with the order against gathering of individuals outside the home. And, as stated earlier, we continue to recognize this virus is a very real threat to the health and safety of our local community, state and nation.
Consequently, we voted to suspend our public services at this time and invite all to join us on-line this Sunday as Pastor Tim shares the good news of the Gospel of Jesus Christ.
We will continue to be available during the week with our small staff for those who might find themselves in desperate need of essential services, but we will abide by our Governor's and President's guidelines as well as using the sanitation and social distancing methods.
Lastly, it was certainly never our intent to create such controversy in our community. The heart of our church has been and always will be, to be available with hope and help in the direst of circumstances.
We as a church take the Lord Jesus' admonition in Matthew to serve others, very seriously:
Matthew 25:35-40 (KJV): For I was an hungered, and ye gave me meat: I was thirsty, and ye gave me drink: I was a stranger, and ye took me in: Naked, and ye clothed me: I was sick, and ye visited me: I was in prison, and ye came unto me. Then shall the righteous answer him, saying, Lord, when saw we thee an hungered, and fed thee? or thirsty, and gave thee drink? When saw we thee a stranger, and took thee in? or naked, and clothed thee? Or when saw we thee sick, or in prison, and came unto thee? And the King shall answer and say unto them, Verily I say unto you, Inasmuch as ye have done it unto one of the least of these my brethren, ye have done it unto me.
In Christ's Love,
The Deacons of the Altar Church
Recent Headlines
---