U of I CDA app program brings home top honors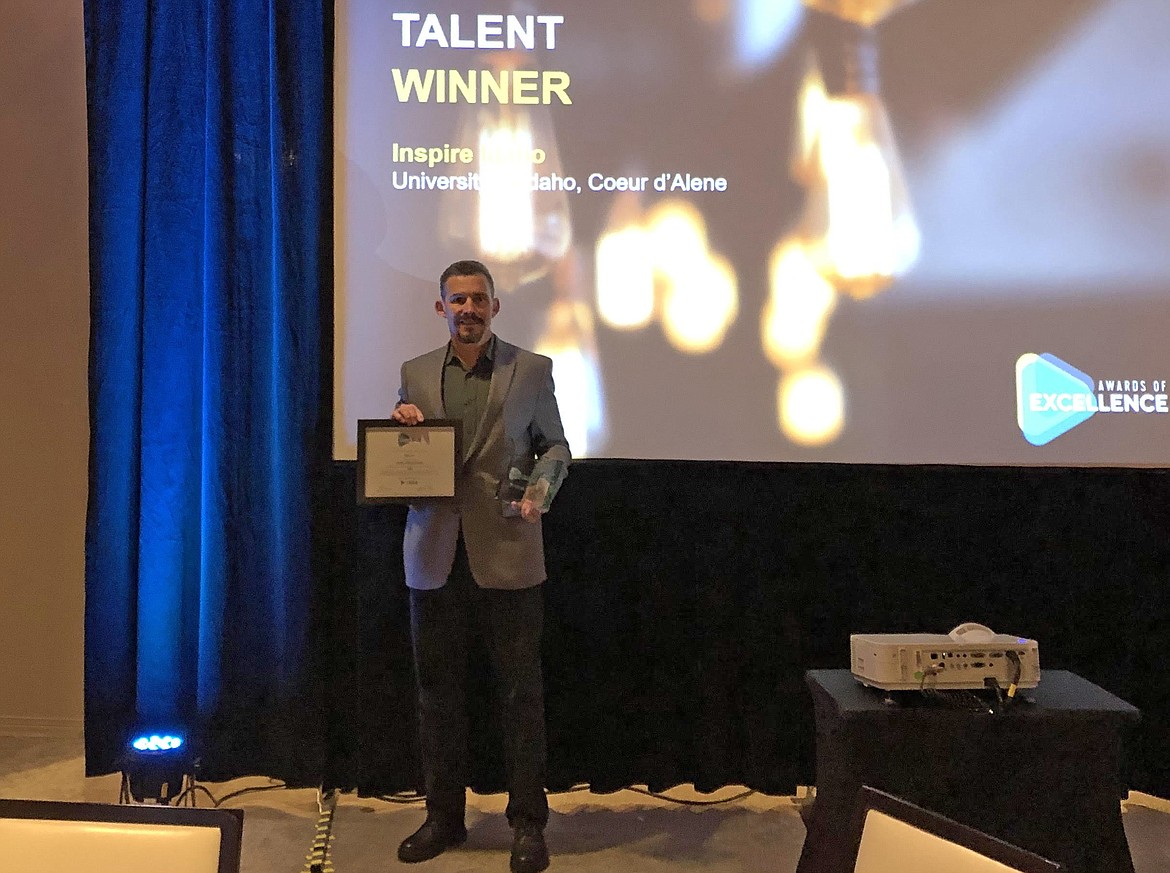 Courtesy photo Charles Buck, University of Idaho Coeur d'Alene associate vice president and executive officer for North Idaho, accepts the Award of Excellence in the talent category at the University Economic Development Association's annual summit earlier this week. The award recognizes U of I's Inspire Idaho program, which gives people across the state training opportunities to develop their own apps at no cost.
|
October 5, 2019 1:00 AM
By DEVIN WEEKS
Staff Writer
The University of Idaho Coeur d'Alene won the Award of Excellence in the talent category at the University Economic Development Association's annual summit earlier this week.
The award-winning program, Inspire Idaho, is a cooperative effort that gives people across the Gem State opportunities to develop apps at no cost. Inspire Idaho was created by the U of I Coeur d'Alene with partners who are committed to growing the regional tech economy.
U of I Coeur d'Alene Associate Vice President and Executive Officer for North Idaho Charles Buck accepted the award at the conference in Reno on Tuesday.
"This is an exciting honor recognizing the work U of I Coeur d'Alene is doing, specifically Dr. Buck, to bring innovation to education and open learning opportunities to all Idahoans, regardless of location, age or prior experience," said U of I Coeur d'Alene marketing and communications manager Katie Marshall.
Buck said the idea for Inspire Idaho came about through collaboration with the Innovation Collective when people from Apple were in town a couple years ago. Participants can even borrow laptops through U of I's MacBook Lending Library, or buy their own with an educational discount through the Vandal Store.
"We thought about how to provide access to the skills that are needed for the 21st century," Buck said. "It's been really gratifying. It's been a great program. We feel it has the potential to transform people's lives in Idaho."
Inspire Idaho launched early last year and has 300 active participants in: Coeur d'Alene, Sandpoint, Bonners Ferry, Plummer, Lewiston, Boise, Idaho Falls, Orofino, Rexburg and Weiser. Virtual training is also offered for those who live in remote areas.
Buck said multiple apps are underway right now, including one that keeps track of points for a game pingpong and one that helps people navigate festivals, like Art on the Green.
"We've had some really interesting and simple ones," Buck said. "We're seeing a broad mix of ideas. Everyone's got app ideas. We're trying to help them along and provide coaching and suggestions.
Visit www.uidaho.edu/cda/outreach/inspire-idaho to sign up for development training and to receive regular updates on Inspire Idaho.
Recent Headlines
---