Blazen Divas have turkey-day date in Philly
by
Jim Mowreader Staff Writer
|
November 1, 2019 12:00 AM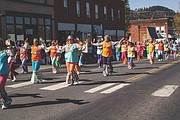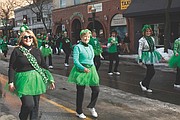 COEUR d'ALENE — On Thanksgiving Day, Philadelphia residents will have a taste of Coeur d'Alene for dessert.
The Blazen Divaz will march in Philly's Thanksgiving Day Parade.
"We've been working on this for a couple years now," said John Parmann, president of Coeur d'Alene-based parade, performance and community service organization The Blazen Divaz.
"This" is participating in Philadelphia's 6ABC Dunkin' Thanksgiving Day Parade, America's oldest Thanksgiving Day parade.
The Diva contingent will include 60 marching Divaz, 12 Diva Dudez to assist them, and a number of family members.
The Divaz love to travel to events in far-off lands. In recent years, they've participated in the Autumn Leaf Festival, Leavenworth, Wa.; Peach Festival Parade, Penticton, British Columbia; Cherry Blossom Parade, Washington, D.C.; Pearl Harbor Memorial Parade, Honolulu, Hawaii; Hollywood Christmas Parade; West Chester Old Fashioned Christmas Parade, Pa.; and performed in a music video for an Australian dance-techno music group.
The Blazen Divaz are also treasured participants in many local events, including the Coeur d'Alene St. Patrick's Day Parade, the Coeur d'Alene 4th of July Parade, the St. Maries Paul Bunyan Days Parade and the Coeur d'Alene Christmas Parade and Lighting Ceremony.
It's not all fun and games for the Divaz. They strongly believe in supporting local communities. In 2019, they donated over $700 worth of daily essentials like clothing and cleaning supplies to the Post Falls Police Victim Services Unit, a division of the Post Falls Police Department that helps crime victims rebuild their lives.
The Divaz are traveling east to bring joy to others, but aren't afraid to have some for themselves. They've arranged a full slate of activities, including a historic Philadelphia tour, a visit to the National Constitution Center, the Macy's Holiday Light Show, a Thanksgiving Dinner Cruise on the Delaware River, an Amish Country Tour, a Traditional Pennsylvania Dutch dinner that will include a stage performance by the Divaz, a visit to the 9/11 Museum, a New York City tour, a cruise around Manhattan, and a Christmas performance at Radio City Music Hall.
The parade can be seen in North Idaho via streaming media. Visit www.6abc.com, the Philadelphia ABC affiliate.
- • •
ABOUT THOSE DIVAZ: Formed in 2009, the Blazen Divaz maintain an active year-round parade, stage performance and community service schedule.
Dancing to the beats of current and vintage classic tunes, these seasoned performers will share their fun and bring smiles to the happy faces of old and young alike. Their costumes sparkle with sophisticated LED lighting systems to amaze audiences at nighttime parades and events, and lots of glitter and bling to wow attendees of daytime parades.
The Blazen Divaz range in age from 18 to 80+ with a wide range of talent, and some who didn't know how much talent they had until they joined.
The Blazen Divaz' mission is to support other nonprofits by providing entertainment and enthusiasm for their events and fundraisers.
They've supported organizations including the ALS Association, Alzheimers Association, Elder Help, Festival of Trees, Newby-ginnings, Post Falls Police Victim Services Unit, Relay for Life, and Toys for Tots.
Recent Headlines
---