Woodbridge South coming to in-demand Post Falls neighborhood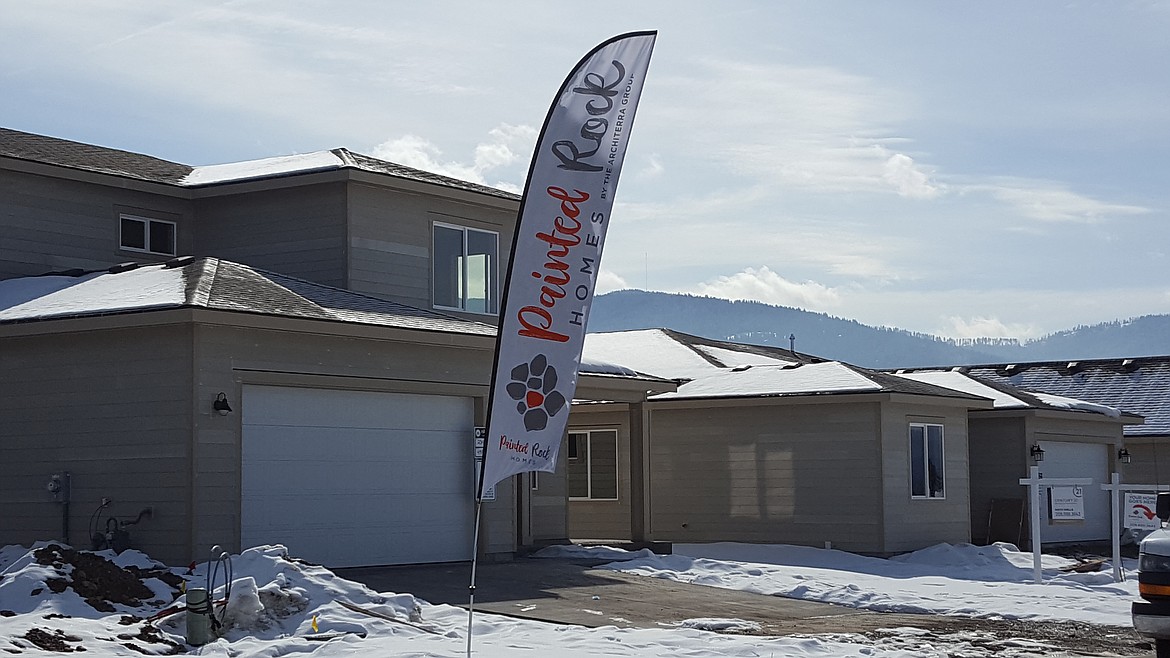 Photos by TYLER WILSON New construction by Painted Rock Homes by the Architerra Group in the Woodbridge South neighborhood in Post Falls near the state line.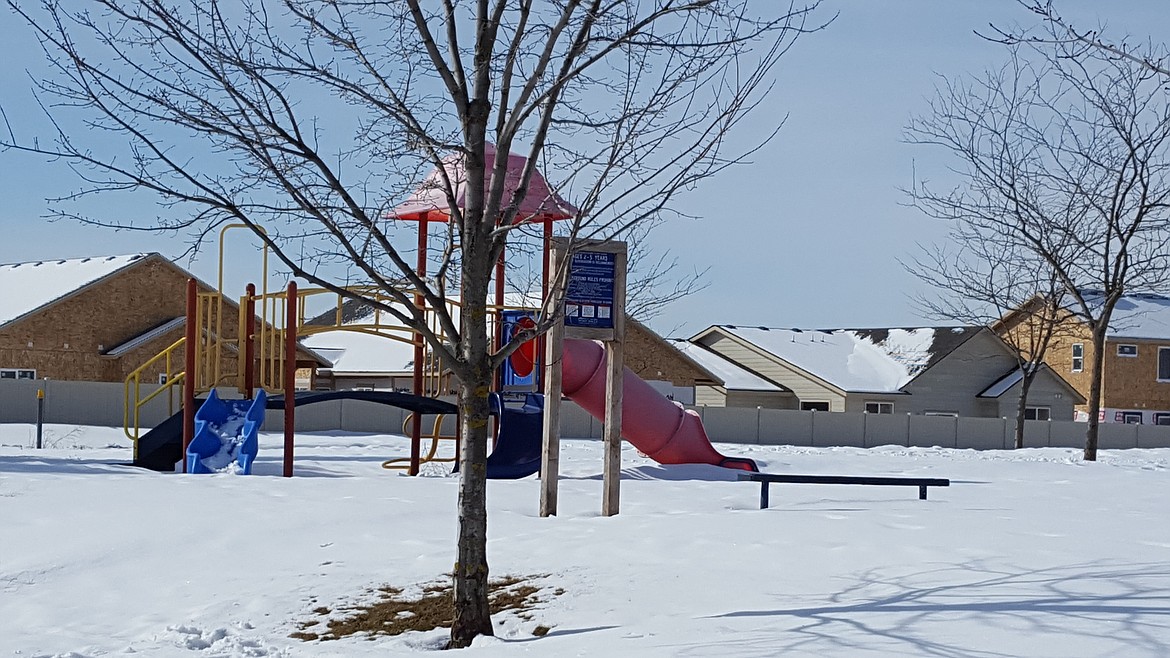 A play structure and park area in the original Woodbridge neighborhood, with construction in Woodbridge South seen behind it.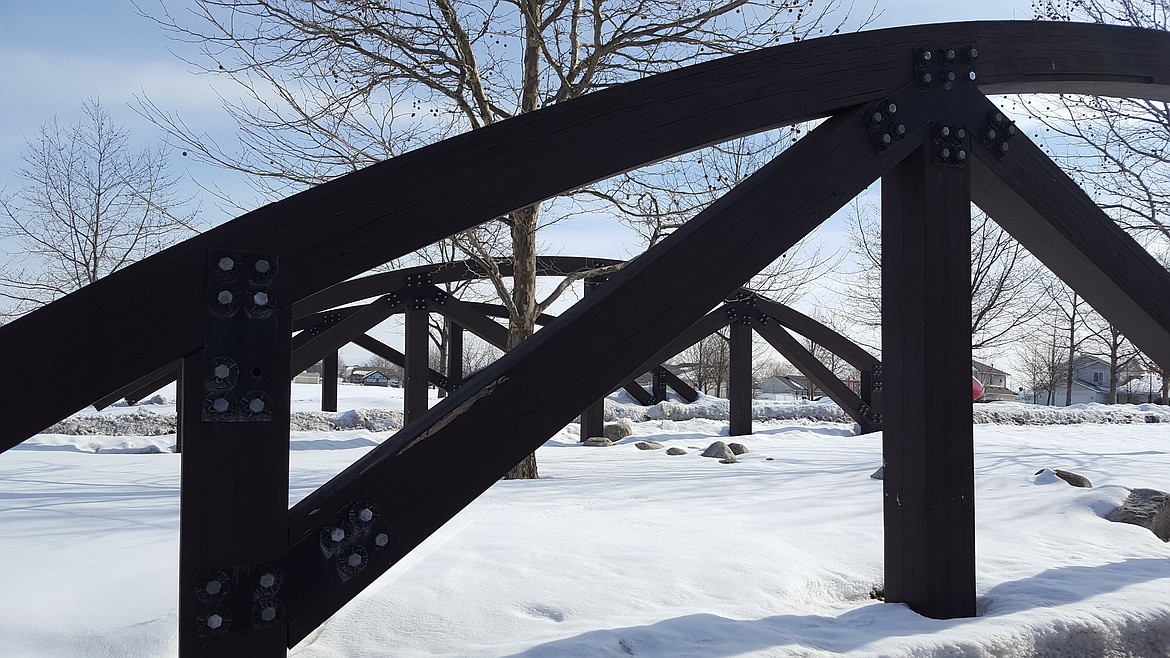 Photo by TYLER WILSON Entrance into the original Woodbridge neighborhood in Post Falls.
Previous
Next
by
Tyler Wilson Special to
|
March 17, 2019 1:00 AM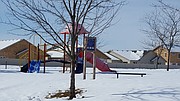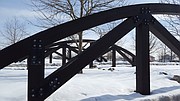 One of Post Falls' most convenient and idyllic neighborhoods is growing.
The Woodbridge development, located just off Seltice Way, is a quiet, tucked-away neighborhood that's just two minutes from the Beck Road exit of Interstate 90 near the state line. Wooden structures resembling an arch bridge highlight the main entrance into the neighborhood, which includes two separate park areas with ample green space, two sets of playground equipment and more amenities.
Homes that come up for sale typically go fast, but the new Woodbridge South development (located just south of the original neighborhood, naturally) will soon be providing a wide variety of brand new homes. While the South addition will be a bit closer to the freeway, developers intend to maintain the quiet, welcoming feeling of the original.
First up for Woodbridge South is a series of specs coming from Painted Rock Homes by the Architerra Group. Nineteen specs are in various stages of development and for sale, with the expectation that a new home will be finished and ready for move-in every 15-30 days.
The first home in the development recently finished and sold immediately, according to Keith Wells of Century 21 Beutler & Associates, who represents Painted Rock in Woodbridge.
Homes built by Painted Rock come with the same high standards typical of Architerra Homes. Features include 9-foot-high ceilings, painted composite siding, fenced rear yard, granite kitchen countertops, open concept layouts and much more. The Painted Rock homes follow a set building process with predetermined color and fixture choices compared to the more individually customizable homes built by Architerra.
"The palettes they've put together are neutral but modern colors that are really pleasant to the broader tastes," Wells said. "These homes are designed to be turnkey and appealing to everybody."
Five different floor plans are currently being used in the development, with a sixth option approved and set to be added to the lineup in the second phase. Home sizes range from a little over 1,800 square feet to about 2,300 square feet, with prices ranging from $297,900 to $326,900. That sixth floor plan set for the next stage will be a smaller option priced closer to the mid-$270,000s.
"Our goal was to really capture two types of people," Wells said. "We know there is a client that needs to be at this price point… and the other target market are those people who need to commute to Spokane for work."
New construction at that price point and with that convenience is getting harder to come by, Wells said, which is why he expects good things for Woodbridge South.
"I think it's going to be a neighborhood that sells very quickly," he said. "From a quality standpoint these are the same quality people have come to expect from Architerra and our contractors."
Painted Rock Homes likely won't be the only developer in Woodbridge South, as there are lots privately for sale with room for broader expansion. Green space, trees and park amenities are in that plan for Woodbridge South, and the development is also within walking distance of the original Woodbridge park amenities.
In addition to being nestled between the Pleasant View and Beck Road I-90 exits, the Woodbridge area is close to the stateline Walmart, Cabela's, and more expected commercial amenities coming in the future (that new Panda Express is also closeby).
Homeowners Association fees for Woodbridge South are $192.50/year.
For more information on Painted Rock Homes and Architerra, including floor plan options and feature listings, visit www.MyPaintedRockHomes.com. Contact Keith Wells at 208-699-3643 or email kwells@21goldchoice.com for information on sales and availability.
- • •
Let us know about more standout neighborhoods and developments that we may feature in an upcoming Neighborhood of the Week. Contact Tyler Wilson at twilson@cdapress.com.
Real Estate Agents, take advantage of Neighborhood of the Week by sending in your suggestions for featured areas, including sites outside the normal confines of Coeur d'Alene, Post Falls and Hayden.
Recent Headlines
---