Hayden aims for quality service at a lower price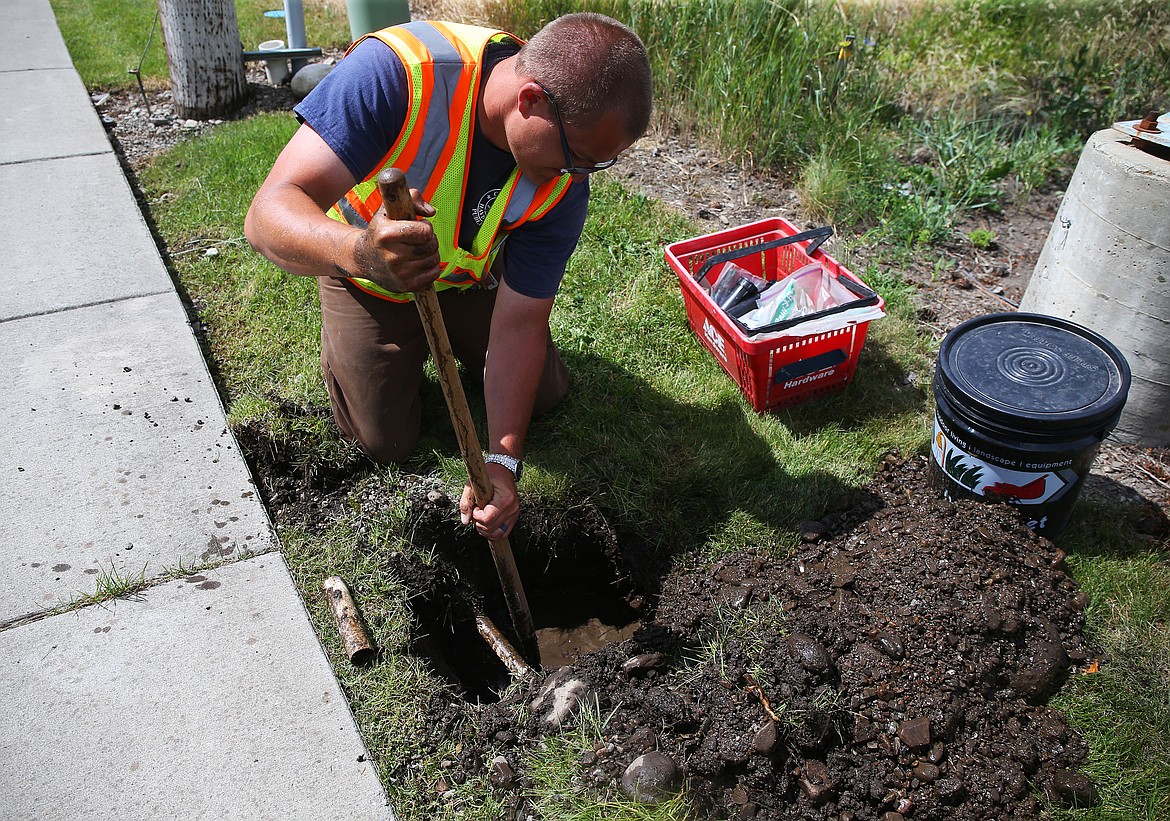 Photos by LOREN BENOIT/Press Daniel Hall with the Hayden Parks Department does irrigation work next to Government Way on Tuesday in Hayden.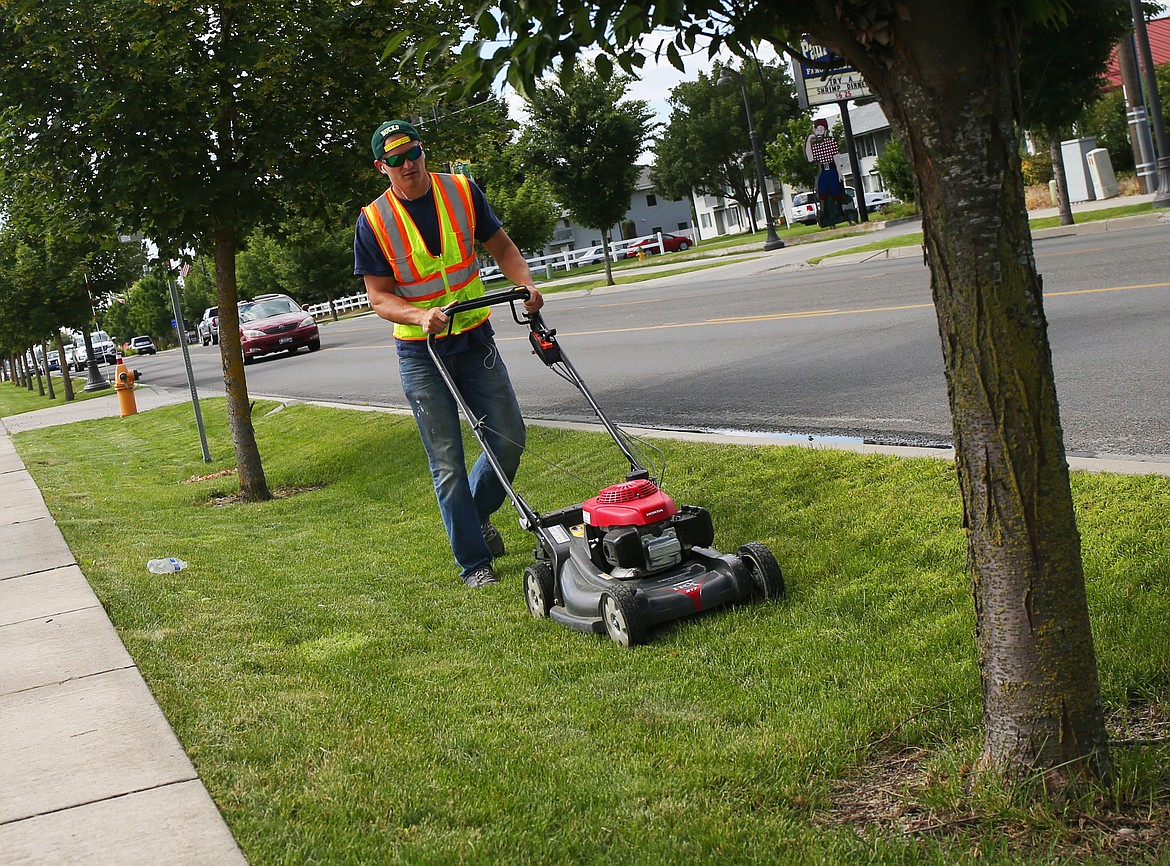 Hayden Parks employee Cody Hensley mows a section of grass along Government Way on Tuesday in Hayden. (LOREN BENOIT/Press)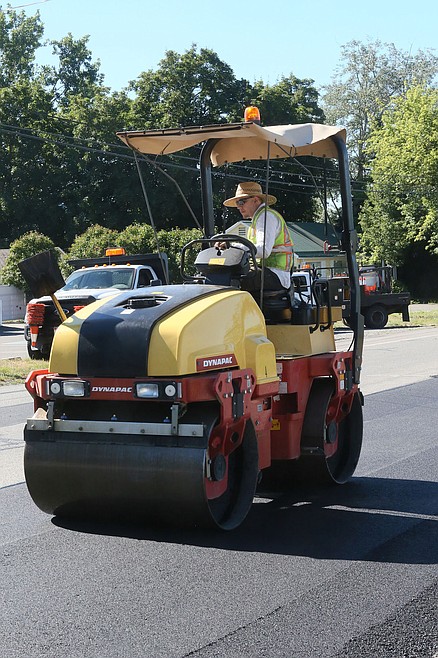 Hayden crewman operator Eric Thurman controls the roller during a paving project on Government Way Wednesday. (JUDD WILSON/Press)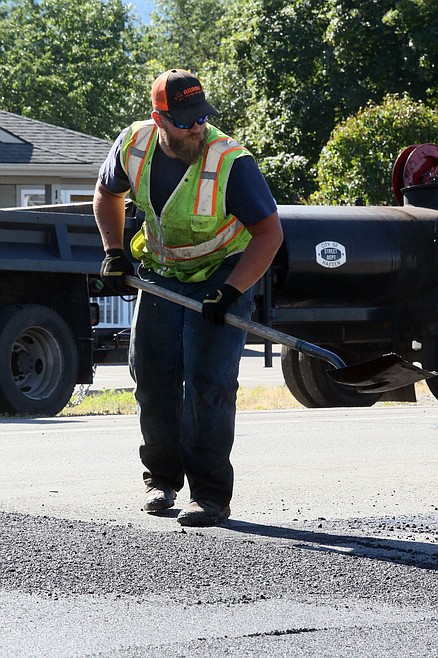 Tyler Newton, crewman operator for the city of Hayden, makes a paving project on Government Way look straight and clean on Wednesday. (JUDD WILSON/Press)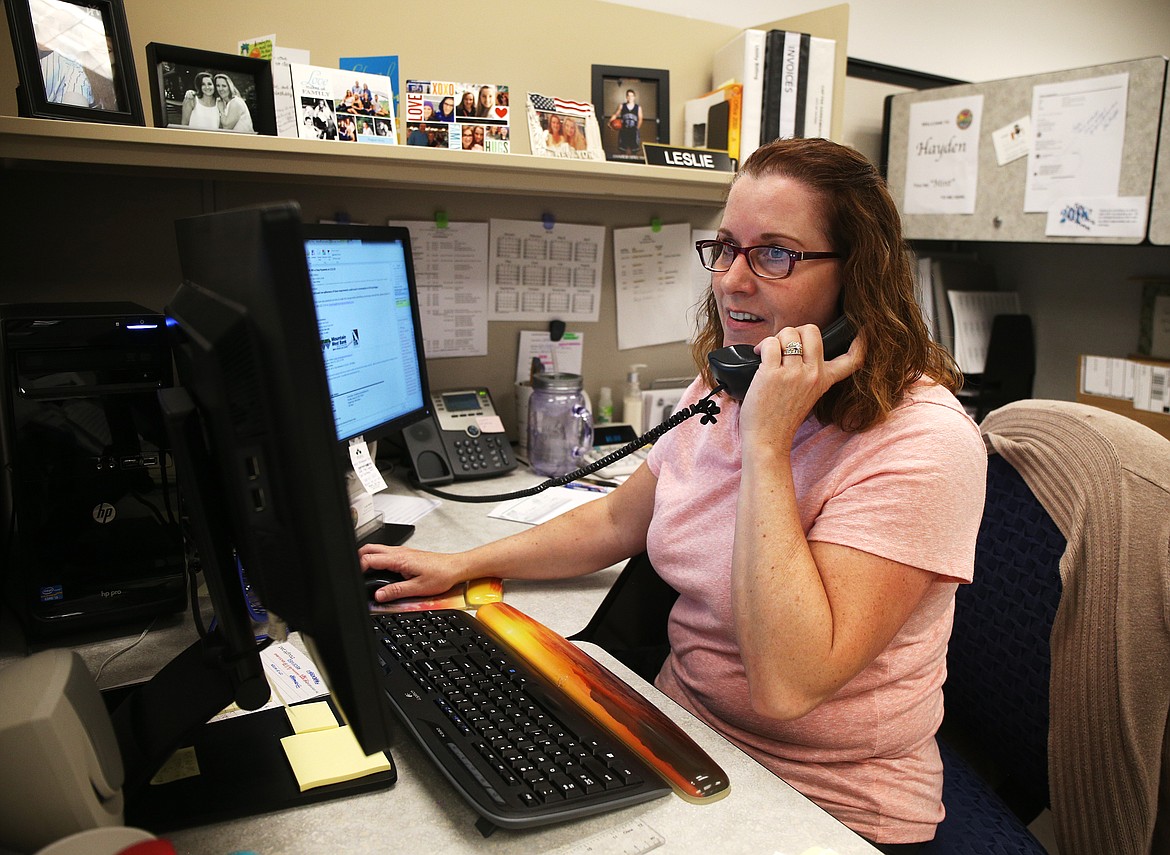 City of Hayden account technician Leslie Shelton talks with a third-party vendor over the phone about a utility bill Friday afternoon at Hayden City Hall.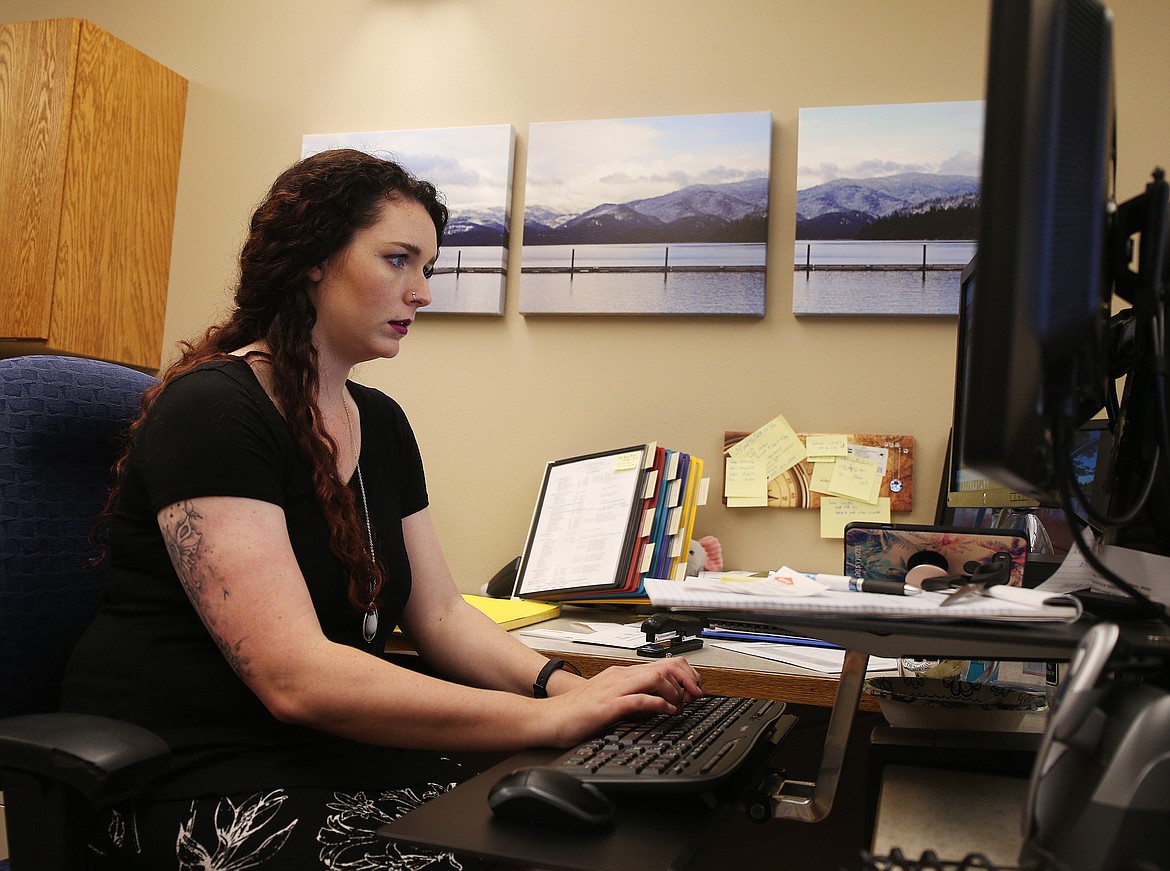 City of Hayden administration assistant Kalyn Menzies organizes files Friday afternoon at Hayden City Hall. (LOREN BENOIT/Press)
Previous
Next
Editor's note: This is the third part of a summer-long Press series on public employee pay.
By JUDD WILSON
Staff Writer
HAYDEN — Compared to its bigger neighbors in Spokane, Coeur d'Alene and Post Falls, Hayden has to work hard to attract and retain employees, says city administrator Brett Boyer.
"Our goal is to provide excellent service to our citizens and to do that we need to hire and keep quality employees," he said.
According to a recent study by human resources firm BDPA, on average Hayden pays 9 percent less than the market rate, but Boyer said the city compensates in other ways.
"Overall, we provide a friendly, fun atmosphere to work in," he said, adding that the city was selected as one of the Northwest's best workplaces in 2017. "We have been able to do that even though our pay is good but not the highest in the area. Generally we are 10-20 percent below Coeur d'Alene and Post Falls on many positions."
This is true even for Boyer, who with a total compensation package of $141,212.94, including $103,500 in salary, is the city's highest paid employee. He is also the only Hayden employee who earns more than $100,000 per year in salary. However, he makes 21-25 percent less than his counterparts in Coeur d'Alene ($131,471.44 salary) and Post Falls ($138,702.20 salary).
Mayor Steve Griffitts said the personnel Hayden seeks aren't out to make big bucks, but a big impact.
"Working for a municipality will never be, nor should it be, a high-paying job," the mayor said. "We should not compete with the business sector. Having said that, it's important that each employee feels compensated for the excellent service that they provide."
Griffitts added: "We want their salaries to be commensurate to their contribution. And we want them to feel fulfilled in their role as servants of the citizens of Hayden."
Employees choose from one of three benefits levels, said deputy city clerk and human resources chief Shawn Langenderfer. The city pays 11.32 percent of the employee's annual wages to PERSI, a retirement fund used widely by Idaho municipalities. The employee contributes 6.79 percent. Langenderfer said PERSI helps draw people to public work. Employees can make additional contributions to a 401(k) but the city does not match those contributions, Boyer said.
Rising health care costs are eroding that benefit, but the city continues to provide a good benefits package, said Boyer. City Council members voted Tuesday to accept Langenderfer's recommendation to switch insurers for the upcoming year, which would save the city $46,069.26 in additional costs while maintaining approximately the same health and vision benefits for employees.
Pay increases take place only at the City Council's discretion. The city staff received no pay increase at all in fiscal years 2010, 2012, and 2017, while in FY2008 and 2016 they all received 3 percent raises.
In FY2009, 2011, and 2013 employees received merit raises that averaged 3 percent, and in 2015 they received a 2 percent cost of living raise plus a 1 percent merit raise.
Last year the city increased some salaries by 3 percent in order to bump up those sitting at the bottom of their salary range, Langenderfer said.
"Our people are phenomenal," she said. "I would stack us up against anywhere. Our people wear so many hats and they can do anything. When you've got phenomenal people like that you don't want them to sit at the minimum."
Boyer has recommended a 2.5 percent cost of living raise plus a 1 percent merit raise for FY2019, which awaits the City Council's decision. The national cost of living index has risen by 2.5 percent since last year, he said.
Griffitts acknowledged that employee pay and benefits account for one of the city's biggest expenses. Total wages and benefits paid by the city rose slightly, from $2,430,255.16 in 2016 to $2,478,784.24 in 2017, Langenderfer said.
Langenderfer said the city cut costs this year by replacing a full-time finance position with a part-timer. She also said the city has better control over its engineering costs and productivity now that it has added a full-time engineer position and eliminated the need for contracting engineering services with outside firms.
The city doesn't pay much in overtime wages, but when it does it's due to weather events or city events like Hayden Days, she added.
Because Hayden is a smaller city, employees have to wear more than one hat, Boyer said. The city employees have a responsible attitude about spending city funds, he said.
"They realize it's taxpayer money. They ask questions and they're cautious," he said.
For example, city workers figured out how to create a watering station for the dog park that cost $600, which was far cheaper than ordering one from another source that would have cost several thousand dollars, he said.
Langenderfer views employee compensation through the prism of the Goldilocks principle. You can't pay them exorbitant amounts, but neither can you lowball them. It has to be just right.
Griffitts expressed gratitude for what the city's 35 full-time employees have accomplished during his two years in office.
"Over the last two years, we have been able to match productivity and growth to the job done by our employees so that we can measure their success," he said. "We have had record years and hope that we might be able to recognize the phenomenal contribution that our 35 employees have made to the citizens of Hayden."
Department Position Annual Pay Benefit Cost Phone Allowance Car Allowance Overtime
Council Mayor 15,839.98 2,379.34
Council Council Member 7,920.12 11,308.56
Council Council Member 7,920.12 10,412.08
Council Council Member 7,920.12 6,920.95
Council Council Member 7,920.12 8,043.15
Admin Clerk 47,940.84 18,170.73
Admin IT Systems Adminstrator 47,405.70 12,346.72 540.02
Admin City Administrator 103,500.04 32,252.64 660.14 4,800.12
Admin Deputy Clerk 56,493.60 7,825.34
Admin Admin Assistant 13,588.75 9,353.67
Admin Engineer 71,883.77 27,993.32 540.02
Finance Treasurer 55,104.04 7,597.50
Finance Treasurer 57,819.33 20,054.51 272.75
Finance Account Technician 33,145.00 5,231.41 434.86
Finance Account Technician 16,392.52 4,554.34
Finance Account Technician 14,966.04 2,417.59 21.75
Finance Account Technician 9,571.88 1,083.55
Community Development Planner 58,324.00 26,665.02 420.16 854.85
Community Development Inspector 60,076.40 20,357.38 660.14
Community Development Director 89,898.40 23,129.36 660.14 1,200.16
Community Development Planner 36,266.95 8,119.54 341.22
Community Development Inspector 36,139.28 18,952.22
Community Development Permit Technician 14,894.56 0
Community Development Permit Technician 33,510.40 10,725.25 96.00
Community Development Inspector 45,328.17 25,110.62 540.02
Community Development Admin Assistant 27,343.16 16,448.88 190.38
Community Development Inspector 5,520.16 1,794.17
Public Works Superintendent 65,969.28 27,474.10 660.14 117.53
Public Works Streets Supervisor 51,607.28 13,011.7 660.14 1,552.95
Public Works Parks Supervisor 52,187.36 26,038.94 660.14 1,220.69
Public Works PW Crew Member 49,861.72 25,676.77 1,007.72
Public Works PW Crew Member 41,563.7 24,852.67 540.02 1,486.23
Public Works PW Crew Member 38,747.18 17,906.53 370.17
Public Works PW Crew Member 42,536.59 24,985.49 2,227.09
Public Works PW Crew Member 24,787.68 3,054.68 1,302.45
Public Works PW Crew Member 28,875.97 23,415.96 540.02 1,481.43
Public Works PW Crew Member 28,706.7 23,388.6 540.02 1,409.61
Public Works PW Crew Member 32,966.47 10,664.20 100.98
Public Works Director 80,571.58 22,161.78 660.14
Public Works PW Crew Member 11,075.01 4,232.4 151.35
Public Works Seasonal Parks Worker 14,502.40 0 1,319.99
Public Works Seasonal Parks Worker 589.16 0
Public Works Seasonal Parks Worker 14,564.00 0 1,149.5
Public Works Seasonal Parks Worker 5,940.00 0 693.00
Recreation Admin Assistant 32,756.85 16,735.56 540.02
Recreation Director 72,927.02 15,910.52 660.14 1,300.00
Recreation Coordinator 39,185.83 17,619.68 540.02 115.62
Recreation Coordinator 31,003.60 9,895.37 540.02 109.02
Recreation Rec Temp 16.00
Recreation Rec Temp 504.00
Recreation Rec Temp 547.00
Recreation Rec Temp 4,324.64
Recreation Rec Temp 604.50
Recreation Rec Temp 558.25
Recreation Rec Temp 936.88
Recreation Rec Temp 684.00
Recreation Rec Temp 130.00
Recreation Rec Temp 3,846.16 399.16
Recreation Rec Temp 688.51
Recreation Rec Temp 1,434.49
Recreation Rec Temp 24.00
Recreation Rec Temp 180.00
Recreation Rec Temp 1,004.75
Recreation Rec Temp 1,516.18 86.63
Recreation Rec Temp 898.25
Recreation Rec Temp 706.00
Recreation Rec Temp 936.75 176.65
Recreation Rec Temp 1,188.00
Recreation Rec Temp 4,662.07 61.88
Recreation Rec Temp 84.00
Recreation Rec Temp 93.00
Recreation Rec Temp 403.50
Recreation Rec Temp 105.00
Recreation Rec Temp 360.00
Recreation Rec Temp 22.50
Recreation Rec Temp 58.13
Recreation Rec Temp 390.00
Recreation Rec Temp 348.02
Recreation Rec Temp 2,033.74 205.23
Recreation Rec Temp 2,522.26 186.68
Recreation Rec Temp 3,275.92 404.28
Recreation Rec Temp 801.63
Recreation Rec Temp 224.76
Recreation Rec Temp 15.00
Recreation Rec Temp 286.75
Recreation Rec Temp 331.52
Recreation Rec Temp 597.00
Recreation Rec Temp 337.52
Recreation Rec Temp 285.00
Recreation Rec Temp 570.00
Recreation Rec Temp 420.00
Recreation Rec Temp 318.00
Recreation Rec Temp 835.50
Recreation Rec Temp 518.00
Recreation Rec Temp 144.00
Recreation Rec Temp 441.00
Recreation Rec Temp 885.78
Recreation Rec Temp 204.00
Recreation Rec Temp 104.00
Recreation Rec Temp 52.00
Recreation Rec Temp 78.75
Recreation Rec Temp 270.00
Recreation Rec Temp 112.50
Recreation Rec Temp 140.00
Recreation Rec Temp 101.25
Recreation Rec Temp 1,677.39 161.56
Recreation Rec Temp 2,275.77 209.00
Recreation Rec Temp 1,772.75 292.00
Recreation Rec Temp 521.28
Recreation Rec Temp 476.02
Recreation Rec Temp 284.00
Recreation Rec Temp 280.00
Recreation Rec Temp 147.00
Recreation Rec Temp 196.00
Recreation Rec Temp 90.00
Recent Headlines
---