Regional management center could cut traffic congestion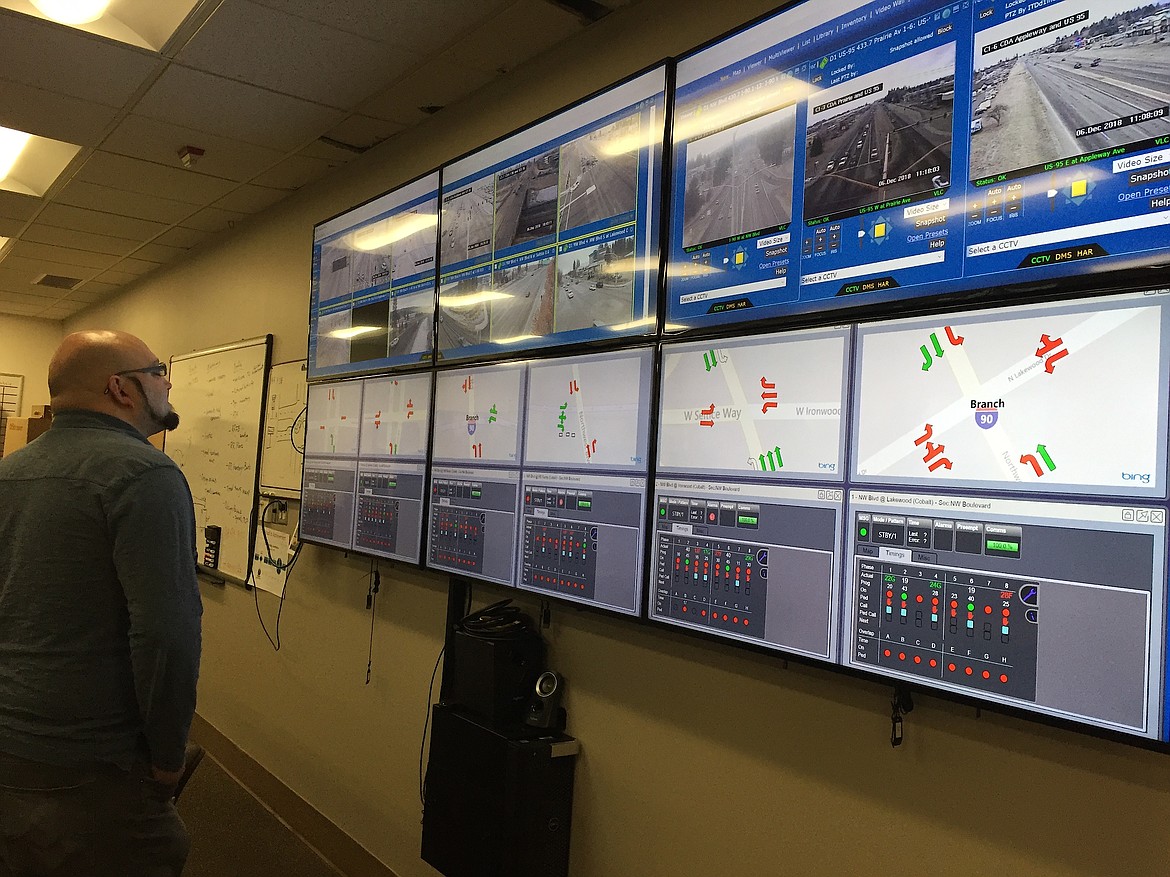 Photo courtesy of the Idaho Transportation Department Bill Custer, of the Idaho Transportation Department's District 1 Traffic Section, checks out live feeds of intersections on Thursday at ITD's regional headquarters on Prairie Avenue in Coeur d'Alene.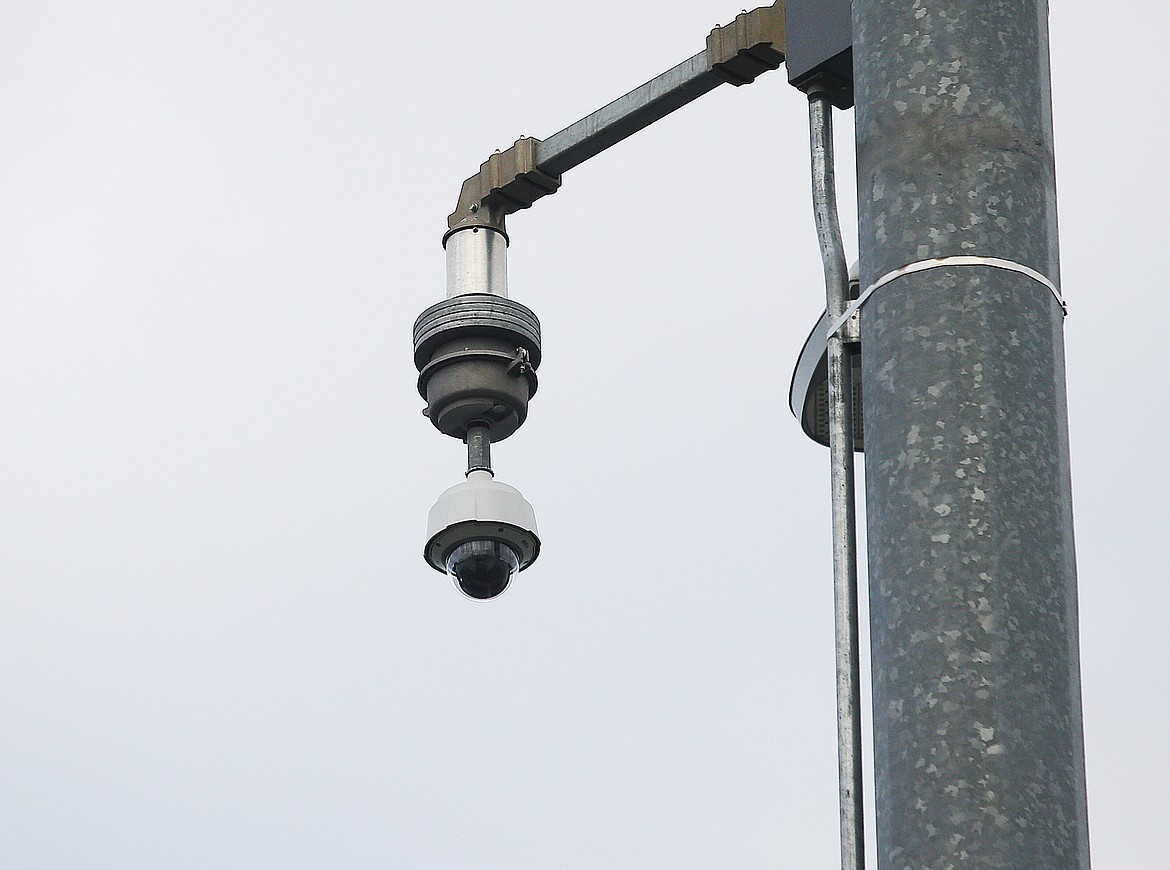 This is a live-feed and incident management camera that the Idaho Transportation Department uses on Northwest Boulevard at Interstate 90. These cameras are used to monitor traffic incidents and flow and do not record information. (LOREN BENOIT/Press)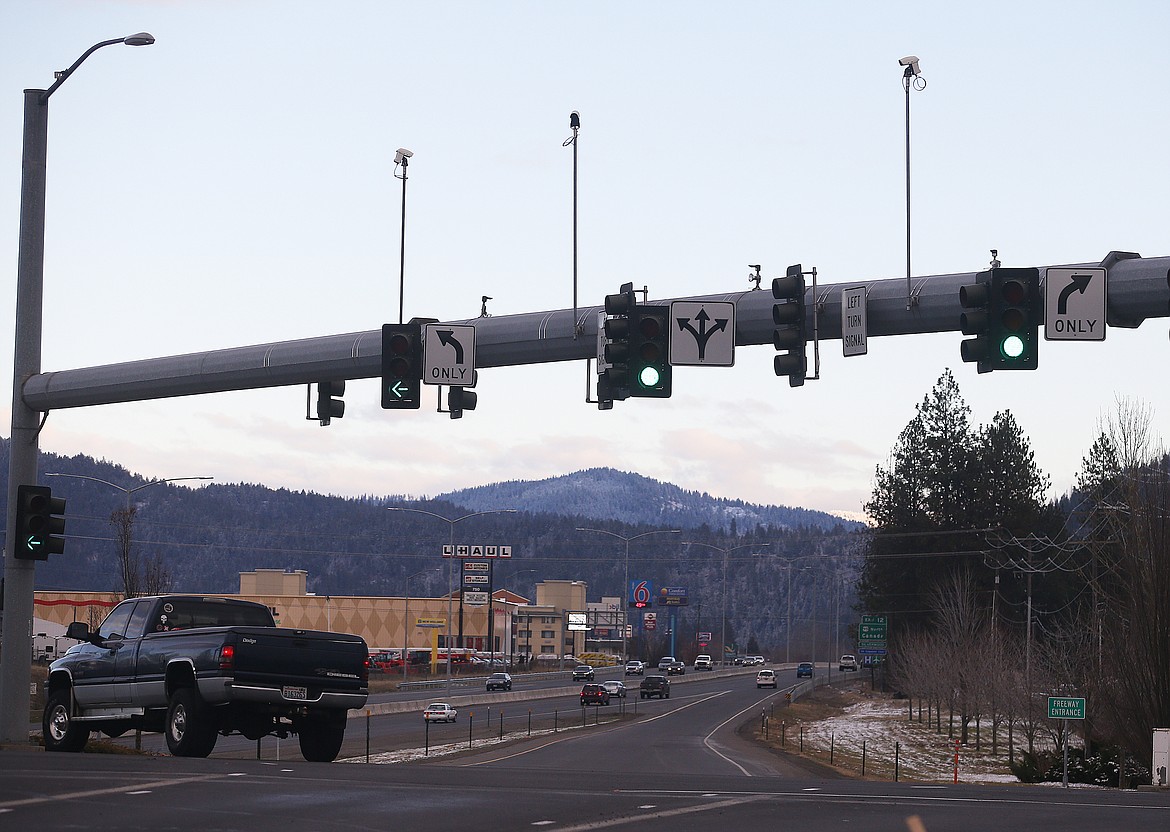 Previous
Next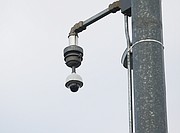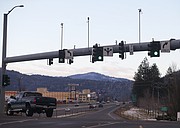 COEUR d'ALENE — Traffic running more smoothly just about everywhere.
What would that be worth?
You might be about to find out.
Planners have the green light to look into a regional traffic management center that could improve traffic flow throughout Kootenai County.
The Idaho Transportation Department will fund a one-year study that's expected to start in March and cost about $170,000. It will be managed through the multi-agency Kootenai Metropolitan Planning Organization.
"Given the growth our region is facing, the department has decided to invest resources and look into this option," said Megan Sausser, ITD spokeswoman. "Traffic management centers can improve traffic flow by coordinating all signals in an area. As it is now in Kootenai County, ITD monitors signals on state highways and interstate ramps, and other jurisdictions monitor their own signals. Coordinating signals would likely improve overall traffic flow and our ability to respond to traffic incidents."
The daily traffic count in both directions during peak times are 80,000 on Interstate 90 at Coeur d'Alene, 12,600 on Highway 41 at Post Falls, and 43,000 on U.S. 95 at Coeur d'Alene, according to ITD.
If a TMC is approved, motorists would see additional cameras at busy intersections, Sausser said. However, transportation officials say existing cameras and new ones aren't recording devices.
"No one is spying on folks," Sausser said.
Still, planners are aware that the public adapting to more cameras may be a process.
Local resident Sandy Emerson, who organizes natural resource meetings in Coeur d'Alene and invites representatives of several agencies, last week asked ITD officials to speak about the exploration of a TMC.
"I'm not sure if everyone is feeling warm and fuzzy about this," Emerson told ITD employees after they spoke to the group. "But it's good information, and we all realize we've got a problem."
Doug Eastwood, who also attended the meeting, said the traffic volumes and the planning to handle those were an eye-opener to him.
"I had no idea how much engineering goes into making (traffic flow) somewhat reasonable," he said.
ITD planner Bill Roberson said traffic congestion in Kootenai County will only intensify.
"You've heard the term, 'Build it and they will come,'" he said. "Well, they're already coming."
STUDY HABITS
KMPO Executive Director Glenn Miles, who assisted with starting up a TMC in Spokane, said the study will look at the design, concept and scope of such a center.
It will also identify startup and operation costs and jurisdiction roles.
"Until the study is completed, we won't have a good idea of which agency would oversee the center and how it would run," Sausser said.
Whether the center would operate out of its own building or in conjunction with existing traffic operations will also be explored.
"That will in part depend on the scope explored in the study, but if a (TMC) is pursued, it would likely be an independent building and staff," Sausser said.
The scope of TMCs vary. Some mainly monitor traffic to respond to incidents rather than handle the timing and maintenance of signals; they tend to operate out of one room. Others monitor major roadways in entire states and operate out of their own building.
TMCs already exist in other metro areas in the Inland Northwest, including the one in Spokane and one in Boise.
In the Boise area, the Ada County Highway District manages all signals, regardless of owner. That TMC initially controlled only that district's signals and street camera system.
However, the district has been working with ITD to make it a joint center that controls operations on all highways in the metro area.
"As incidents are detected on the freeway system, messages can be posted on variable message signs and vehicles can be diverted to parallel arterial streets," the ACHD website states. "The operators can then change the signal timing to those arterials to accommodate the increase in traffic flow."
The ACHD, in a partnership with ITD, has installed 179 incident management cameras within the Treasure Valley. Plans call for a camera to be located every mile on the freeway system within the Treasure Valley and on most major arterials. The ACHD sends camera feeds to police dispatch centers, the Ada County Sheriff, Idaho State Police and local TV and radio stations via a fiber optic communications network.
Such systems, including more of what would be installed locally, are on live-feed only, so nothing is recorded, ITD officials said.
ITD Engineering Manager Marvin Fenn said ACHD's center is among those local planners are looking at to see what might work here.
"It wouldn't surprise me if we go in the same direction here," Fenn said. "There's lessons to be learned from others."
The Boise center is open Monday through Friday. The annual operations and maintenance budget is $300,000.
WHAT'S OUT THERE
ITD already uses cameras on a limited scale in North Idaho to improve traffic flow and respond to incidents. The next phases would be to move toward a regional system that coordinates with other jurisdictions and having a staff that focuses on the center full time.
"We're currently only looking at these monitors about 25 percent of the time," Fenn said.
ITD uses two types of cameras — detection cameras and live-feed cameras for managing incidents. Both cost about $2,000 each.
The live cameras look like domes and are used to monitor traffic incidents and flow.
"They give us a live feed of what traffic looks like and are used to obtain periodic stills (photos) of conditions for 511 (traveler information)," Sausser said. "They do not record anything."
ITD has live incident management cameras on U.S. 95 from Ironwood almost to Lancaster, and Northwest Boulevard from Lakewood to Golf Course Road in Coeur d'Alene. In Post Falls, they are on Spokane Street at the I-90 ramps and Seltice Way and on Pleasantview from Riverbend to Expo Parkway. Sandpoint has four.
"Of these 26 cameras installed, we are able to view a live feed from 19," Sausser said. "The other seven are waiting on a fiber connection to become operational."
Sausser said if a TMC is pursued, more cameras would be installed.
"The study will help us decide how many and where," she said.
Detection cameras are pointed down, look like a security camera and are used to detect traffic at signals.
"They work with in-ground detection devices to coordinate movements at signals," Sausser said. "The only data that is recorded is the detection itself."
Each ITD intersection in Kootenai County, except for Emma, Ironwood and Lancaster on U.S. 95 that rely on radar units, uses a combination of in-ground detection devices and detection cameras. Each intersection has a minimum of four detection devices.
"Drivers who see cameras up high are likely noticing advanced detection cameras, many of which have been disconnected from the system and have been replaced with newer, more-reliable in-ground detectors," Sausser said. "A few of these cameras are also on light poles and are waiting to be removed once ITD is able to obtain the right equipment."
There is one such camera on a light pole near Neider and U.S. 95.
A different system of cameras along major area roadways is used by law enforcement to read license plates to alert dispatchers of stolen vehicles, Amber alerts and other suspects passing by.
Other local jurisdictions are also tapping into intersection technology and have started coordinating with ITD to reduce traffic congestion.
Post Falls, for example, is installing three new traffic signals and connecting those with four existing ones to mitigate congestion on Seltice Way. The project combines signals owned by ITD and the city.
"It will allow either entity to view, in real time, traffic operations along the Spokane Street corridor and provide traffic signal timing that will be more efficient in adapting to local and regional needs with changing traffic patterns," said Robert Palus, Post Falls assistant city engineer. "There are no plans to record information or to live feed the data for public viewing."
Recent Headlines
---