Longtime Cd'A radioman Bob Hough dies at 89
by
BETHANY BLITZ/Staff Writer
|
March 15, 2016 9:00 PM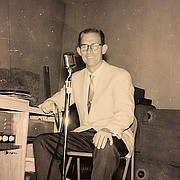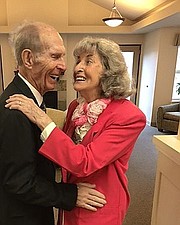 COEUR d'ALENE — The man weaved in and out between floats. He rolled up to people in the parade, asked them a few questions, then skated away, microphone in hand. People were waving and cheering when his legs came out from under him. With a big thud, Bob Hough's butt landed on the street. He got up, his smile grew bigger, and he gave the crowd a gymnast's dismount bow. They cheered even more.
Bob "Bubblehead" Hough died Friday, March 11, in Coeur d'Alene. He was 89.
Bob was born in Oklahoma City and moved to north Hollywood, Calif., a few years later. When his parents split up, he lived with his mom and stepfather in an adults-only apartment complex. He sold newspapers on the streets to raise money. He once sold a paper to Charlie Chaplin.
"He was a California bad-boy who was always getting into trouble with his friends, but he always protected women," Hough's son, Terry, said. "He got kicked out of high school for sucker-punching a kid who was trying to cut off a girl's bra strap."
When he was 16, Hough tried to enlist in the Navy. They wouldn't take him because he failed the colorblind test. He waited two more years and joined the Army. He was a "grave registrator" in the south Pacific, going to old combat zones and looking for the remains of soldiers who went missing in action.
He served for two years before returning to the states, where he tried out for minor league baseball. He got signed with a team in St. Louis, but the league went bankrupt before he could play. That's when he decided to enroll in Don Martin's School of Broadcasting in California.
He fell in love with radio and got his first broadcasting job in Provo, Utah, in 1950. He met a woman there, Colleen, and fell in love with her, too. They were married three months later.
On a trip to visit Colleen's parents, Hough fell in love again — this time it was with Coeur d'Alene. The couple and their new son, Terry, moved to Coeur d'Alene and Hough started working for KVNI radio station when it was still at Blackwell Island.
He eventually moved up and got a job hosting a rock 'n' roll station in Spokane from midnight to 6 a.m. All the radio announcers there were named Bob, so they gave Hough the nickname "Bubblehead."
"He introduced rock 'n' roll to the Pacific Northwest," Hough's second son, Bruce, said. "He would bring home all these records from work and we would listen to them. We grew up on rock 'n' roll."
Hough made the commute from Coeur d'Alene to Spokane for 35 years. He became very well known in the community, hosting record hops at school dances, announcing at the drag strip and for the Spokane Indians baseball team.
Everything he did, he did for the community. He went to Schweitzer for opening day and reported on it from a remote microphone. He also did a walk from his house on Fourth Street in Coeur d'Alene to Sunset Hill in Spokane. Along the way, people would join in for parts of the journey. Sometimes he would walk into a store to do some advertising for them — his feet hurt so he bought some Dr. Scholls inserts. Slowly, Hough became the voice of North Idaho.
He moved work back to Coeur d'Alene where he hosted the morning show for KVNI. He reported on news and sports and collected quite a following. He called his followers the "Bunny Slipper Mamas."
"People depended on him for every school closure and every public meeting," Bruce said. "He was the go-to guy to emcee for the Idaho Sports Banquet, beauty pageants and the hydroplane races."
No matter how hard or long he worked, Hough was always there for his family. He spent tons of time with his kids and their friends, teaching them sports, how to work hard and other life lessons.
"He was the most popular dad for the kids in our school," Terry said.
After school, all his kids — four boys, one girl — and their friends would come over to play ball. To the displeasure of their neighbors, they used a span of four yards to play catch and scrimmage football and baseball. Hough was so strong and athletic, he could outrun and out-throw everyone. He could make a pass, run and catch it himself.
He was the fun, goofy guy. Once, he walked an entire block on his hands.
On ski days, Hough would cram all the kids and some friends, sometimes eight people, into the family's tiny Volkswagen Beetle and drive to Schweitzer. Everyone had to wear their ski boots because there was no extra room in the car.
Hough included his kids in everything. He would carry them on his shoulders as he mowed the lawn and taught them to fish.
"He's had an impact on so many people," Terry said. "There are a lot people writing messages on Facebook, some I don't even know."
The family bought a house and a boat on Lake Coeur d'Alene. Everyone learned to water ski. It became a reunion place for the family.
"The lake is our tradition," Terry said. "For four generations it's been the gathering place."
For Hough's 80th birthday, Terry took him water skiing again. He was always a happy person and made people smile wherever he went. He looked like he was dancing as he walked down the street.
Three days before his death, Terry visited Hough at his nursing home, the Garden at Orchard Ridge. They were going to the main lobby for karaoke and dancing. Hough turned to Terry and said, "Let's go!" and took off down the hallway in his half-dance, half-walk gait.
There will be a viewing at Yates Funeral Home this Friday from 5 to 8 p.m. The funeral will be held at the Church of Jesus Christ of Latter-day Saints Stake Center on Saturday, March 19 at 2 p.m. with a viewing at 1 p.m.
In lieu of flowers, the family requests a donation to the North Idaho College Foundation for the Robert and Colleen Hough Scholarship fund. The scholarship will go to a student in financial need who is interested in broadcast journalism. Donations are accepted at www.nic.edu/give. Make sure to type in the foundation's name.
Recent Headlines
---