Former instructor of Veronica Rutledge establishes scholarship for child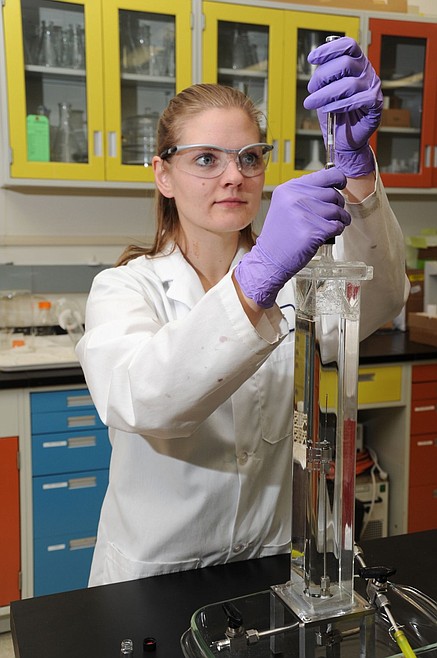 |
January 16, 2015 7:04 AM
Veronica Rutledge was known by many as a woman with a passion for science and love of learning and education.
After graduating as class valedictorian from Kootenai High School in 2004, she enrolled at North Idaho College, beginning her higher education in pursuit of a law degree but later deciding that she did not want to sit behind a desk all day.
"Instead, she wanted to work with her hands… her mind," said North Idaho College Microbiology Instructor Rhena Cooper, who was a teacher, friend and mentor to Rutledge during her time at NIC. "She became excited at the possibility of becoming a forensic scientist, because that career path had the possibility of combining her love for the lab and the law together."
At NIC, Rutledge excelled. She received the Outstanding Freshman Chemistry Award, securing an IDeA Network of Biomedical Research Excellence (INBRE) Internship with Accurate Testing Laboratory, including follow up employment, and presenting her first poster at the 2006 Annual Research Conference of Idaho-INBRE. She then won first place with that poster at the 2007 Idaho Academy of Science Conference and was inducted into Phi Theta Kappa, the national honor society for two-year colleges.
Rutledge completed another INBRE internship at the University of Idaho Research Park in Post Falls where she was mentored by Dr. Larry Branen and learned molecular biology techniques. In 2007, she was awarded an INBRE Fellowship at Boise State University, collaborating with both Dr. Julia Oxford and Dr. Bill Knowlton. Her capstone experiences that summer were winning second place in the faculty choice division of the poster competition at the INBRE Summer Research Conference and realizing that she wanted to complete a bachelor's degree in chemical engineering and eventually perform scientific research.
Rutledge spent the summer of 2008 as an INBRE Fellow at the University of Idaho with Dr. Eric Aston. Her chemical engineering team won second place in an international design competition. In 2010, she simultaneously received bachelor's degrees in chemistry and in chemical engineering from the University of Idaho. Rutledge then accepted full-time employment at the Idaho National Laboratory, fulfilling her dream of becoming a research scientist.
"Veronica had exceptional critical thinking and problem solving skills enabling her to express herself clearly and creatively," Cooper said. "She was a dedicated young woman, building a successful family and academic life. Veronica enjoyed her journey with a center of calmness, which stood out as most refreshing in today's sea of stressed individuals. Due to her family, she was a well-grounded woman with a fabulous work ethic. With a twinkle in her eye, Veronica would roll up the sleeves of her laboratory coat and joyfully get to work as a happy, spirited researcher whose motto was, 'It's all good.'"
The tragedy that struck the Rutledge family shook the local community, made headlines around the nation, and left a 2-year-old boy without a mother.
Cooper and her associates at North Idaho College want to make sure that Rutledge's son grows up knowing his mother's passion for science and love of education. To ensure that the same opportunities exist for him, a donation account to support the college education of Colt and Veronica Rutledge's 2-year-old son has been established at Idaho Independent Bank in Coeur d'Alene. The donation account is in the name of Veronica "Roni" Rutledge (Aug. 23, 1985 – Dec. 30, 2014).
All funds collected will be used to establish a memorial scholarship through the IDEA Idaho Savings Plan in her son's name.
"Her life was cut short—too short," Cooper said. "She loved science and loved learning. We want to make sure that opportunity exists for her son."
To contribute to the donation account, stop by any Idaho Independent Bank branch or mail donations to 1260 W. Riverstone Drive, Coeur d'Alene, ID 83814. Make checks payable to "Veronica Rutledge Donation Account." For more information, contact Idaho Independent Bank at (208) 765-3619 or Rhena Cooper at North Idaho College at rhena.cooper@nic.edu.
---