'Tis the season! Celebrate the birth of Christ with a free, live Neigh-tivity on Saturday, Dec. 12.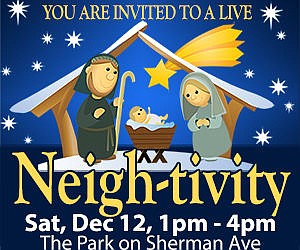 |
December 6, 2015 8:51 AM
There is an exciting family Christmas event going on downtown this weekend. First Presbyterian, and Trinity Lutheran Churches, in cooperation with the CDA Downtown Association, have come up with a wonderful way to share the love and joy of the Season. They are setting up a Christmas Neigh-tivity in the small park on Sherman Avenue between Pita Pit and Shenanigan's Toy Emporium.
There will be a live animal stable, complete with a donkey, a cow, sheep, goats - and even a real live camel! Kids of all ages will be able to pet and feed the animals.
Also, bring your camera because there will be a full size manger scene, complete with costumes, for you and your family to dress up in as nativity characters and pose for photos. It's a great opportunity to create a special family photo to use in Christmas cards!
Everyone can experience the joy of the holidays with carolers, free hot cocoa, gifts and plenty of God's love. The event is completely free and is from 1 p.m. to 4 p.m.
Recent Headlines
---