Richard Anderson: From MGM to 'The Six Million Dollar Man'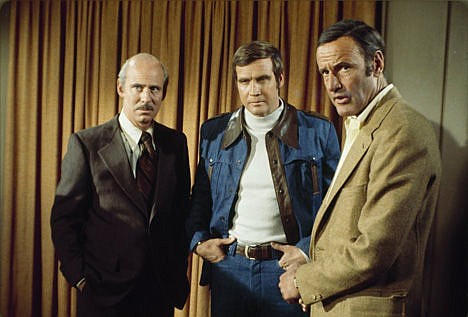 <p>Performing in the "Six Million Dollar Man" television show, from left: Alan Oppenheimer, Lee Majors and Richard Anderson.</p>
by
NICK THOMAS/Tinseltown Talks
|
August 21, 2015 9:00 PM
Veteran actor Richard Anderson appeared in more than 200 films and television shows throughout his career.
But for Anderson, who turned 89 on Aug. 8, it's not just his well-known role as security chief Oscar Goldman in "The Six Million Dollar Man" that elicits fan questions on the classic film/TV convention circuit.
"They always ask about 'Curse of the Faceless Man' which we made in 1958 and was my first lead film role," said Anderson from Los Angeles.
"It was a low-budget remake of 'The Mummy' two decades earlier, featuring a stone monster rather than one wrapped in bandages. We spent a week filming in a big old house on the way up to Malibu - the house is still there. I really just learned my lines and tried not to bump into the furniture."
Two years earlier, Anderson appeared in the venerable sci-fi classic "Forbidden Planet."
"That was the last of two dozen movies I did for MGM," he said.
"Sci-fi feature films were rather new in 1956 and it changed the genre forever. The whole movie was shot on one stage and as filming progressed, the studio gave us more money and the best production staff. We turned out a first-class movie that's still impressive today."
Born in New Jersey and raised in New York, young Dick and his brother, Bob, were weekend matinee regulars at the 96th Street Motion Picture Theater, absorbed in their favorite films: Westerns.
"The stories had heroes and happy endings - I really wanted to live in that world," recalled Anderson.
"I was especially drawn to one actor who never said much, but used his body language to tell the story. That was Gary Cooper, who inspired me to get into the business."
Anderson never worked with Cooper, but the two met years later at a Mexico City film festival.
"When I asked him about acting he said he didn't know much about it, and advised me to never get caught doing it!"
He also co-starred with other greats, including Spencer Tracy and Clark Gable.
"Tracy would mumble his lines in rehearsal, then do it perfectly in one take when the camera rolled," he recalled.
"Gable left work at 5 o'clock; it was in his contract. But on the set, he worked very hard rehearsing and made it look easy on the screen."
More anecdotes from Anderson's career appear in his May biography, co-written with Alan Doshna, "Richard Anderson: At Last ... A Memoir, From the Golden Years of M-G-M to The Six Million Dollar Man to Now"(see www.bionik.com).
Nick Thomas teaches at Auburn University at Montgomery, Ala., and has written features, columns, and interviews for over 600 magazines and newspapers. Follow @TinseltownTalks
Recent Headlines
---