'The Chef' takes on Italian flavor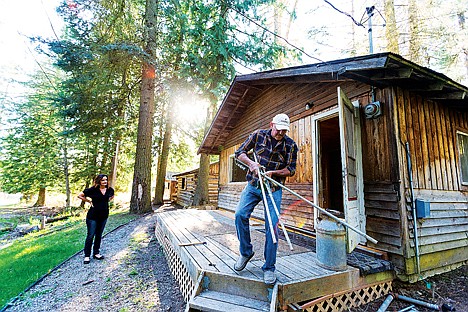 <p>Chris Hammons, a former Coeur d'Alene School District principal, removes old pipes from a cabin as his wife Jane while working on a remodel of his Hauser Lake property on Tuesday. There are four cabins and a restaurant on the property that is scheduled to open in June.</p>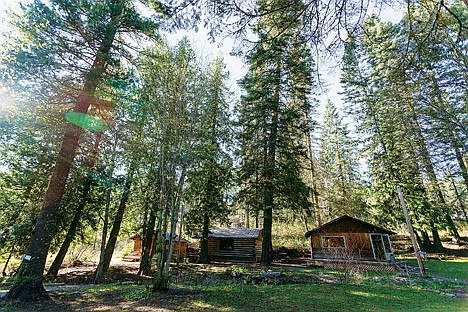 <p>The three smaller cabins at the previous Chef in the Forest site are nestled near a creek and surrounded by tall pine trees.</p>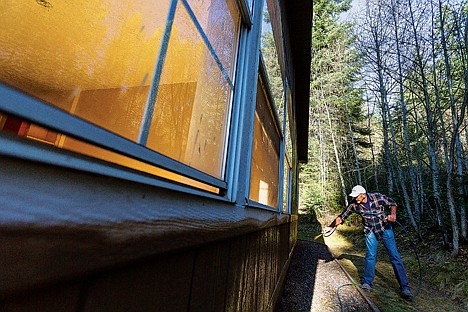 <p>Chris Hammons uses a sprayer to paint the largest cabin at his Hauser Lake property.</p>
Previous
Next
by
BRIAN WALKER/Staff writer
|
May 3, 2014 9:00 PM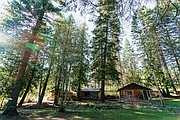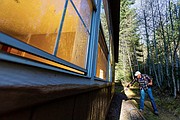 HAUSER - Retired principal Chris Hammons has gone back to school. His subject? Pizza.
The former principal at Lakes and Woodland middle schools in Coeur d'Alene is off to his next assignment of converting the landmark Chef in the Forest location in Hauser into a wood-fired artisan pizza restaurant called Embers by the Lake.
"I'm not a person who can sit still very long," said Hammons, who is planning a mid-June opening after a renovation.
The original Chef fine-dining restaurant burned down five years ago, re-opened a year later with the same flair and name, then closed again three years ago.
"The word 'embers' in Embers by the Lake refers to the wood oven, rather than the burnt restaurant," Hammons said with a chuckle.
Hammons said the intent is to give the pizzeria a family-friendly, non-smoking atmosphere and take advantage of the view of Hauser Lake with outdoor seating.
"Hauser is a beautiful place," he said. "Our motto will be: 'It's a short drive to a faraway place.' But first and foremost, we really want to serve our community of Hauser."
Hammons said he has become a student once again with the venture.
"By no means am I a chef, but I took some workshops on wood-fired ovens for cooking pizza," he said. "It's been a great learning experience. I expect our neighbors to put on a few pounds during the taste tests and dry runs."
Pizzas, Hammons said, will be cooked at 800 degrees, give or take.
Hammons' wife, Jane, is the director of training for Pita Pit USA, so she has a background in the restaurant industry which will come in handy, he said.
"She's got the brains and I got the brawn, so we're putting them together," he said. "I guess I got a lot of the grunt work (with the renovation). We're also fortunate to know a lot of people who have a background in this industry, so that has helped."
Pizza prices will be in the $12 range. The smaller-sized pies will feed one or two.
"I'm not sure yet if we'll also have family-sized pizzas - we'll work that out as time goes on and we find out our clientele," he said.
He said the business will also have beer, wine, salads and appetizers.
"We want to keep it simple," Hammons said.
The site at 12008 N. Woodland Beach Drive on the east side of Hauser Lake was Woodland Beach Resort in the '60s before it became Chef in the Forest.
The 4-acre site also has three cabins and a manufactured home that Hammons plans to use as vacation rentals. A creek runs through the property.
The limited liability corporation that will operate the site is called Mr. Hammons' School's Out Resort.
"I like the idea of it coming back more as a resort so the community can use it," Hammons said.
Recent Headlines
---