An Idaho political education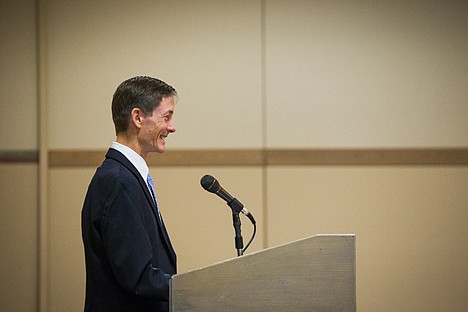 <p>Bruce Reed, chief of staff to U.S. Vice President Joe Biden, speaks about his experience in politics Thursday during the Idaho State Bar Board of Commissioners annual meeting at the Coeur d'Alene Resort.</p>
by
David Cole
|
July 19, 2013 9:00 PM
COEUR d'ALENE - Coeur d'Alene native Bruce Reed worked on his first U.S. Senate campaign at 8 years old.
For Sen. Frank Church, a young Reed used large computer printouts to help others on the campaign with voter targeting.
"There were enough Democratic voters (in Idaho) to target in those days," he joked.
Today the Democrat is U.S. Vice President Joe Biden's chief of staff. Reed spoke Thursday, with a lot of self-deprecating humor, at The Coeur d'Alene Resort at the Idaho State Bar's annual meeting.
"Idaho is the best political education anybody could ever ask for," said Reed, 53. "When you grow up handing out Democratic bumper stickers at county fairs to cowboys with gunracks and pickup trucks, you learn about rejection at an early age."
Reed recently worked on President Barack Obama's budget deficit reduction panel, which was led by former Republican Sen. Alan Simpson of Wyoming and Erskine Bowles, a former chief of staff to President Bill Clinton.
As a political operative, Reed has tasted success and defeat, he said.
"I lost track, but at one point I worked on 16 consecutive losing campaigns in Idaho, which must be some kind of state record," he said. "Frank Church served four successful terms in the Senate before I took a year off from college and helped him get beat."
He said losing provided an education.
"I learned so much from talking to voters who didn't agree with the ideas and philosophy of the candidates I was putting before them," he said.
In Washington, D.C., his first job was writing speeches for then U.S. Sen. Al Gore.
"I helped him develop his trademark wooden-speaking style," he said.
Then he got addicted to presidential campaigns.
"I found a young governor named Bill Clinton, who was the best politician I'd ever seen," he said.
Reed became Clinton's policy director, and helped him develop his agenda.
"And then, to my surprise, I actually had a chance to work on a winning campaign, a presidential one," he said.
He spent the 1990s in the White House, serving as a domestic policy adviser, working on balancing the budget, reforming welfare, and fighting crime.
"It is a wonderful place to work, even on the toughest days, win or lose, when you're making progress or staring into the abyss," Reed said. "It's a privilege to walk through those gates, because you're doing something that you know matters and you have a chance to make a difference."
Reed said his current boss, Joe Biden, a Syracuse University law school graduate, has a soft spot in his heart for Idaho.
"He almost moved to Boise to practice law," Reed said. "He still talks about it."
He added, "He's always trying to find some political reason to come here."
Reed is the son of Coeur d'Alene attorney Scott Reed, and former Idaho state Senator Mary Lou Reed.
He said he enjoyed growing up in North Idaho.
"Our home was always a campaign headquarters for something - the environment, mental health, public schools," Reed said. "Our basement was like an underground railroad for progressive leaders from around the West."
---