100/100/100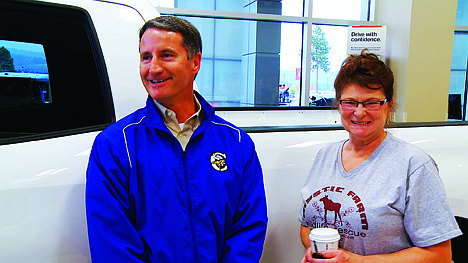 <p>Jim Parker of Parker Toyota enjoys a moment with Dory Mclsaac of Mystic Farm Wildlife Rescue, after presenting her with a free Toyota Tundra on Thursday.</p>
|
November 3, 2012 9:00 PM
COEUR d'ALENE - Parker Toyota presented a new Tundra pickup to Mystic Farm Wildlife Rescue on Thursday as part of the Toyota 100 Cars for Good program.
The automaker is giving away 100 cars to 100 nonprofits over the course of 100 days, based on votes from the public through the major philanthropic initiative.
This is the first Toyota initiative that engages the public to determine how corporate philanthropic donations will be awarded.
"Mystic Farms has been proud to be a part of the North Idaho community and the work they've done to rescue and rehabilitate animals in the wild is extraordinary," said Jim Parker of Parker Toyota. "For years, we've enjoyed supporting the community in many ways, and we are delighted to be a part of the 100 Cars for Good program, and applaud the incredible work that Mystic Farms provides to our region."
During the voting phase, which began May 14, the 100 Cars for Good program profiled five finalists a day at www.100carsforgood.com. Individual members of the public were able to vote for which nonprofit they believed could do the most good with a new vehicle.
The nonprofit with the most votes at the end of each day won their choice of one of six Toyota models. Runners-up each received a $1,000 cash grant from Toyota.
"At Toyota, we appreciate what a significant impact a new vehicle can have for nonprofits in their work," said Michael Rouse, vice president of diversity, philanthropy and community affairs for Toyota Motor Sales, U.S.A.
"All 100 of the winners of the 100 Cars for Good program are providing extraordinary and much-needed services, and we thank Parker Toyota for their role in delivering a new Tundra to Mystic Farms Animal Rescue to help them with their important work."
A six-year, 100,000-mile powertrain warranty will also be provided for this Tundra, compliments of Toyota Financial Services. To learn more about the 100 Cars for Good program, visit www.100carsforgood.com.
Recent Headlines
---