Paddlers unite!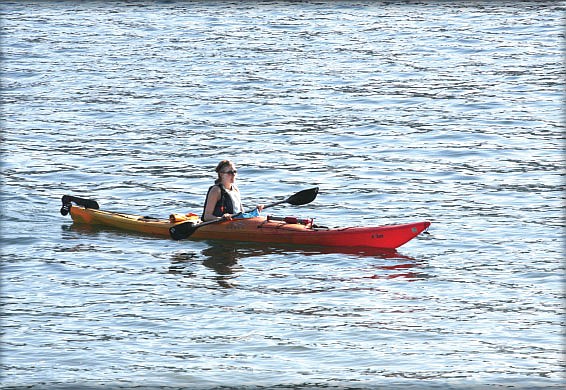 by
Maureen Dolan
|
September 29, 2011 9:00 PM
COEUR d'ALENE - Shoshana Cooper climbed out of her kayak Saturday, grinning as she walked onto the shore of Lake Coeur d'Alene.
She and other members of the Coeur d'Alene Canoe and Kayak Club had just completed a Self Rescue Clinic, followed by an end-of-the-season potluck gathering at Higgens Point.
"This is one of those sports that's better to do with other people, for safety reasons," Cooper said. "It's nice to have that group support."
Cooper, of Coeur d'Alene, is a new member of the 6-year-old club, although she isn't new to the sport. She has previously volunteered in her kayak, lending swimmer support during the Coeur d'Alene Triathlon and Ironman.
She looked down at her craft.
"It looks heavy, but it's not. It was designed for women," Cooper said.
She impressed a nearby sunbather when she bent down and hoisted it onto her shoulder.
"It's still a little hard," she said as she began trudging up the hill to load the kayak onto her vehicle.
The Coeur d'Alene Canoe and Kayak Club was founded in 2005.
At the time, there was no organized group in the area for kayakers, said member Marcia Jimenez.
They now claim 56 members representing a wide range of ages, including one who is in his 90s.
"For the longest time, he was the only one able to do Eskimo rolls," Jimenez said, referring to a maneuver in which a kayaker does a roll in the craft, completely submersing him or herself and coming upright again.
For several years, the club has been a nonprofit educational organization, always teaching kayaking tips and promoting safety techniques.
Membership costs $25 per year, and comes with access to a long list of activities with like-minded paddlers.
Safety, skills and rescue clinics are conducted throughout the spring and summer.
Many of the group's members are knowledgeable on a variety of subjects, Jimenez said, and during the group's regular paddle outings, they share information about local history, flora and fauna, and wildlife.
They regularly explore the region's waterways, taking scenic trips, after-work paddles, long distance excursions, overnight trips, paddle-in camping and fishing trips and ocean kayak trips.
Members have an overnighter planned this weekend at Lake Roosevelt. There is a Halloween paddle scheduled for the end of the month.
The club also acts as an advocacy group for recreational paddlers, ensuring they are represented in community and legislative decisions affecting those who kayak and canoe.
There are picnics, potlucks and club socials on the club's calendar of activities as well.
Throughout the warmer months, the club hosts Thursday Night Paddles at different locations throughout the area.
The Thursday events are easy trips that give members a chance to get to know each other. The last one takes place tonight at Fernan Lake, and like all the Thursday paddles, it is open to non-members.
It's a good way for anyone thinking of joining the club to check it out before signing up, Jimenez said.
The club does reserve the right to refuse participation to anyone perceived to lack the proper skill level or equipment needed for the trip.
Participants for tonight's paddle are asked to arrive at the Fernan Lake public boat launch by 5 p.m. and be ready to paddle out at 5:30 p.m.
Information: www.cdacanoekayakclub.org
---