The Jack rises from Hayden Lake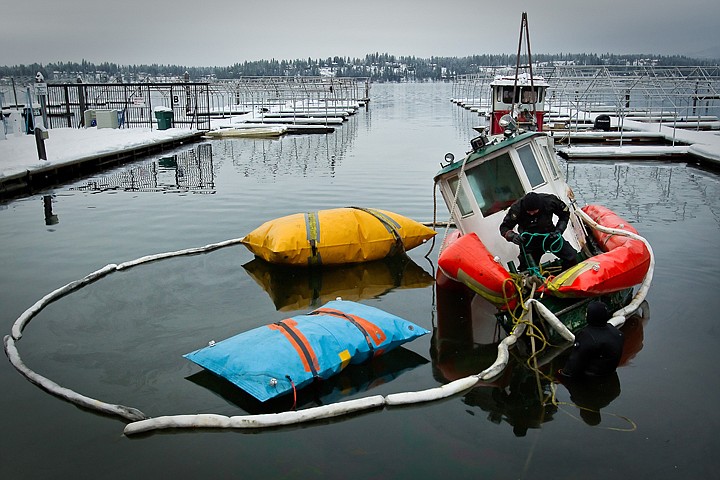 <p>A diver unties lines used to pull a sunken tug boat to shore Monday that sank on Thanksgiving at the Hayden Lake marina. Crews used inflatable bags secured to the vessel to raise it off the lake bed and another tug and crane pulled it to shore.</p>
by
Brian Walker
|
November 30, 2010 8:00 PM
HAYDEN LAKE - It was, as tugboat owner John Condon put it, the "perfect storm."
When the North Idaho Maritime owner went to check on The Jack, his 25-foot 1964 tugboat, on Thanksgiving at Hayden Lake marina, it was missing.
But it didn't go far.
Just straight down in about 30 feet of water.
"There were some tell-tale signs about what happened," Condon said. "My worst nightmare came true. It was a helluva way to spend Thanksgiving. Two days before that, it was OK."
After about five hours of work involving divers, two other tugboats and a crane, The Jack rose from the lake on Monday afternoon.
"It was a little more work than we thought getting it off the bottom because it got stuck in the mud," Condon said. "Generally I'm on the other end (of the boat recovery) when something like this happens."
The recovery was also complicated due to the boat dropping below the dock. However, it landed in its upright position.
The boat had been docked at the end of the marina, so it couldn't become iced in and was in deeper waters. The water can get shallow inside the marina during the winter.
"But it's less protected out there," Condon said.
Condon said rare northerly winds came in on or before Thanksgiving, blowing waves over the back of the boat and at the same time freezing.
"It was the perfect storm," Condon said. "The ice buildup took it down. It was an uncommon event of Mother Nature."
Condon notified the sheriff department's marine division of the incident on Thanksgiving after he learned what happened. The Northern Lakes Fire District set a boom for any fuel leaks and environmental agencies responded.
"Luckily, it didn't have much fuel in it to dissipate, and the booms around it captured what did," Condon said.
Services weren't available on Friday due to the holiday weekend, postponing the recovery until Monday.
Condon said the recovery will be costly, but he declined to speculate on how much.
"I'd rather not think about that right now," he said. "It'll be hundreds of dollars an hour and we've been out here nearly all day."
Condon said the boat will be used again, but it's going to take some time and money for repairs.
"We just rebuilt the engine about a year ago, and now we'll have to rebuild it again," he said.
Recent Headlines
---