Seahawks looking for answers to stop slide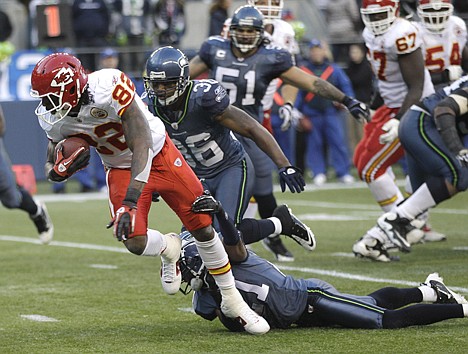 <p>Kansas City's Dwayne Bowe breaks a tackle from Seattle's Kelly Jennings to drive in for a touchdown during Sunday's game in Seattle.</p>
by
Tim Booth
|
November 30, 2010 8:00 PM
RENTON, Wash. - Pete Carroll has turned serious and stern. There was very little for Carroll to be positive about a day after the Seattle Seahawks fell out of first place in the NFC West.
Carroll's overall message on Monday was simple: the Seahawks' performance on Sunday in a 42-24 loss to Kansas City was unacceptable.
"It was very honest and very serious and very blunt," Seattle quarterback Matt Hasselbeck said. "Our team meetings are always different; they're never the same. Today was just basically: say it how it is. It was good. It was a tough day all the way around."
Words like "garbage" and "embarrassing" were used following Sunday's game to describe Seattle's play. Carroll wasn't that harsh a day later, but his players said the description of all the mistakes from Sunday was accurate.
There were numerous assignment errors on defense that helped the Chiefs roll up 503 total yards of offense, while the Seahawks offense was limited to two big plays and not much else.
Seattle has now lost four of five, seen its lead in the awful NFC West disappear into a tie with St. Louis, and faces plenty of questions about its lagging defense, an absent running game and when some key injured players might return.
With only five games left, Carroll said his team's sense of urgency has to be at its utmost.
"We need a start again. We've got to start up again and get going," Carroll said. "So that's what this week will be all about."
Seattle's slide started about the time its run defense disappeared. After being one of the top units in the league early in the season, Seattle has regressed into a defense seemingly incapable of stopping anyone on the ground.
Last week against New Orleans, it was tackling problems that did in the Seahawks and allowed the Saints to run for 112 yards, the third time in four games Seattle had given up at least 100 yards on the ground.
But the Saints' success was nothing compared to what Kansas City was able to accomplish.
Carroll said Seattle has become undisciplined when it comes to stopping the run, with guys trying to make too many plays and not keeping with their assignments. That's leading to gaps that should not be there within the scheme of Seattle's defense.
Those holes were exploited by the Chiefs to the tune of 270 yards rushing, the most allowed by Seattle since giving up 301 to Denver 10 years ago.
The trickle down from Seattle's inability to stop the run is also showing up in its third-down defense. Kansas City was 11 of 17 on third downs, only adding to perhaps the most telling stat of the Seahawks' season: in Seattle's six losses, opponents are converting 54 of 98 (55 percent) on third down. In their five wins, it's just 17 percent.
While the Chiefs were busy becoming the third AFC West team this season to roll up more than 500 total yards on Seattle, the Seahawks offense was mostly absent. Seattle's 20 yards rushing were tied for third-fewest in franchise history. Part of the lack in production was Seattle's lack of possession. The Seahawks ran just 22 plays and held the ball for just 7:47 in the first half.
Seattle also missed leading receiver Mike Williams, who didn't play because of a foot strain. Williams had 41 catches in his previous six games.
Carroll said he doesn't know yet whether Williams will be back in time to play against Carolina this week.
Carroll also said fullback Michael Robinson (hamstring) should be back this week, while center Chris Spencer should be fine after getting kicked in the ankle late in Sunday's loss.
Recent Headlines
---