Santa's lil' helpers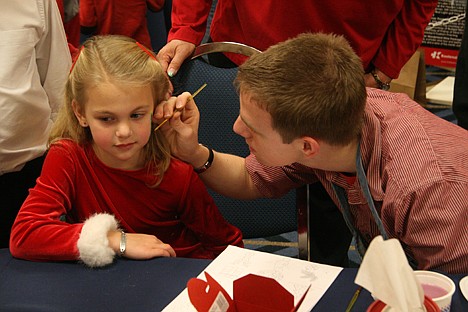 <p>Volunteer Justin Petersen paints a Christmas tree on 6-year-old Laurel West's cheek Sunday afternoon at the Coeur d'Alene Pediatrics Children's Workshop. The event was part of the 22nd annual Festival of Trees at The Coeur d'Alene Resort.</p>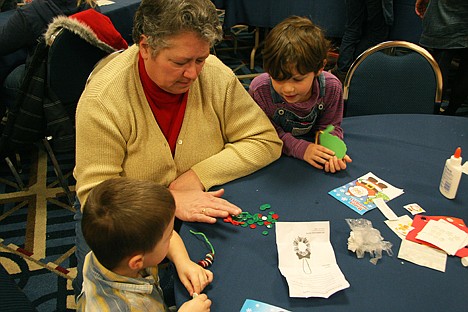 <p>Cindy DuPuis, center, of Hayden, helps her grandchildren pick out buttons for a craft project on Sunday at the Coeur d'Alene Pediatrics Children's Workshop. Jory Moore, 3, left, and 5-year-old Emjay Reed, right, both participated in the workshop.</p>
Previous
Next
by
Nick Rotunno
|
November 29, 2010 8:00 PM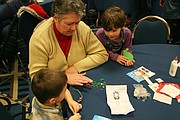 COEUR d'ALENE - Like elves in Santa's workshop, local youngsters kept busy Sunday afternoon at The Coeur d'Alene Resort.
Crowded and festive, the Coeur d'Alene Pediatrics Children's Workshop was a major attraction at the 22nd annual Festival of Trees. As Christmas lights twinkled in the background, kids colored in pictures, crafted ornaments and decorated cookies. A few even had their faces painted in holiday colors.
"I think we have a dozen different craft options this year," said Dr. Cheri Savage, who has chaired the workshop over the past four years.
Three-year-old Jory Moore, sitting with his family at a large round table, was hard at work. With help from his grandmother, Cindy DuPuis, the youngster from Hayden threaded red, green and white buttons onto a pipe cleaner, paying close attention to the color pattern.
His Christmas ornament was almost ready for the tree.
"This is our third or fourth year now," DuPuis said. "It's nice to get out of the snow."
Coeur d'Alene Pediatrics has sponsored the workshop for many years, Savage said. Physicians, employees and volunteers - including a few of Savage's close friends - staffed Sunday's event. They doled out tickets, painted faces and passed around craft supplies.
Visitors paid a small fee to participate in the event. Those proceeds all went toward the Emergency Department Services of the Kootenai Health Foundation, Savage explained.
Kristi West of Coeur d'Alene visited the workshop with her two children, 6-year-old Laurel and 8-year-old Kellen. Laurel had a Christmas tree painted on her cheek, while Kellen especially enjoyed the tasty cookies.
"It's beautiful," Kristi said of the festival and the workshop. "It's our kickoff to the holiday today."
Post Falls resident Sandy Davis watched as her daughter, Zoie, concentrated on a craft project. She was holding another little girl, Nika, who was born just 10 weeks ago.
"I like the crafts for the kids," Davis said, "so after looking at the trees (Zoie) had something to do. (We) try to make it a tradition to come every year, when we can."
Gifts, treats, stockings and lights are all part of the fun, but the real meaning of Christmas was not lost on Emily Harwood, an 8-year-old from Rathdrum. The best part about Christmas, she said, is celebrating Jesus' birthday. And all the snow is pretty great, too, Emily added.
The workshop seemed to put everyone in the holiday spirit.
"It's all about the kids," Savage said. "Fun to watch them enjoy the holidays. Kind of a fun way to kick off the Christmas season."
Recent Headlines
---