ISU Faculty Senate postpones no-confidence vote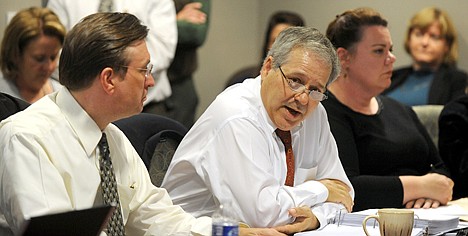 <p>Idaho State University president Arthur Vailas, center, with ISU Provost Gary Olson, left, speaks before the ISU Faculty Senate on October 18.</p>
|
November 29, 2010 8:00 PM
BOISE (AP) - The Idaho State University Faculty Senate has postponed a no-confidence vote on school President Arthur Vailas, with hopes the two sides can work out their differences.
The faculty had previously scheduled a Dec. 6 vote on Vailas, charging the administrator with failure of leadership, of making budget decisions in secrecy and taking credit for their accomplishments.
Faculty leaders have since been given an opportunity to further discuss their differences with Vailas on shared governance, said Faculty Senate Chair Philip Cole.
"We've stepped away from that abyss," Cole said.
The faculty panel will convene today to discuss their next steps as they work toward reconciliation.
Nearly 70 percent of faculty members cast a no-confidence vote against Provost Gary Olson about eight months ago.
Vailas stood by Olson and said he would keep his job, despite faculty furor over a plan the provost had presented to restructure some campus departments. Vailas attributed campus tensions to the poor economy and said he was unsure why Olson, who had been hired less than a year earlier with widespread faculty support, faced such opposition.
In any event, the votes are not binding on the Board of Education trustees.
The restructuring plan is only part of faculty frustrations, said biology professor David Delehanty, who brought a list of more than 30 complaints from employees to faculty leaders on Nov. 8 when they decided to hold the vote on Vailas.
Vailas questioned how faculty leaders could allow a no-confidence vote without first studying the allegations brought against him.
"If somebody makes allegations, the burden is on them to prove it," Vailas told the Idaho State Journal on Nov. 8, when faculty agreed to hold the vote. He declined further comment to The AP.
Vailas' predecessor also tangled with faculty.
Former Idaho State President Richard Bowen's retirement after 20 years in the role was hastened by a no-confidence vote by the university's Faculty Senate in September 2005.
Vailas was expected to avoid a similar clash with faculty, Delehanty said.
"We had high hopes," Delehanty said. "In his address to faculty, he said: 'A president works for his faculty, he always works for his faculty.'"
The board chose Vailas, a former NASA researcher, in 2006 from a nationwide pool of candidates largely for his medical credentials. Idaho State was chartered with the state's health science mission, meaning the school focuses on nursing, dentistry, pharmacology and other medical fields.
Amid deep budget cuts for higher education, Vailas moved ahead with an ambitious plan to create Idaho's first medical degree program, though the economy has largely stalled those efforts.
When the university faced an $11.5 million drop in funding for the current fiscal year, Vailas assured faculty the budget would be trimmed without layoffs and salary cuts. This was possible partly because the campus restructuring plan, the very proposal that fueled faculty complaints, would help save money, he said.
While ISU administrators have lauded Vailas for his leadership during tough times, some faculty members contend they don't have a seat at the decision-making table and they're overworked and under-appreciated.
Faculty, though, are willing to take another stab at reconciliation, Cole said.
"We're trying to enter this in good faith," he said. "Things are moving in a positive direction."
Recent Headlines
---