'The same, but different'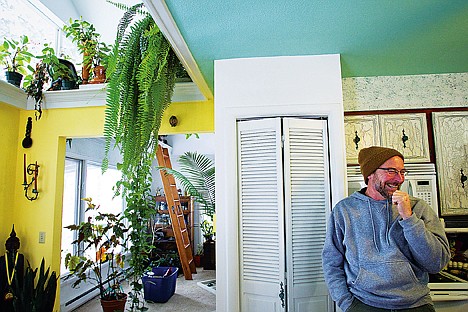 <p>Vern Harvey talks about the difference in teaching in the United Arab Emirates versus the United States at his Coeur d'Alene home. Harvey spent some time in the fall teaching English, math and science to overseas first-graders.</p>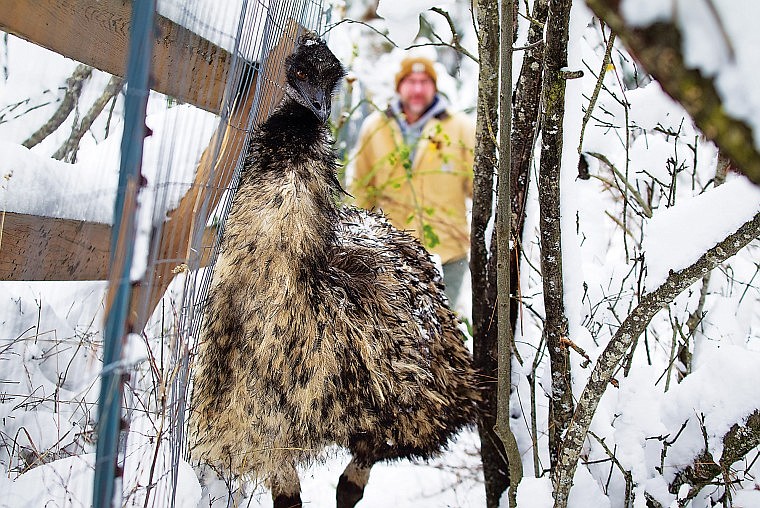 <p>Sheila, a 4-year-old emu, walks through the snow in her pen as Vern Harvey follows behind. The emu is one of a pair that Harvey keeps as pets.</p>
Previous
Next
by
MAUREEN DOLAN
Staff Writer
|
November 28, 2010 8:00 PM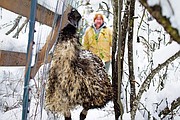 COEUR d'ALENE — Vern Harvey's pet emu, Sheila, followed him Wednesday as he pushed a snow blower up and down the driveway outside his home high in the hills above Lake Coeur d'Alene.
The large, flightless bird's winter weather antics turned Harvey's job into something to smile about.
The Coeur d'Alene School District educator didn't think he would be in North Idaho plowing his driveway this winter. He thought he would be teaching in a classroom in the Middle East, but the job didn't go as planned and Harvey returned in October, much earlier than expected.
"Lucky me, I came back from the land of sand and camels just in time to move snow and ice," Harvey said.
The emu seemed happy he was back.
Resembling ostriches and native to Australia, emus aren't often found living in the mountains of North Idaho, but Harvey's pet looked as at home as the mule deer and wild turkeys making their way through the snowy woods nearby.
"I always tell people, 'Some people buy elaborate security systems, some train guard dogs, but we have Sheila,'" Harvey said.
Harvey took a leave of absence this year from his teaching position at Hayden Meadows Elementary School, and traveled overseas in September. His teaching assignment was in Abu Dhabi at Al Ibtikar Model School for Boys, located in a remote area "way out in the desert."
"A friend of mine in Saudi Arabia came here to study English," Harvey said. "I was inspired by him to go over there."
He encountered some unexpected challenges while on his teaching adventure in Abu Dhabi, one of the United Arab Emirates.
Government-led education reform in the UAE requires that children learn the English language, and learn math and science in English.
Harvey was contracted to teach English, math and science in a classroom with an Arabic educator who would act as an interpreter and teach history, civics and cultural studies in Arabic.
The education reform itself presented a challenge for Harvey, one of the first English-speaking Americans to work at the desert school.
"Not everyone bought into it," he said.
It is bilateral learning, Harvey explained.
"The kids have to think in two different languages," he said.
The situation became more difficult when Harvey found himself without the promised Arabic-speaking classroom counterpart, and responsible for a room full of first-grade boys he could not communicate with.
"There was a huge language barrier," Harvey said.
Without the support of an Arabic co-teacher, with the cultural differences, the potential for misunderstandings and liability issues became immense, and possibly dangerous.
"There was no way to protect myself from rumor or prejudice," he said.
Harvey had no choice but to break his contract and return to the U.S., but he didn't want to.
"It was a sad day when I left," Harvey said. "I'd go back in a heartbeat."
The other Arab teachers working in other classrooms in the K-12 school of 250 students were from other Middle Eastern countries.
"They were all very kind and supportive," he said.
In addition to the government-led education reform, Harvey said the UAE is driven by a sense of purpose to be a modern hub and protect their cultural heritage.
There is a focus on green technology, recycled water and landscapes.
"Shade is a luxury there," Harvey said.
Harvey said 80 percent of those living in the UAE are expatriates who make up most of the workforce, and 20 percent are Emiratis the expats work for.
In many ways, he saw that things were not all that different than they are in the U.S. — sort of.
He observed families strolling through giant malls where Western fashion was the norm being sold in the stores.
Still, the Emirati people often wore traditional clothing. The men in kandouras — ankle-length, tunic-like robes that are usually white. The women in abayas — loose, black over-garments that cover their entire bodies. Some women, Harvey said, cover their faces as well, but if they do, it is by choice.
It was not unusual, he said, to see a group of high school boys wearing black kandouras, along the lines of the high school kids in the U.S. who wear "goth."
"The same, but different. That's the best way to describe it over there," Harvey said.
He hopes to return to teaching as soon as possible, and is exploring opportunities locally and abroad.
Recent Headlines
---