Putin urges closer economic ties with Europe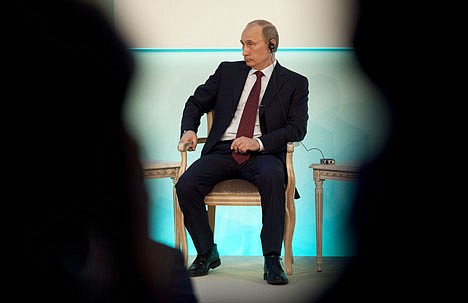 <p>Russian Prime Minister Vladimir Putin listens to a question during a panel discussion at an economic leadership forum organized by a German newspaper in Berlin, Germany, Friday.</p>
by
Juergen Baetz
|
November 28, 2010 8:00 PM
BERLIN - Russia's prime minister urged closer economic ties between his country and the European Union, calling for a full-fledged free trade zone between them.
The proposal for a Russian-EU free trade zone will face "many challenges," but it is worth pursuing it nonetheless, Vladimir Putin told business leaders in Berlin.
Speaking later at a joint press conference, German Chancellor Angela Merkel told Putin the EU and Russia are "strategic partners" and a common free trade zone is "a vision for the future."
But Merkel, the leader of the EU's biggest economy, cautioned there was still a lot of work ahead, with completing Russia's admission to the World Trade Organization being only the first step.
Russia is confident of joining the World Trade Organization in 2011, and its bilateral trade agreements will not hinder closer ties with the EU, Putin said.
He first floated his proposal earlier this week for a "harmonized economic bloc from Lisbon to Vladivostok" in an article for German daily Sueddeutsche Zeitung. "In the future it could also be possible to have a free trade zone or an even more integrated economic cooperation," he wrote Thursday.
Deutsche Bank AG's chief executive Josef Ackermann, speaking alongside Putin at the meeting of business leaders earlier Friday, strongly expressed support for closer economic ties with Russia, saying history makes it clear what is at stake.
"We have had two big wars, with millions of people dead. Today we forget this dimension and argue about minor things," said Ackermann, who spoke alongside Putin. He said the plans for a common free-trade zone therefore "have to be supported in a very open minded manner and with enthusiasm."
But Putin complained that companies from his country often face unfair hurdles when they try to invest in the 27-nation European Union, keeping Russian investors from closing deals in the bloc.
When Russian investors try to "get a foothold in the European economy, then often the door is shut for them," he said.
Putin claimed a lot of "political influence" is hindering such investments, which he said hurts both Russian and EU business interests.
Putin argued that visa-free travel between the EU and Russia would also enhance business opportunities.
Merkel said she and Putin agreed to draw a joint road map on how to achieve this goal.
Recent Headlines
---