Nils Rosdahl: Life in newspapers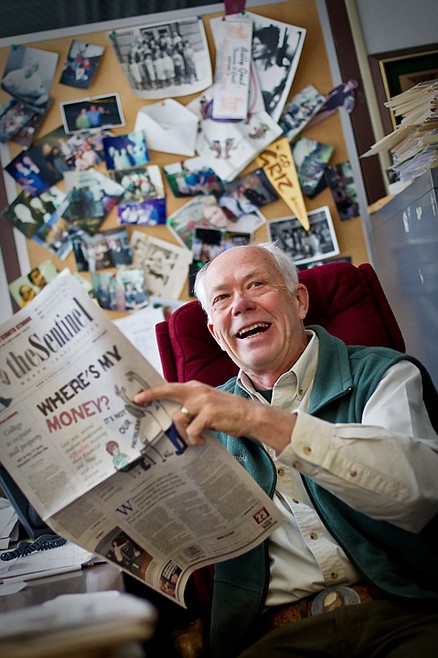 <p>Nils Rosdahl began his journalism advising career at North Idaho College in 1984 and his students have earned hundreds of awards for "The Sentinel," the college's student newspaper.</p>
by
BILL BULEY
Staff Writer
|
November 28, 2010 8:00 PM
In the tiny town of Thompson Falls, Mont., in the 1950s, there was a single paperboy who delivered the Missoulian to nearly 100 subscribers.
He was 11, maybe 12 years old. The paper cost a nickel, no more than a dime. It was the only source of news for the folks who called the valley their home.
And Nils Rosdahl was that boy who flung those papers door to door.
"There was no TV or radio, because there weren't satellites and there weren't big repeaters on top of mountains so the only news we got was the newspaper," he said, "and I had the paper route. It was a real thrill for me, since there was no TV or radio, I was the first human to know anything."
That curious paperboy would go on to graduate from the University of Montana, where he worked full time covering sports for the Missoulian to pay for his college tuition.
"I never had to borrow a penny because I just worked my way through," he said.
His path would lead him to the U.S. Coast Guard for four years, to Seattle for 10 where he earned a master's degree from the University of Washington. It was there Nils was asked to start a sports journalism class.
"So I did. I found I loved teaching it," he said.
His passion for news and his love for teaching would lead to North Idaho College, when he was hired as the journalism instructor-advisor in 1984.
He's been there since. Teacher, coach, mentor, counselor, journalist, all rolled into one as he guided thousands of students through NIC's journalism program. Under his watch, the Sentinel, published five times a semester, earned hundreds of awards, many of them national.
His pride shines through when he speaks of NIC's newspaper, of the students who have put it together, of the stories they have broken.
"I'm always real proud. These kids just work their butts off," he said. "They'll be in here all night the two nights before this comes out. One reason why we win these national prizes is because the kids are just so dedicated to it."
But 26 years later from that first day he arrived to lead the Sentinel, 65-year-old Nils Rosdahl is retiring. Come mid-December, he will leave his small office on the second floor of Siebert Hall for a final time.
It won't be easy.
It has become his home away from home. Books and pictures and newspaper clippings fill the shelves, the walls and the desk. It is there he would sit back in the morning, cup of coffee in hand, and read the two local dailies, The Press and the Spokesman-Review.
Outside that office, though, the classroom is what he will miss most. It's where his students put together the Sentinel. It is there the writing, the design, the opinions, the debates over the top story, were carried out. It is there his students learned about being a journalist, about working for newspapers, about a career in words.
And Nils, by the way, is always the first to grab the Sentinel when 2,000 copies roll off the press.
"I actually pick these up myself because I want to be the first human to see them," he said. "It's exciting."
He doesn't hesitate, either, when asked this question: "Are you proud of the Sentinel?"
He smiles as he gives his answer.
"I am."
Why did you decide to retire?
Two reasons. The technology is No. 1. And No. 2 is I want to try exploring some other avenues before it's too late for me to explore those. I hope to be writing some short stories, maybe even longer than short stories. I enjoy doing stuff around my place.
What are your thoughts on not working?
I guess I'm in between on it. I guess I feel ready as far as I've been here long enough. I don't really want to know any new tricks. With the multi-media happening, I'd have to learn a lot of new tricks. In that way I'm ready to leave. Plus, by April, May, this old fart is tired. On the other hand, it's real tough. It's emotional. I get so close to the kids in here. They become my kids, actually. And we're here all day long, all together. So that part's tough.
How has your job changed?
Most of the changes are in technology and in numbers. When I first started here, we maybe had two computers and they were like 8 feet square. We actually would cut and paste with the stories. So technology has been the major change. I would say that's to an advantage. It's really helped with the design of the papers, especially making them more readable, more attractive. And then again, numbers. When I started, I had 10 students. Today, 40. Forty students is maybe too many. I get worn out.
What are a few main things you've tried to teach your journalism students?
I would say the main things are the real basics in knowing how to produce a newspaper. The writing part of it, the photo part of it, the design part of it, even a little bit of the business part of it. Just the whole package, putting it all together.
We actually have more journalism classes than any other two-year school I know.
Is there a future for journalists?
There has to be. Every year for several years now, my classes have been absolutely loaded. Somebody still has to write everything, even if it's on the Internet, somebody still has to write it. In fact, their jobs have probably gotten more fun. They have to do photos to go with it, they have to do videos now. I don't have a clue how to do that or how to teach them to do that. And they have to know how to design because they have to know how to design a Web page and fliers.
The public relations field has really grown. A lot of them now go into PR work.
What was the best part of your job?
The best of this job, as I get to be a geezer, is keeping me young. The pace of it is fun and being with these young folks all day is fun. What's cool is the tradition that's been established here. They love that part of being one of the top newspapers in the nation and they really work at passing that on to the next group.
Every day is new. That's what so cool about this job. Every day it's something new.
What will you miss most?
The kids. I'll really miss the kids.
What does it take to be a good journalist?
A curiosity is possibly No. 1. No. 2 is common sense. Attitude has to really fit in there, too. You have to be positive. You have to want to see your name in lights a little bit because you have your byline on what you do, and that's rewarding.
How about a good journalism advisor?
I have a philosophy. Share, care and to be there.
I find that a lot of college journalism newspaper advisors, that's what they limit their job to is advising. We're a little different in that we're a class. In order for them to learn, I need to be here on the weekends they're putting this sucker out.
What challenges do journalists face today?
Technology. Anybody can write anything relatively fast, so how do you know what you're reading is the truth? Even when you Google stuff, you'll get tons of hits. How do you know that information is correct or true. The biggest thing is being accurate. That's the biggest challenge.
Do you like the direction of journalism today?
I would say no in regard to how newspapers especially are starting to diminish, especially in the cities. Fortunately in our area, in a town the size of Coeur d'Alene, that's still the main source of news. It's a little discouraging in that I don't think young people read the paper now.
Any way to get them to read it?
No, because I think the electronic media is so much more entertaining.
When you look back, what's the most rewarding part of your work?
The biggest reward is when you're teaching a class or you're criticizing a paper with the news staff and as you're giving them some information, sometimes you can look in a kid's eyes and you can see that kid thinking, 'I can use that.' That is so rewarding to see a kid thinking that. That's really cool.
What are some things you want to do after retiring?
I collect old print blocks and illustrations and I build things out of them. Mostly what I build are pencil boxes. I personalize them with the type and I find an illustration that relates to that person's interests. I really want to start building more things. I've built two tables now. One of them is in the SUB, one is in the Coeur d'Alene library. They're big table tops out of type. In the library one, every letter and every illustration on it has to do with libraries, somehow. The NIC one, every letter and every illustration has something to do with NIC.
Do you ever use your authority to change something about the Sentinel before it went to print?
I'm going to suggest that. They can ignore me if they choose to. Sometimes they will actually think I have a good idea. But usually, they just do it all themselves.
Any run-ins with administrations over the years over what's in the Sentinel?
My first year, I almost got fired. The editor that year worked in the summer for the college grounds department. He noticed they were really doing a lot of fancy stuff where it's beautiful and faces the lake, so he started snooping since he's a journalist and discovers they're making that area fantastic and the college president's daughter is going to get married there. So they're spending lots of money to fix that up.
He let The Press and the Spokesman both know about it, and he wrote about it in the first Sentinel and the college president really wanted me to censor it and I wouldn't. As the year went on, the editor kept blasting the president all the time, and the president would get real upset because I wouldn't censor it. So he told me I wouldn't be rehired, I had a year contract. At the time he had two deans, now they're called vice presidents. Both of these guys supported me, and they were both fired. The college faculty voted no confidence in the president and he resigned.
Any others such incidents?
A couple years ago we were having a student body election and two of the candidates for student body had a big poster that showed them almost naked in kind of he-man body poses. The vice president at that time came and asked me to not run that. I told the kids, 'So and so doesn't want you to run that photo.' And so not only did they run it, they ran it in a sepia tones which showed the bulges even more.
Did you get in trouble?
The vice president was very unhappy.
When your office is empty and you're walking away, what will you be thinking?
How to do that. It will be really difficult to not come here at 7:30 in the morning.
Has this been a great job? Your best job?
Oh yeah. Easily.
Recent Headlines
---