'A fitting thank you'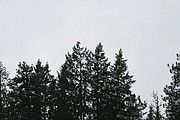 COEUR d'ALENE - The Mish-an-Nock swung her bow toward Wolf Lodge Bay, and soon Beth Paragamian was calling out birds.
"We have a mature eagle at 11 o'clock, now 12 o'clock, flying right in front of us," she said into the microphone. "There's a juvenile eagle in a pine tree at 3 o'clock. There's two more in a snag."
At the sound of her voice, more than 100 veterans and their family members - brandishing binoculars and wearing cold-weather clothing - searched the sky and scanned the shoreline. Representing the United States Army, Navy, Air Force, Marine Corps and Coast Guard, they had come to Lake Coeur d'Alene to view bald eagles, the majestic birds of prey that congregate in the Wolf Lodge region every November.
"The eagle's like a symbol of freedom, and without our military people we wouldn't have those freedoms," said Paragamian, a wildlife education specialist and eagle expert.
Using funds from a Bureau of Land Management "Take it Outside" grant, Paragamian, who at various turns works with the BLM, the Forest Service and the Idaho Department of Fish and Game, organized a free veterans cruise for Saturday afternoon. The response was so great, she said, another voyage was needed.
"I actually ended up (guiding) a morning cruise because there were so many people, I couldn't get them all on one boat," Paragamian said.
Altogether, about 175 men, women and children enjoyed the two cruises Saturday. The 107-foot Mish-an-Nock - one of the flagships of The Coeur d'Alene Resort - was a comfortable vessel, and the eagles didn't disappoint: They soared overhead, perched on tree branches and dove toward the water, hunting for fresh fish.
"It's amazing. It's really a wonderful opportunity," said Judith Lanier of Rathdrum. She had been peering through binoculars toward the lake's southern shore, where several eagles had gathered that day. Her husband, Gene, an Air Force veteran, stood behind her on the ship's bow.
Were it not for the free cruise, "We wouldn't have been able to afford to come," Judith added.
Ian Balinsky, a Marine Corps vet from Bonners Ferry, said he saw quite a few eagles.
"I thought it was pretty pretty cool," Balinsky said of the trip. "I was impressed to see the birds. I think it's awesome that the kids are doing this too. They'll learn a lot."
Migrating toward warmer climes, bald eagles fly through North Idaho every winter, Paragamian explained. The Lake Pend Oreille/Lake Coeur d'Alene corridor provides a natural funnel through the mountains, she added, before the birds separate and head for California or Colorado.
About the same time the eagles are passing through, the lake's kokanee salmon begin to spawn, laying their eggs in the gravel-strewn waters of Wolf Lodge Bay. Weakened and close to death, the spawning fish are easy targets for hungry eagles, Paragamian said.
Throughout the next few weeks, the birds will congregate in ever-larger numbers before finally moving on.
"I didn't think I was actually going to see anything," said Karenna Jones of Post Falls. "I must've (spotted) at least 20 of 'em."
She liked the idea of a free veterans cruise, too.
"They more and more don't get enough credit," Jones said. "It's a fitting thank-you card."
Ken Leight of Post Falls was the only Coast Guard veteran on the afternoon voyage. His wife, Sandy, was happy to learn more about the eagles of Lake Coeur d'Alene.
"I think it's very nice, and Beth gave a very good presentation," Sandy said. "I learned some things about raptors (eagles and other birds of prey) that I didn't know before. We usually come out every year and look for eagles. We've never been disappointed. It's nice to be on a boat, and talk to nice people."
Recent Headlines
---