Title hopes ... RIP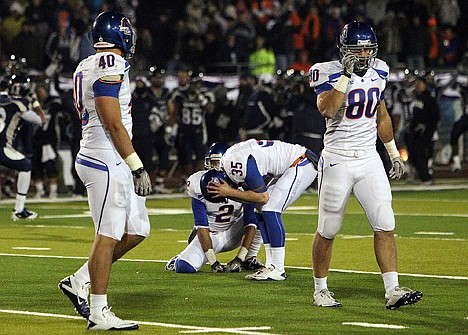 <p>Boise State kicker Kyle Brotzman reacts after missing a 29-yard field goal attempt during overtime Friday night in Reno, Nev.</p>
by
Tim Dahlberg
|
November 27, 2010 8:00 PM
RENO, Nev. — Anthony Martinez kicked a 34-yard field goal in overtime Friday night, capping a Nevada comeback that gave the Wolf Pack a wild 34-31 win over previously unbeaten No. 3 Boise State.
The kick came after Boise State's kicker missed a 26-yard field goal with 2 seconds left in regulation and another from 29 yards in overtime. It snapped Boise State's 24-game winning streak and ended any hopes that the Broncos would play in the BCS title game.
Nevada (11-1, 6-1 Western Athletic Conference) rallied from a 17-point halftime deficit to tie the game with 13 seconds left on a 7-yard pass to Rishard Mathews, who had two second-half touchdowns for the 19th-ranked Wolf Pack. But Boise State (10-1, 6-1) appeared poised to pull the game out after Kellen Moore hit Titus Young with a 53-yard pass on the first play of scrimmage after the score.
Boise State kicker Kyle Brotzman, who leads all active players in career scoring, pushed the short kick right, sending the game into overtime. Nevada won the coin toss and deferred and Brotzman came out to try another field goal, but pulled it left.
Martinez, a redshirt freshman, came on after Nevada's drive stalled, then calmly stroked the ball down the middle as the crowd at Mackay Stadium stormed the field to celebrate their team's biggest win ever.
"We're a team of destiny," Nevada coach Chris Ault said. "When he missed that field goal I said, 'Here we go guys, we got it now.'"
The loss for Boise State was the first since the Broncos lost in the 2008 Poinsetta Bowl to TCU, and it came in the most improbable fashion. Boise State built up a 24-7 halftime lead and appeared on its way to a dominating win, but its offense stalled in the third quarter and Nevada began finding the rhythm with its punishing running attack.
Martinez tied the score at 24 with a 23-yard field goal with 5:14 left, but Boise State came back on the next play from scrimmage to score on a 79-yard screen pass to Doug Martin. Nevada then took the ball and marched down the field to score the tying touchdown, setting up the wild finish.
Nevada had lost 10 straight to Boise State and was a 14-point underdog.
Recent Headlines
---