North Korea talks tough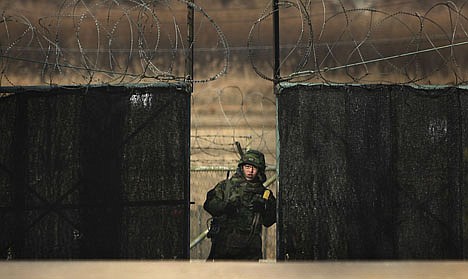 <p>A South Korean soldier secures a gate early today, just below the demilitarized zone in Imjingak, South Korea. North and South Korea exchanged artillery fire Tuesday after the North shelled the island near their disputed sea border, killing the two civilians along with Two South Korean Marines while setting dozens of Buildings ablaze and sending civilians fleeing for shelter.</p>
|
November 26, 2010 8:00 PM
YEONPYEONG ISLAND, South Korea (AP) - North Korea warned today that planned U.S.-South Korean military drills are pushing the peninsula to the brink of war as a senior U.S. military commander toured an island devastated this week by a North Korean artillery barrage.
North Korea's state news agency said drills this weekend involving South Korean forces and a U.S. nuclear powered supercarrier in waters south of Tuesday's skirmish between the rival Koreas are a reckless plan by "trigger-happy elements" and that the maneuvers target the North.
"The situation on the Korean peninsula is inching closer to the brink of war," the dispatch from the Korean Central News Agency said. "Gone are the days when verbal warnings are served only."
North Korea's army and people are "now greatly enraged" and "getting fully ready to give a shower of dreadful fire," the agency said. "Escalated confrontation would lead to a war, and he who is fond of playing with fire is bound to perish."
The comments came as Gen. Walter Sharp, the U.S. military commander in South Korea, paid a visit to the island targeted by the North Korean attack to show solidarity with ally Seoul.
Recent Headlines
---