Music of 'Messiah'
by
BILL BULEY
Staff Writer
|
November 26, 2010 8:00 PM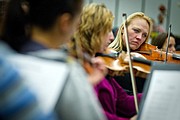 COEUR d'ALENE - Robert Bittick will tell you he is not a musician.
But he'll also tell you he knows good music when he hears it.
When the Coeur d'Alene Symphony and the Northwest Sacred Music Chorale present Handel's "Messiah" next weekend, he says it won't be good music.
It will be great.
"When you get up there and you hear the perfection that's going on and that many people when they're singing, it takes your breath away," he said. "You have no idea how good it is. This is the most incredible performance."
Bittick is the producer of the show that will be at Lake City Community Church on Dec. 4.
This concert will feature professional soloists Dawn Wolski, Patti Blankenship, Steve Mortier and Scott Miller. Sheet music will be provided for those who wish to sing along.
Handel's Messiah was written for two events: Christmas and Easter.
"We're doing Christmas," he said.
It will feature 25 members of the Coeur d'Alene Symphony and more than 50 members of the Northwest Sacred Music Chorale.
He said since word got out he was producing Handel's "Messiah" for the second straight year, many musicians have approached him and asked if they could participate.
"Bob, can I play?" they ask.
Unfortunately, not all can.
The music was written for 25 members of the orchestra
"When they do more, it doesn't sound as good," he said.
Bittick tells them he's not the artistic director.
"This has really been difficult because everybody on the symphony wants to play in it," he said. "I just produce this."
Months of rehearsal will pay off on Dec. 4.
"It's wonderful," he said. "It's really wonderful."
Conductor David Demand is looking forward to leading it.
"It should be a great performance. Real heart warming," he said. "It's something you feel good about each season."
Demand has conducted about 10 performances of Handel's "Messiah," but loves listening to, as well.
"It's just tradition," he said. "It's like going to "The Nutcracker." You have to hear it."
Bittick said while last year's production did not cover costs, his enthusiasm for bringing it back this year never waned.
"I knew the first year was going to be tough," he said. "But I was willing to put my money into it so people can enjoy it as much as I have."
Tickets are only $15, a deal by most standards for a concert of such caliber.
"Once somebody hears it, they get excited. That's why in places all over the country, in New York and Los Angeles and Chicago and San Francisco, it's building up to a point where people are fighting over tickets."
Bittick, who lived in the San Francisco area before moving to North Idaho, said the first time he heard Handel's "Messiah," "my mouth dropped.
"I couldn't talk, I had tears in my eyes, It was just overwhelming because it was done professionally," he said.
In the Bay area, a 2,000 seat auditorium would sell out within 45 minutes of tickets going on sale.
"People realize when you have it done professionally, orchestra, soloists, chorale, there's very little music anywhere that can beat that. It is so good," Bittick said.
"The beauty of this work is people have done it over and over again," he continued. "They've all played it. It's timing now. They all know it."
The Hayden man planned four years before bringing Handel's "Messiah" to the area last year. One problem he faced was finding a venue with a stage spacious enough for the symphony and choir, and that also had sufficient seating.
"Praise God for it, Lake City Community Church came around and I just bless them for that," he said.
Despite last year's financial shortfall, the single performance of Handel's "Messiah" earned strong reviews and a standing ovation.
"People were just so happy," Bittick said. "They said, 'I can't believe how good this was.'"
This year's show will be about two hours and include an intermission.
Bittick is already looking to next year, perhaps even adding a matinee performance.
"I want it to keep going year after year," he said.
Recent Headlines
---