Keith Urban announces 2011 'Get Closer' tour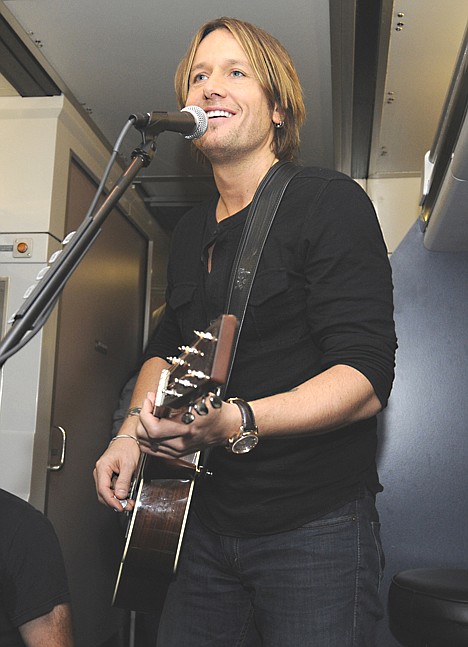 <p>Keith Urban performs a free concert for winners of a contest conducted by his website, aboard an Amtrak train traveling from Philadelphia to New York on Nov. 16.</p>
NASHVILLE, Tenn. - Keith Urban is trying to make his fans and his family happy this summer.
The multi-platinum country star is hitting the road June 16 on a 44-city arena tour in the U.S. with a schedule that gives him time to be with his wife, actress Nicole Kidman, and their 2-year-old daughter, Sunday Rose.
"The thing is with balance, it's never achieved. It's just maintained," Urban said of his family and career demands. "It's maintained based on Nic's and my ability to stay present and make the adjustments as we go."
Urban told The Associated Press that he purposely structures a tour so he's not gone for months at a time. He plays for two or three nights, goes home for a few days, then heads back out again.
Urban said the short breaks make his shows better, too, because he really wants to be there.
"I think we should never be going through the motions up there if we can avoid it," he said.
The "Get Closer" tour kicks off in Mobile, Ala., and will make stops in Atlanta, Los Angeles, Boston, Chicago, Dallas, Denver, Philadelphia, Washington, D.C., and Nashville.
The tour will feature a new stage production and songs from his just-released sixth album "Get Closer," as well as some of his 11 No. 1 hits, including "Somebody Like You," ''Who Wouldn't Wanna Be Me," and "Better Life."
Kidman has had plenty of opportunities to watch her husband perform live, most recently at the CMA Awards earlier this month.
"He very much is about giving back to people," she said. "I see his love, and I see what he gives to the fans, and I love that."
Urban plans to release international tour dates and opening acts later.
Recent Headlines
---